Gourmet Sausage Stuffed Mushrooms
These gourmet sausage stuffed mushrooms are literally the easiest appetizer ever. Wipe the mushrooms off with a damp paper towel or mushroom brush, add your favorite sausage and bake for 15-20 minutes! There is no need for chopping or sauteing. You remove the sausage meat out of the casing it comes in, fill the mushroom caps and viola! In this recipe I used two pork sausages Italian garlic herb, and a chorizo sausage made with spices like chili and paprika. I also used two chicken sausages one made with jalapeño, fennel and cilantro and the other with feta and spinach that I bought at Whole Foods Markets.
There are so many specialty sausages to choose from out there that you can't go wrong stuffing these baby bells! All the work is done for you so take advantage of these gourmet sausage products and stuff these mushrooms for an incredibly scrumptious appetizer that will continue to get raves from your guests.
Mushrooms are probably one of my favorite vegetables to eat. Give me Chanterelle mushrooms in a brandy cream sauce and I am in complete heaven. But here all you need is a simple button shaped mushroom with some room under the cap for filling.You can use a white button mushroom for these gourmet sausage stuffed mushrooms but what I prefer are Baby Bells because they are packed with flavor.
Another great specialty meat product called D'Artagnan offers many different sausages. One in particular is a mix of pork, duck, duck liver and egg white and is out of this world! This type of sausage is called Boudin and is very popular in New Orleans. It has distinct flavors that you might just start to crave after you have tried it. I really like D'Artagnan and I have found that Bishops Orchards Market in Guilford, CT carries a wide variety of their products. This brand offers a lot of duck products which Bishops also carries. Anything with duck or goose whether it be breast or liver is a no brainer in my book…YUM!
You can have these stuffed mushrooms for hors' d oeurves before serving stuffed roulades of chicken on a garlic-bean purée, Asian shrimp & rice noodle salad, turkey stuffed peppers or Chilean sea bass with green goddess sauce II for dinner.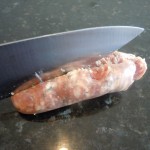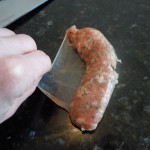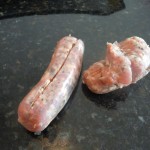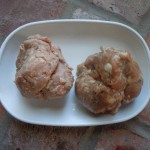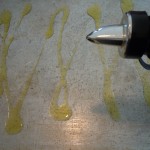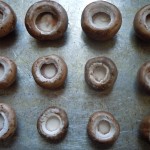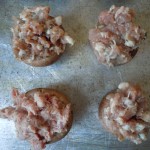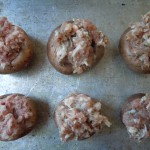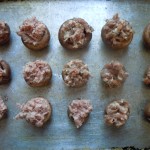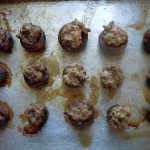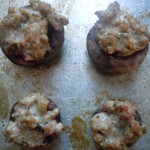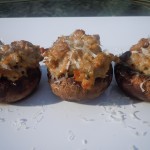 Ingredients – Makes 20-24 Stuffed Mushrooms:
2 pkgs of baby bella mushrooms (2- 8 oz. pkgs. will get you 20 and 2-10 oz. will get you 24)
1 lb. – a variety of your favorite flavored sausages
Sprinkle of salt and pepper- (for after the mushrooms come out of the oven)
Fresh shaved Reggiano Parmesano
Fresh chopped chives for garnish
Directions:
Pre-heat oven to 400º
Clean your baby Bella mushrooms off with either a damp paper towel or a 

mushroom brush

… you should NEVER wash your mushrooms or submerse them in water because mushrooms are porous.
Pop out the mushroom stems
Drizzle 2-3 Tbsp olive oil across a cookie sheet and rub it with your hands or use a brush to smear all of the olive oil across the baking sheet
Place all of the baby bella mushroom caps on the olive oil and roll them around lightly coating mushrooms then make sure they are all open side up on cookie tray
Slice open the sausage casings to get the sausage meat out and place on a small dish
Begin to gently fill mushroom caps with approximately 1 1/2 Tbsp of sausage per mushroom (some may be smaller and only need 1 Tbsp)
Do not pack in sausage just lightly stuff mushroom caps
Bake for 15-20 minutes til slightly crispy on the edges
DO NOT SALT the mushrooms before you bake them because all the water will release from the mushrooms and they will steam instead of baking
When you take the mushrooms out of the oven THEN you can sprinkle a little salt
The mushrooms will be juicy when you take them out of the oven so before you place them on a serving dish tilt them a little over the cookie tray that way some of the juice can drain out onto the tray and not on the serving platter
Shave a little Parmesan and chives on the mushrooms and serve