Michigan Sauce at Kathleen's
We make this incredible Michigan sauce in the show with ground turkey, but many who make this savory sauce make it with ground beef! Michigan sauce is made from simmering ground turkey, warm water, French's Yellow Mustard, Franks Hot Sauce, Hunts Tomato Sauce, chili powder, ground cumin all awhile mashing the ground meat with a potato masher to achieve a tender, fine sauce.
Now you may think that adding a whole 5 oz. bottle of Frank's Hot Sauce to this homemade Michigan sauce would make it really spicy but it doesn't at all. The amounts of all the flavorful ingredients are pretty perfect here giving you this nicely balanced combination. You get hints of citrus and floral from the ground cumin, a bit of a kick from the cayenne in the Frank's Hot Sauce and a little tang from the French's Yellow Mustard. Lets not forget the chili powder that gives it the right amount of earthiness to complete the circle. Now you know how important it is to me that you always season a dish as you go along but here there is no need for salt or pepper because all of the ingredients added into this recipe take care of that.
These Michigan Sauce recipes go back for generations and are very special to an Upstate New Yorker such as Kathleen and her family. I feel honored that they were willing to share their family recipe that they hold so dear to them so that I might be able to share it with all of you.
Over the years there have been legends and tales going around of how this delicious Michigan Sauce recipe began. One says that the Coney Island hot dog met a sauce made from a woman in Nashville who married a man from Detroit and they moved to Plattsburgh, NY. They started selling hot dogs with this sauce and called them "Michigans". The other says it was a couple from Detroit that moved to Plattsburgh, NY.  But if you ask some of the locals they will insist that "Michigans" have nothing to do with Detroit! Back in the 1920's is when the the first "Michigan" stand opened up but Clare and Carl's is the one very well known to people which opened in the 1940's along Lake Champlain. To this day, Clare & Carl's keeps the car hop service that made it popular a half century ago.
A typical "Michigan" is garnished with chopped onion and a line of French's Yellow Mustard on the top. If you to go into Clare and Carl's they would ask you if you want your Michigans "with" or "without", referring to the chopped onions of course. You might reply, I would like two Michigans "with-buried". This would mean you want onions and they are to be under the sauce. Now you know how to properly order your Michigans when you are in Upstate New York.
Even though this special meat sauce is an Upstate New York summer tradition I think this is the perfect dish for football season! Not to mention it's a total make ahead dish so you won't miss any of the game tending to that darn stove. This Michigan sauce also freezes really well so make sure to take advantage of that and make an extra large batch like Kathleen's mom, Shirley, does for future meals and get together's. Thank you again Shirley and Kathleen for enlightening us with your lovely Michigan sauce recipe.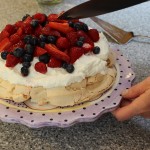 Hope you enjoy the show! You may want to try and make some refreshing Pavlova for dessert to go with this savory Michigan sauce!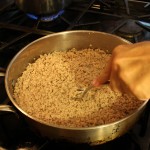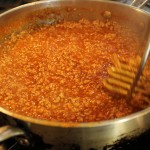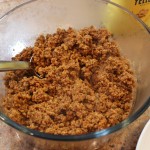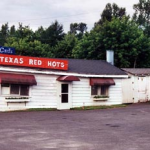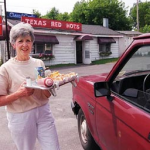 Ingredients:
1 lb. Ground turkey
1 cup warm water – Add 1/2 cup in the beginning and add 1/2 cup after adding the Hunts Tomato Sauce
1 heaping tbsp French's yellow mustard
1- 5 oz. bottle Franks Hot sauce (whole bottle)
8 oz. can of hunts-plain tomato sauce plain or garlic
3 tsp ground cumin
3 tsp chili powder
1 small chopped Vadalia sweet onion – chopped for garnish or a Michigan "with-buried" (if you don't get this you need to watch the show) 🙂
1 pkg Deutschmacher Frankfurters (mild and delicious) OR Red Hots
Hot dog rolls
Directions:
Add 1/2  cup water to 1 lb. ground turkey (beef) in a large sauté pan on medium/low
Continue to mash these two for 10 minutes while simmering with a potato masher
Change to a fork to further mash ground turkey to a finer mash for 5 minutes
Stir in 1 heaping tbsp French's Yellow Mustard until it disappears into turkey mixture
Stir in 1 whole 5 oz. bottle of Frank's Hot Sauce until it disappears into turkey mixture
Stir in 1- 8 oz. can of Hunt's tomato sauce
Add in another 1/2 cup of warm water
And then stir in 3 tsp chili powder and 3 tsp ground cumin
Let this simmer on low for 1/2 hour
Then mash a little more with the potato mash to make sure you have a fine texture.
You can let simmer for another 1/2 – 1 hour til a thick consistency
The more you let it simmer the more the flavors develop
This sauce freezes really well for future meals
Serve in a bowl with a drizzle of French's Yellow Mustard and some chopped onions on top OR on top of a steamed hot dog in a bun with a drizzle of French's Yellow Mustard and some chopped onions on top …YUM!