Pasta Sauce 101
Pasta sauce is such an essential part of any kitchen that I want to share with you my basic pasta sauce that I use for so many things. What I don't use right away I freeze in small pint-like containers for futures uses. A basic slow cooked pasta sauce can be used for virtually anything from plain pasta's to lasagna, manicotti, stuffed shells, vodka sauce, sausage and peppers, curry sauces and the list goes on.
When making an authentic slow cooked pasta sauce it's important that one of the base layers of flavors come from some kind of meat like sausages, pork chops, meatballs or braciole, thin cut flank steaks rolled and stuffed with herbs and parmesan and then sauteed like the sausages.  This method is something my family has been doing for generations. I happen to love the homemade fennel sausages from Liuzzi Cheese, an Italian delicatessen located in North Haven, CT. If you haven't been there yet you really should check it out especially for their homemade cheeses like ricotta, mozzarella, and my favorite scamorza. Scamorza is an Italian cow's milk cheese similar to mozzarella but dryer and a little saltier with better melting qualities…my kids love it! Liuzzi also has homemade pasta's and their own delicious line of canned tomatoes and olive oils.
One of the best things about making this sauce is that your kitchen will smell amazing all day long. It would be wise to keep a crusty loaf of Italian or sourdough bread for dunking every now and then…you know, just to check and make sure every thing is going well! An appetizer dish that goes great with pasta and sauce is zucchini torta, baked asparagus wrapped in Prosciutto, baked coconut shrimp,wrapped, smoked salmon with cream cheese-caper spread on crostinis, clam puffs, or how about a  roasted beet salad with mint and feta, or a refreshing fennel and citrus salad with tangerine dressing. Then there always dessert to plan for like a fresh fruit pavlova, or chocolate-avocado mousse.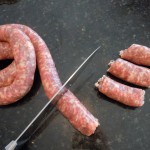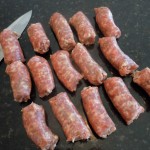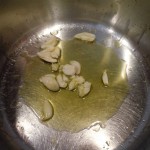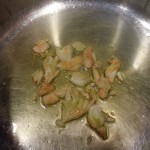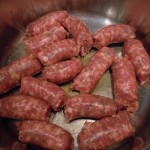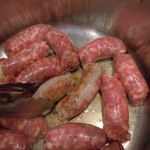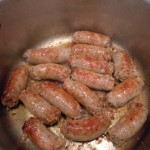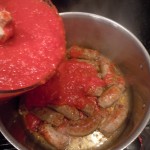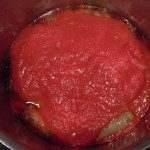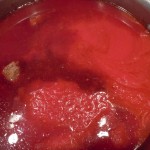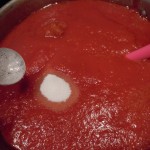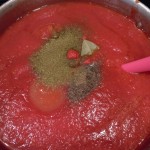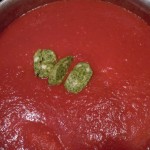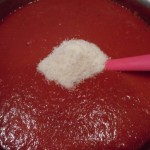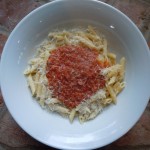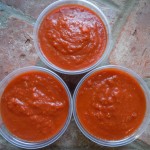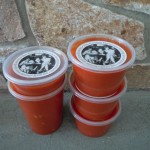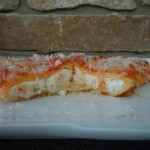 Ingredients:
2 lbs. fennel sausage (your favorite) my favorite is Liuzzi in North Haven, CT
5 28 oz. cans of whole peeled tomatoes
1 cup red wine
3 Tbsp olive oil
6 lg. garlic cloves (crushed)
2 Tbsp sugar
2 Tsp salt
1/2 Tsp black pepper
2 Tsp Italian seasonings (ground in spice grinder)
1/4 cup grated Reggiano Parmesan
3 slices pesto butter log or handful of fresh basil leaves
Directions:
Slice up the sausage links into 3″ pieces
Smash the garlic cloves with a large knife to release the cloves from it's wrapper
Add 3 Tbsp olive oil and 6 smashed garlic cloves to a large pan (this will be your sauce pan)
Put the heat on low and sauté garlic til lightly golden … This will take about 7-10 minutes
When the garlic is slightly golden remove from pan and set aside
Add in sliced sausage links to the same sauce pan and turn heat up to medium/high
Sauté sausage links turning every 5 minutes or so until they become golden on all sides…this will take about 20-30 minutes
Put the 1/2 of the whole peeled tomatoes into a food processor (this will take 2 rounds with this large can) and then add the golden sauteed garlic cloves
Puree for 40 seconds and add to the sautéed sausages
Add the rest of the whole peeled tomatoes and puree for another 40 seconds and again add to the pot of sauce
Add in the 2 cans of crushed tomatoes to the sauce pan (no need to purée these) and the cup of red wine
Add in all the spices and turn heat to medium to bring to a simmer
Cover the pan, leaving a little opening at the edge to let condensation escape during the cooking process
Turn down right away to low heat and keep a low simmer for 2 1/2 hours
When you take the pan cover off to check on sauce be sure to NOT let all this condensation drip back into the sauce from the inside of the lid
Stir every 45 minutes or so to make sure bottom isn't burning
Towards the end oil will accumulate from the sausages on the top layer of the sauce so just skim this off with a spoon
Serve and take off stove to let cool
Put into frig or into container for the freezer