Homemade Turkey Meatballs Recipe/VIDEO
OK, I know you are probably saying "where's the beef" but just give these light and flavorful turkey meatballs a chance. They are meaty, garlicky, cheesy, moist and melt in your mouth after simmering in my tomato-basil pasta sauce for 2 hrs. Wait until you try these gourmet turkey meatballs in tomato basil sauce on a crusty sub that's baked with oozing mozzarella and a julienne of fresh basil …do I have your attention now? That's what I'm talking about  🙂
Good ole meatball subs are just one of those all american comfort foods that I have always adored. Although, I think the word "sub" referring to a "sandwich" is represented differently through parts of the US. It threw me a little when I first moved to California because when I would asked for a "sub" they had no idea what I was talking about because they use the term "hoagie" there. Another little play on words which would totally crack me up when I living in California was asking for the location of their nearest package store and they would send me to a mailing facility!
Anyhow, I am excited for you to make these homemade turkey meatballs because even though they are made exactly like my 100% Angus meatballs these aren't as heavy.  I have been substituting out a lot of ground beef for turkey and it's has really given me a new lease on cooking, a new avenue so to speak on the whole meat situation. To enjoy a meaty meal with the same herbs and spices but making it a lighter meal in the end.
I actually started making my lasagna with ground turkey instead of ground beef and it's amazing! Once again using the turkey makes the lasagna a lighter dish then if it were made with beef. I brown the ground turkey and de-glaze it twice with a nice Cab (Cabernet) and by the time I'm done the color even looks like beef lol. My very picky daughter Bella, who loves my lasagna didn't even know I had switched some time ago to turkey until I recently told her. She loves the taste of the lasagna so much that she's totally OK with this…I call that a home run!
Enjoy watching my "how to " video on making these homemade gourmet turkey meatballs in an Italian meatball sub. And if you need something sweet and refreshing, easy to make and out of this world check out my Pavlova recipe!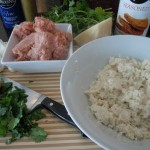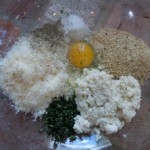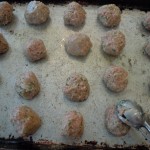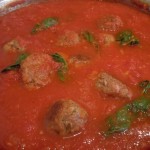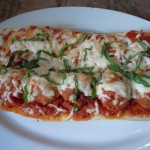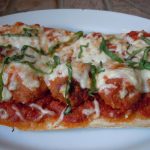 INGREDIENTS for Homemade Turkey Meatballs In An Italian Meatball Sub – (Makes 21 Small Meatballs):
1 lb. ground turkey
1 extra-large egg (rule of thumb …1 egg per 1 lb. of meat)
1/2-3/4 cup after soaked in milk – (1/2 loaf of 2 day old Italian bread soaked in 1 cup milk)
1/4 cup seasoned bread crumbs
1/2 cup grated Reggiano Parmesan cheese
1 lg. garlic clove put thru garlic press
1/4 cup finely chopped fresh parsley
1 Tsp salt
1/4 Tsp ground black pepper
1 cup milk
1 recipe Tomato-Basil Pasta Sauce
1 bunch fresh basil
10 oz part skim mozzarella
fresh baguettes
DIRECTIONS:
Pre-heat oven to 425º
Break up a 1/2 loaf of 2 day old Italian bread and place into a large bowl as shown in photo
Pour 1 cup milk over bread and let it absorb for 10 minutes
Wash, spin, dry and finely chop parsley, set aside
Discard outer crusts from soaking Italian bread
Begin to break soaking bread pieces apart with your fingers…if you feel any gooey pieces throw those away (if it sat out for a couple of days it won't get gooey)…the bread should just fall apart easily
Take 1/2-3/4's cup of this soaking bread and add to a large mixing bowl
NOTE: with turkey being as moist as it is you should squeeze a little more of the milk out (you don't do this with beef because it's drier)
To this bowl add in Parmesan, chopped parsley, garlic clove thru garlic press, salt and pepper and 1 egg
Whisk til just combined
Add in 1 lb. of ground turkey and begin to mix gently with your hands…DON'T over work the meatballs you don't want it to look fully combined like a meatloaf
Using a cookie scooper begin to shape and roll mixture with your hands – they will be small about 1 1/2″…have a small bowl of water to the side to keep hands damp not wet (this makes it easier to rolls meatballs)
Spray cookie tray with Pam canola oil and give a drizzle of olive oil for flavor
Place 21 shaped meatballs onto the cookie tray and spray the tops of the meatballs
Place them into the oven for 17 minutes
Take out the turkey meatballs and set aside in a bowl, meanwhile add 1/2 cup red wine the cookie sheet (as long as the cookie sheet has 1″ sides) and scrape browned left over turkey meatball bits and pour this along with meatballs into tomato basil sauce
Add turkey meatballs and wine with bits to my Tomato Basil Pasta Sauce and simmer for 1 1/2 – 2 hrs.
Spoon tomato sauce onto baguette(s), then add turkey meatballs and top with mozzarella
Bake in a 400º oven for 10 minutes or until cheese is melted, then add a julienne of fresh basil and slice up for several servings or keep whole…good luck and make sure to have plenty of napkins!
Mangia mangia 🙂