CT Style "Big Game" Show with Ryan & Teresa!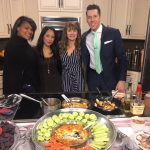 What a blast in The Bender Kitchen today with Ryan Kristafer & Teresa Dufour making my #1 viewed YouTube cooking show, "BEST BUFFALO CHICKEN DIP EVER!", at 83,000 views and climbing!  It was a special day there because Teresa is back after her 4 month maternity leave.
Not only was it fun on the set at WTNH, Channel 8 in The Bender Kitchen but Billy Blanks for Tae Bo was in the house also. Of course, I had to take a couple fun action shots.
The improtant thing I wanted to get across to everyone today on CT Style while showing you how to make "Big Game" food for next weekend is to make ahead! The Guacamole, Hummus and Drunk Blondie Bars with Bourbon Caramel Sauce can all be made one day ahead of the Super Bowl LII. This way you can relax and enjoy being with your friends and still get the well deserved praise of master chef!
Here are those make ahead ideas for Big Game eats next weekend and remember to get your wings and chicken tenderloins early because all the super markets run out by mid week! Have fun and enjoy! 🙂
Homemade Hummus, Drunk Blondie Bars with Bourbon Caramel Sauce,  Baked Beans, Best Buffalo Chicken Dip Ever! and Homemade Guac!