Mango-Kale Smoothie
If you are wary of kale you won't be after trying my scrumptious mango-kale smoothie! In fact, if you didn't see that this mango-kale smoothie was green you would never know there was kale in it! It's made from frozen mango chunks, fresh kale leaves, a pinch of banana and ginger, vanilla-bean Greek yogurt and light apple juice. The silky creaminess comes from using Cabot vanilla-bean Greek yogurt. And the "light" apple juice has the perfect amount of sweetness bringing it all together. The subtle flavors from the scant amounts of banana and ginger will have your guest's trying to pinpoint exactly what they are. This most delicious concoction will have you licking your lips after the first sip!
My mango-kale smoothie is a real energy booster! I love that it's super easy and convenient with store bought frozen mango chunks! My kitchen always has mangoes on the counter ripening for these mango-kale smoothie's or my mango salsa but sometimes the timing isn't right. That's why I always have a bag of store bought frozen mango in my freezer. I can always depend on the the quality of the store bought frozen mango being deep orange in color offering a sweet mango flavor. Many times I cut up the ripened fresh mangoes using 1/2 cup fresh and 1 cup frozen in the mango-kale smoothie. Then I add any leftover fresh mango to the frozen mango bag and pop in back into the freezer for next time.
I make many different smoothies some of which you can find in my "Energy Smooties 101" but I think this is one of my fave's because of the simpicity, delicious flavor and nutritional benefits. I add ginger in my mango-Kale smoothie for an immune system booster offering up anti-inflammatories and antioxidants. Kale is another antioxidant with more nutrients then spinach, if you can believe that one! It has calcium, potassium, vitamin C and B6 all helping to give you awesome looking skin & hair, and healthy bones & heart. Then there's the mighty mango that's known to help fight cancer with vitamin's like A, C, E and B6!
This Mango-Kale Smoothie energy drink should be part of your weekly regimen. It's a win-win for all us busy bees who just don't have time for ailments! Enjoy 🙂 Now that I have you on a health craze you have to try my easy fresh salsa 101 that you can make 12 months of the year, or BEST guacamole ever. Don't forget the Seared Sea Scallops, Salmon BLT Slider's and how about ending it with some Ricotta Pie!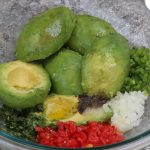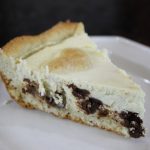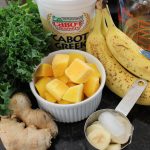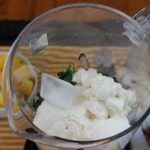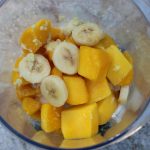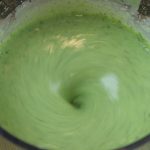 Ingredients for Mango-Kale Smoothie makes 8 small glasses:
1 1/2 cups frozen mango chunks (I love Stop & Shop bag of frozen mango)
1 cup PACKED, about 5 lg fresh kale leaves with ribbing removed
1//4 cup sliced, frozen banana (fresh banana's sliceD, placed into baggies and freeze)
1 1/2 tsp fresh grated ginger
1 cup Cabot vanilla-bean Greek yogurt
1 1/2 cup "light" apple juice, NOTE: the "light" apple juice has less sugar in it then the "unsweetened" apple juice and the perfect amount of sweet
1 ice cube …helps to purée the kale to a fine and smooth consistency
Directions:
Place the kale leaves into the blender first, followed by Greek yogurt, ice cube, frozen mango chunks and banana, zested fresh ginger and light apple juice
Purée for 1 minute til frothy and smooth
Pour into glasses and serve
NOTE: you can freeze any left over mango-kale smoothie in plastic container for future frozen "Italian ice" like snacks!
Add some vodka or rum to make delicious party cocktails!