No better way to start out my week then on "CT Style" In The Bender Kitchen with Teresa Dufour and News 8's newsest ancor Scott McDonnell! It was a fun meeting Scott and having him there in the kitchen too and Teresa's aura goes without saying…radiant! Summer is still in full swing so oysters were on my mind and here on CT Style I show you how to make my Oysters in Pernod Sauce with Fresh Spinach.
I created this recipe 16 years ago to match a yummy dish I had in New Orleans back in 2001. I have a knack for matching recipes in my test kitchen and that's what I had done here. The flavors in this dish are a play on the traditional Oysters Rockefeller although with my recipe you don't have to worry about shucking oysters. I buy my oysters already shucked, flash frozen in their own juices, at my local fish store.
On CT Style I actually used 1 whole quart of flash frozen oysters which contains about 24 oysters. I didn't quite double the recipe but used 1 1/2 the amount on the ingredient list. This is a very simple recipe and you will feel like a certified saucier once you taste the outcome.
As for th
e Pernod, this star-anise liquer is a whopping 40% alcohol although it mellows out quite a bit after simmering for 40 minutes. You'll end you with a unique and really lovely flavor that's going to wow you!
One of my favorite things about figuring out a menu for a dinner party is how each dish balances out with the other. To compilment my oysters in Pernod sauce in Pernod Sauce on the CT Style set today I put together a platter of fresh watermelon wedges topped with a very good quality balsamic and feta cheese, sliced peppermint leaves and a drizzle of extra-virgin olive oil. My neighbors have been inspiring me with there watermenlon dishes this summer so thats the reasoning behind this combo and what a flavor explosion it is!
If you want to keep on the seafood train you should check out Lobster Mac N' Cheese, Cold Cucumber Soup with Seared Sea Scallops, Salmon B.L.T. Sliders or Crab Cakes!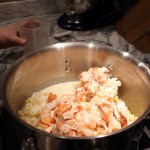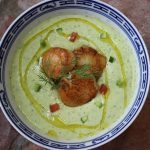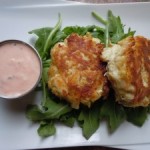 Ingredients for Oysters in Pernod Sauce with Fresh Spinach –                                            Makes 6 appetizers / 4 course size plates:
NOTE: On "CT Style" the finished sauté pan amount was 1 1/2 of the recipe with 1 Quart of Oysters-24, Raw flash frozen from my local seafood store… it's all in how many oysters you like!
1 pint shucked oysters, fresh or flash frozen raw oysters(12 oysters)
1 package 5 0z. fresh spinach
1 bottle clam juice plus juice from oysters
1 1/2 cup heavy cream OR can of coconut cream
1 cup half and half OR 1 cup coconut milk
1/2 cup Pernod plus 1 tsp to add at the end for extra flavor
1/2 cup Vermouth or white wine
1/4 cup plum tomatoes (pureed)
1 garlic clove thru garlic press
2 dashes Siracha
1/4  cup grated Reggiano Parmesan cheese
1/2 tsp salt
1/4 tsp pepper
1/4 tsp onion granules
1/4 tsp garlic granules
1 bunch fresh rosemary tied off with string
2 bay leaves
1 tbsp Wondra flour
Directions:
Sauté/steam spinach for 3 minutes with 2 tbsp water
Immediately remove spinach to a bowl of ice water to shock, stop the cooking and keep vibrant green color
Place spinach in a small strainer to squeeze out water then place into a small bowl with paper towels to remove any excess water
Add all the above ingredients EXCEPT grated cheese, oysters and spinach to a large sauté pan including the juice form the oysters but NOT the oysters themselves
Note: Make sure to slowly whisk in the 1 tbsn sprinkling of Wondra flour
Bring to a low simmer, keep simmering on low, stir every 10 minutes for 40 min. (do not BOIL or the cream will break and curdle!)
Remove rosemary bundle and bay leaves
Then stir in oysters and spinach and simmer 1-2 minutes just so the oysters cook thru
Stir in the grated cheese
Serve with hearty dense Italian bread OR rice noodles…mmm!
Ganish with finely chopped tomato and a drizzle of extra virgin olive oil