Creamed Onions
Creamed Onions, inspired by my Grandma Reilly, are put together in mere minutes then baked in the oven until bubbly making for the perfectly saucey side dish. My secret ingredient in the creamed onions offers a suble flavor bringing together the heavy cream, half and half, white wine, chicken broth, and mild Emmentaler Swiss cheese.
The secret addition in these creamed onions that give's this dish that extra special something is evaporated milk. A small amount of Emmentaler is the other delicate flavor. Emmentaler is a very mild swiss cheese with remarkable melting qualities usually found in fondue recipe's. I never got the recipe from my Grandma but thru many yummy test runs figured it out and have been making this recipe for over 15 years.
I began reminiscing about my Grandma's Reilly's holiday dishes when Pem McNerney, Living Editor, for The Source and other Shoreline newpapers recently sent me an email with a list of questions pertaining to Thanksgiving asking me if I wanted to elaborate, I was happy to oblige. Look for the hyper-links below the creamed onion recipe to help with your Thanksgiving Dinner!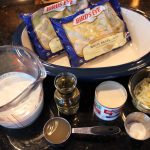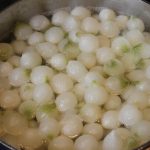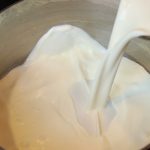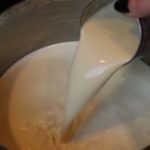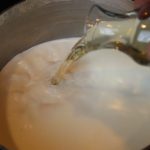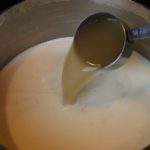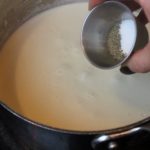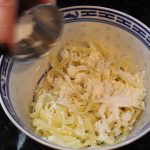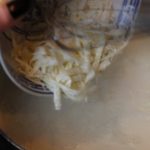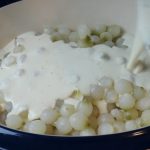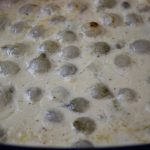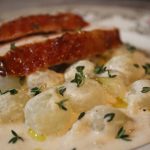 Ingredients for Creamed Onions:
2 frozen bags (approx 2 lbs.) of white pearls onions 14 – 16 oz each bag
1 cup heavy cream
1/2 cup half and half
1/2 cup white wine- chardonay
1/2 chicken broth
1 small can evaporated milk (the 5 oz can)
1/2 cup grated Emmentaler Swiss cheese
1 tbsp corn starch
3/4 tsp sea salt
1/4 tsp finely grated blk pepper OR white pepper
Directions for Creamed Onions:
Bring a pot of water to a boil and add frozen white pearl onions
Bring back to a simmer, and keep simmering for 20 minutes
Mix corn starch and Emmentaler cheese in a small bowl, set aside
Remove simmering pearl onions to the baking dish with a slotted spoon
Drain water from sauce pan
Using SAME pan (no need to clean) add heavy cream, half and half, evaporated milk, chix broth, and salt and pepper and bring to a low bubbling simmer
Whisk in Emmentaler cheese-corn starch mixture until combined, 20 seconds…keep whisking until melted in and then…
Remove from heat immediately and pour over onions in baking dish
Stir to even coating onions and bake for 35 minutes on 350º until bubbly, it will be golden around the egdes
Note: Grilled ribeye or Filet Mignon, creamed onions and a drizzle of truffle oil is OUTRAGEOUS! Enjoy! 🙂
NOTE: These creamed onions get even better when re-heated because the onions break down a little and melt into the sauce…MMM!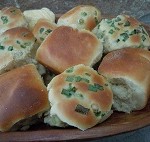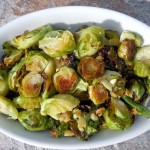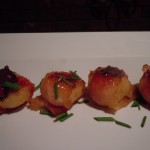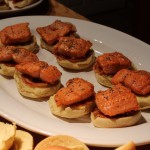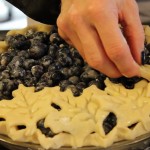 Thanksgiving Memories
When I think of Thanksgiving many nostalgic memories come rushing in. It's easy to do with all the aroma's of this festive season.  The first fond memories I had of Thanksgiving were going to Grandma Reilly's house having her homemade pies and creamed onions! The blueberry pie with a crispy, flaky crust and oozing sweet blueberries was my favorite. Her lemon meringue pie at a very close second. Not that her creamed onions didn't leave a huge impression on me. Unfortunately, I never did get her pie crust recipes but have spent many hours fooling with pie crusts until I got it right, my "perfect pie crust in 5 minutes" with a "blueberry pie" filling to emulate her's! –  http://thetravelingepicurean.com/perfect-pie-crust-in-5-minutes/  and  http://thetravelingepicurean.com/best-blueberry-pie/ .
The hard thing about Thanksgiving is there are so many dishes to make it can be exhausting. There's the dilemma of which one's are tradition, which one's your favorite and can I eliminate any of them? The best answer is don't be a control freak or a kitchen hog and have everyone join in doing their part, laughing, mixing, tasting, working along side of you. It's ok to delegate out some of those tasks. Then it doesn't seem like work at all! This being said, one Thanksgiving in particular comes to mind. Years ago while living in San Francisco my dear friends Lisa, Bobby, Pam and John came out West with their children and parents to visit more family and invited us to stay with them as well.  
This was a grand occasion, not only was I excited to be with my nostalgic East coast friend's for this Thanksgiving holiday but they rented out The Historic Spreckels House in Sonoma, CA. It was breathtaking! We went wine tasting, played football on the grounds, and read lots of storybook's to the little ones. The lasting impression for me here was all the fun we had in the kitchen. We all pitched in together to make a gourmet Thanksgiving dinner that could have been a scene from a Norman Rockwell painting. My contribution to the dinner were my "Easy Icebox Dinner Rolls" that I dredged in chopped green onion and fresh rosemary. Nothing like adding to the aroma's of roasted turkeys then with that of fresh baked breads. – http://thetravelingepicurean.com/easy-icebox-dinner-rolls-2/
The great thing about these icebox rolls is you can make the dough 4 days ahead. I call that brilliant! It's key to staying sane on a holiday like Thanksgiving. These rolls have turned into tradition for me and my family, a dish that everyone asks about when ever they arrive. My friend Laura, and loyal Traveling Epicurean follower from Carmel, California will text me pictures of her "easy icebox rolls" every Thanksgiving. She writes, "it's a family tradition and traditions create memories that last for generations."
The most important thing about preparing for a holiday like Thanksgiving is timing. For instance, the pie crusts can easily be made a month ahead and put into the freezer. Take them out two days before to thaw. Roll them out, get them into your pie dish and back into the fridge until the night before when you can put together filling's and bake.
Roasting the brussel sprouts on a cookie tray with chopped garlic, a drizzle of olive oil and a sprinkle of salt and pepper is another time saver. Set aside after roasting in a heat proof serving dish and warm right before sitting down. This is the most delicious way I have ever had brussel sprouts. Once you try this way you'll be hooked. – http://thetravelingepicurean.com/best-brussel-sprouts-ever/
My tip of the day: "Wondra flour" for your gravy is a God send! Don't waste your time fussing with a roux! Is it too lumpy, will it dissolve, is it too thick, did the raw flour taste cook out? Forget about it… Wondra dissolves immediately and gives your gravy a luscious sheen in mere minutes. Yeah!
It's funny because most of my friends who came out to stay with me when I was living in San Francisco knew they were to bring a tub of Mashmallow Fluff and a shrunk-wrapped pizza from Modern Apizza in New Haven. A couple of my favorite's that you couldn't get out there. Yet, the side dish that baffle's me the most on Thanksgiving is the marshmallow's on sweet potatoes. It's something i just can't wrap my brain around. The fact is, my confusion of why someone want's marshmallow's baked on sweet potatoes doesn't really matter because this dish has been around since the early 1900's. It is a tradition for many family's on Thanksgiving. That to me say's it all. Now nuts in cranberry sauce? I won't even go there.
How I love this holiday and sharing other friend's traditions with my children. Last year my kids and I had a blast on Thanksgiving meeting my family out at  an early Thanksgiving brunch, then it was off to my friend's Marco and Sheryl's Lathrop Manor in Norwich, CT, where they also reside. At dinner time we sat down with a house full of their relatives and friends to Marco's gourmet dinner. His buttery mashed potatoes were over the top!. Conversation at dinner had my kids learning about Benedict Arnold and Connecticut history. Come to find out Arnold actually lived in this Lathrop Manor in the seventeenth century working as an apprentice to the Lathrops, the first apothecary in Connecticut…in this part of the world! Their Lathrop Manor is being remodeling right now but you can check out this very cool house in one of The Traveling Epicurean shows called "Salmon B.L T's at Marco's" – http://thetravelingepicurean.com/gourmet-salmon-b-l-t-sliders-at-marcos/
This Thanksgiving I am looking forward to going to my parents house early. Having them spend time with my children, seeing my brother and his family, then off to dear friends for a second round of festivities later on! Making more fun memories unique to each one of us! Family, friends and food bringing us all together once again. May you be thankful for having the chance to spend precious time with your family and friend's this 2016 Thanksgiving Holiday!!
Warm Holiday Wishes,                                                                                                                               The Traveling Epicurean                                                                                                                             Michel Vejar
Thanksgiving Pictures of The Spreckles House in Sonoma, California