Gourmet Frittata
The Frittata first came about as practical dish in theory for using up those leftovers in our frig but when adding in some lovely melting cheeses and a pinch of dairy it turns into something much more then that. Not to mention this Italian egg dish is just as delicious served room temperature as it is warm.
Making a gourmet frittata is as easy as can be leaving you with lots of room to be creative. The measurements do not have to be exact at all to get wonderful results. You can use 10-12 eggs, and mix in heavy cream, half and half, sour cream, or even creme fresh. You can also change out the cheeses to one that you prefer. Use feta or goat cheese, cheddar, Monterey Jack, Pepper jack, Colby-jack, Swiss or Gruyère, Parmesan and so on. It's nice to mix it up too using a combination of these cheeses. I really love using up the leftover veggies in the fridge and don't mind sautéing up one or two more to enhance the leftovers.
By no means does this homemade frittata have to remain a vegetarian either! Pack in the meat using chunks or slices of ham, cooked sausages, bacon, steak and well that list goes on too. I think the trick here is not to fuss too much, be sure to add a little dairy and be sure not to over cook the frittata thinking that it's not done enough because you see a little movement in the center when taking it out of the oven. Remember it will keep cooking after you take it out of the oven and it will also congeal a bit with the cooling process. Enjoy the show and making this yummy gourmet frittata! You may want to try some grilled Asian Salmon or Caesar Salad with this frittata too.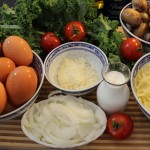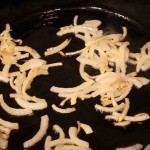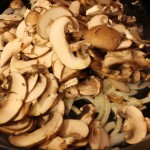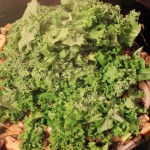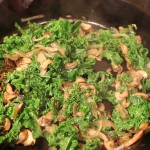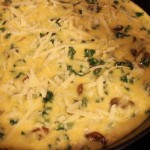 Ingredients:
12 extra-lg eggs
1/2 cup half & half, heavy cream or creme fresh
1 1/2 cup gruyere cheese ( 1/2 cup is for the topping) OR 1/2 cup cheddar, 1/2 gruyere with addtional 1/2 cup mix of each for the topping
1/3 cup grated Reggiano Parmesan
8 oz. pkg baby bella mushrooms sliced
1 1/2 cup chopped or sliced onions
6 small tomatoes sliced 1/8″ thick to decorate top of frittata before you bake it
1 tsp salt (1/2 tsp into eggs & 1/4 tsp each for onion/mush. and 1/4 tsp when you add kale)
1/4 tsp ground pepper
1 tsp Siracha (or more…to taste)
Directions :
Pre-heat oven to 350º
Wash and dry kale leaves
Remove kale leaves from the ribbing (stalk) as shown in show
Slice mushrooms, onions, kale and tomatoes – set aside
Whisk 12 eggs, then whisk in 1/2 tsp salt. 1/4 tsp finely ground pepper and half and half
Add 3 tbsp olive oil to 10″ cast iron pan or oven proof pan on med/high heat
Add onions and sauté for 5 minutes
Add mushrooms to onions and 1/4 tsp salt, then sauté another 5 minutes on med/high
Add in kale when juices begin to release from the mushrooms along with another 1/4 tsp salt and sprinkle of pepper, and a few shots of Siracha
Sauté kale mixture for 5 minutes while stirring just to wilt slightly
Add 1 cup of gruyere and 1/2 cup of parm to egg mixture and give it a quick stir
Turn off heat on cast iron pan and add in egg mixture
Give it a stir to the veggies and egg mixture
Then top with 1/2 cup more gruyere cheese and decorate with sliced tomatoes
Put into the oven and bake for approx. 23 minutes
Take a peak at the 20 minute mark to make sure that the top hasn't gotten golden
You only want slight golden on outer edge
Take out frittata and let sit for 20-30 minutes
NOTE: the frittata will keep cooking after you remove it from the oven
Slice and serve with a sprinkle of grated Reggiano Parmesan on top