Homemade Salmon Gravlax
What a treat it is to have homemade salmon gravlax. It's an even bigger delight to be able to make it yourself at home and have left overs the next day that are just as incredible as the first day they finished curing. Not to mention the money you will save from the astronomical price tag usually attached to those salmon gravlax or Nova lox if you were to buy them at a specialty shop!
You won't believe how easy it is until you make these gourmet salmon gravlax for yourself. It is very important that when you do decide to make my homemade salmon gravlax to buy wild salmon and NOT farm raised. The wild salmon is definitely going to be pricier then the farm raised but you will still be saving a ton from having a specialty shop cure and sell them to you.
Now there is a little difference between salmon gravlax and Nova lox. Nova lox come from Nova Scotia and are cold smoked after the curing or brining process using some kind of brandy, gin or lemon vodka. Gravlax is the Scandinavian preparation of lox with just the curing or brining using dill and other spices like juniper berries, pepper corns as well as a liquid like an aquavit or vodka. Gravlax actually originated a lot like how sushi evolved in Asia where they buried the fish in rice to preserve and ferment.  Gravlax was made by fishmen who salted and fermented it by burying it in the sand …hence the Scandinavian word "grava" meaning to dig.
This homemade salmon gravlax recipe of mine came from a good friend, Jim, who is a saucier himself and always has an endless assortment of great recipes up his sleeve. His wife Jen and him are also big foodies and a lot of fun has been had with them in our own "kitchen cook-offs"! Needless to say I have been making these homemade salmon gravlax for over fifteen years and the results are always amazing. They are for sure "easy gourmet".
With all the graduations and summer parties around the corner I think you better get busy and invest in some Coho wild salmon or do a little fishing yourself. I actually bought my Coho wild salmon that's in the cooking show at Whole Foods Market. Their Coho wild caught salmon is packaged and flash frozen by the fisherman to a certain degree required by FDA law to kill any parasites and is ready for distribution. You may never buy store bought salmon gravlax or Nova lox at specialty shops again after eating this incredible delicacy! I hope you Enjoy the "Homemade Salmon Gravlax" show!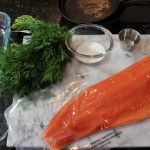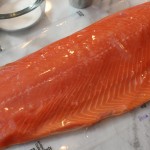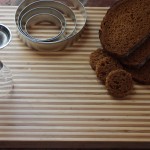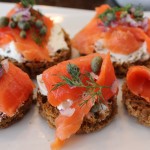 INGREDIENTS for Salmon GRAVLAX:
1 1/2 -2 lbs. fresh Wild Coho Salmon (flash frozen or right out of the ocean!)
3-4 tbsp sea salt ( USE 2 tbsp PER POUND of salmon)
3-4 tbsp sugar (USE 2 tbsp PER POUND of salmon)
2 tbsp vodka or aquavit
1 lg bunch of fresh dill
2 tbsp pepper corns -OPTIONAL -for a little spice (Use pepper corns not ground pepper)
DIRECTIONS for Salmon GRAVLAX:
Cut 2 lb salmon filet in 1/2 so we can sandwich the halves together with salmon flesh facing the inside
Whisk dry ingredients together salt, sugar and peppercorns
Sprinkle about 1 tsp of vodka on the flesh sides of each of the salmon halves
Rub all of the dry mixture onto the flesh sides and skin sides of the salmon halves…most of the rub should be on the flesh side though
Lay fresh dill bunch onto one the the salmon fillets, on the flesh side
Sandwich the other salmon fillet on top so that the flesh sides are facing each other
Place into a Ziploc baggie and place in a glass baking dish
Top the salmon fillets with cast iron pans and large cans – YOU NEED TO WEIGHT THE SALMON DOWN (tomato or vegetable cans work great)
Place into the frig and cure for 3 days (2-3 days preferably 3)
Flip the curing salmon every 24 hours making sure to out the weights back on
On day 3 remove the salmon from the baggie and pick off all of the toppings (dill, pepper corns) and give a QUICK rinse or rub off toppings with a damp paper towel (you don't want to run water over your cured salmon … it's a QIUCK rinse)
Pat completely dry and sliced salmon on a bias as shown in the show
Serve with mustard sauce or cream cheese-caper mixture and bagels or rye bread rounds and a sprig of fresh dill on top
Mangia mangia
INGREDIENTS for CREAM CHEESE SPREAD:
6 oz. Philadelphia cream cheese
2 tbsp finely chopped red onion
2 tbsp small capers
1/2 fresh squeezed lemon
2 tbsp chopped fresh dil
Bring cream cheese to room temperature, add remaining ingredients and mix to combine
INGREDIENTS for MUSTARD SAUCE:
2 tbsp Dijon
1 tbsp sugar
1 tbsp finely chopped red onion
2 tbsp finely chopped dill
3 tbsp "seasoned" rice wine vinegar
3 tbsp good olive oil
Put first 4 ingredients in a medium size bowl, add in vinegar and begin to whisk in olive oil