Grilled Asian Salmon
Grilled Salmon or pan seared salmon is up there as one of my very favorite fish dishes! In the past I have been spoiled with having very fresh salmon to work with. You may ask how fresh was it…well I'll tell you, we are talking so fresh it just was caught in the San Francisco Bay minutes before it was in my kitchen.  My rule of thumb for fish is if your fish smells and or tastes fishy you shouldn't cook or eat it. In fact, the marinade I use here is very light and I only soak the fish for a mere 1 hour.  I want to taste the luscious meat of the salmon and only want a hint of the Asian flavors which I actually use to help caramelize the edges of the fish.
The Restaurant Depot in Milford, is where I like to buy my salmon. As shown in the photos below, they have a wonderful selection of fish. The local markets like Star Fish Market and Atlantic Seafood have a great selection of salmon. The salmon in this recipe is farm raised from Canada, so not a whole long distance to travel.  I have grown to love good farm raised salmon because it is meaty and luscious in flavor and you can't beat the price. But you need to know that I would only make my gravlax recipe from a wild salmon like a sock eye salmon. Wild Salmon is all flash frozen to -10º for at least 36 hours by regulatory means to assure that if a possibility of parasites exists they will be killed making it safe for such delectable recipes as gravlax. Gravlax is made from raw salmon (flash frozen… unless you are fishing for it yourself!) cured in salt, sugar, dill and eau-di-vie or vodka and is heavily. I have actually had a request for my gravlax recipe so stay tuned for that recipe in the up and coming weeks.
The salmon can be grilled or pan seared the only difference being you finish the salmon off in a 325º oven for 5 minutes instead of a turned off grill. I have given you the mixture for my marinade BUT if you don't have time you have the convenience of using one of my favorite store bought marinades called Soy Vay "Island Teriyaki" with the yellow and blue label which happens to be incredible on chicken, by the way. You can find Soy Vay products at all the markets on the marinade shelf. I like to serve the grilled Asian salmon with my cold asparagus-ginger salad and if you want something a little hardier you can add in my perfectly mashed potatoes and red onion recipe which would all be delicious together.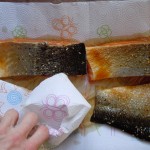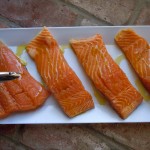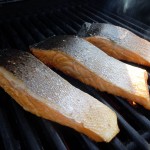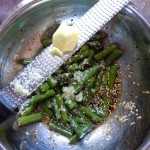 Ingredients serves 4 people:
1 lb. salmon filet
2 Tbsp olive oil
salt and pepper
1 recipe

cold asparagus-ginger salad

Marinade #1:  1/2 cup white wine + 1/2 cup pineapple juice + 1/4 cup reduced sodium soy or Tamari soy (a dark soy) + 8 slices of fresh peeled ginger + and 2 crushed garlic cloves
Marinade #2: 1 cup Soy Vay "Island Teriyaki" marinade + 1 cup white wine + 2 crushed garlic cloves + 8 slices of fresh peeled ginger
Directions:
Wash and dry your 1 lb. salmon
Slice into 4 even pieces
Choose marinade #1 or #2 from above
Place the salmon pieces in a large bowl with the marinade, cover with saran and pop into the frig for one hour…NO MORE
Take the salmon out and place onto paper towels to blot completely dry
Add 2 Tbsp olive oil to the salmon filets
Add a sprinkle of salt and pepper
Heat the grill to medium/high
Rub olive oil on grill grates carefully with a brush before you put the filets down
Place the salmon filets flesh side down first (so the flesh doesn't get covered in scales when you flip)
Close grill top
Cook for 5 minutes
Using a spatula flip over the salmon filets and close grill again…you may need to wiggle filets gently on the grill with a thin metal spatula to loosen them …be patient
Cook for another 5 minutes
Turn the grill off and close grill letting them sit for another 5 minutes
For Pan Seared Method:
Pre-heat oven to 325º
Place a large sauté pan on the stove and put on medium/high heat
Drizzle 1 Tbsp olive oil into pan
Place the salmon filets flesh side down first (so the flesh doesn't get covered in scales when you flip)
Cook for 5 minutes
You don't need to cover on your pan
Using a spatula flip over the salmon filets…they will flip over easily in the pan
Cook for another 5 minutes
Then place pan into the oven for 5 more minutes on 325º uncovered
Take out and serve with asparagus salad, mashed potatoes & red onion and a sprinkle of toasted sesame seeds