Homemade Zucchini Torta
Zucchini Torta Recipe/VIDEO
This zucchini torta is one of our family recipes from Italian decent! It's NOT a frittata or a quiche…it's a torta. The word torta is an Italian, Spanish, French and Portugese word which in others words tells you there will definitely be different versions of what and how a torta is made. Even within one country the versions of torta are going to differ. For instance, in many regions of Italy a torta is more like a vegetable pie with thin layers of dough, vegetables and not so much egg like a quiche or frittata which has many eggs. With this Italian torta recipe there aren't any dough layers, just lots of sliced up zucchini and finely chopped onions sautéed and added to only two eggs whisked with Parmesan (I use my vegetable hand chopper here to do the onions, it's so convenient…a really great kitchen aid!).  You will be tempted here to add more egg thinking two isn't enough to hold it together …but don't you do it! Not necessary, two is just enough egg to bind it together and not give it an eggy taste but a delicate flavor of the vegetables and Parmesan. This can be an appetizer served by itself or on fresh baguette slices (preferably a crusty sourdough baguette), on a crostini or with a spread of hor d' oeuvres like baked coconut shrimp, crostinis with fresh mozzaella, pesto and roasted tomato or crostinis with smoked salmon & cream-cheese caper spread. It can also be a side dish to lunch or a dinner with sautéed chicken breast and spinach.
Make sure to watch my YouTube cooking show above that goes with this recipe and don't forget to SUBSCRIBE on my YouTube channel so that you can receive my latest cooking show releases!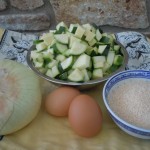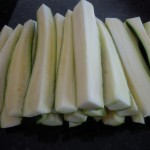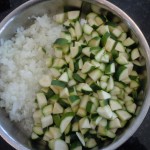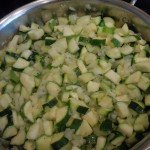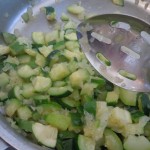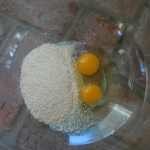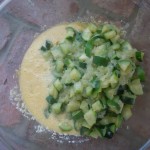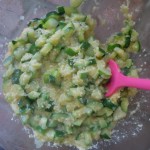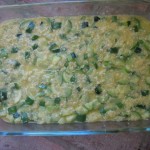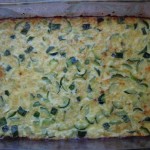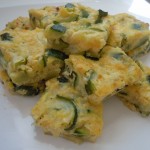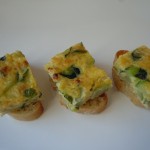 Ingredients:
4 Medium/large zucchini or 8 cups
1 extra large sweet Spanish onion (vidalia)
1 cup grated Reggiano Parmesan
2 extra large eggs
1/2 tsp salt
1/4 tsp pepper
3 Tbsp olive oil
Directions:  
Pre-heat the oven to 375º.
Cut up the zucchini in quarters length wise and slice those strips into 1/4″.
Finely chop onion (use

chopper

if you have one).
Sauté zucchini and onions in a large saute pan with olive oil for about 10 minutes on medium high heat until fork tender but NOT mushy.
Add salt and pepper.
In a large bowl whisk eggs and Parmesan (you'll be adding the sautéed vegetables to this bowl).
Using a slotted spoon scoop the zucchini/onion mixture from the pan into the whisked eggs (you don't need to wait for it to cool) making sure to leave behind any liquid that might have rendered out of the vegetables.
Mix the vegetables with the eggs and immediately pour into a 9″ x 13″ baking dish (no need to grease the baking dish)
Bake for 30 minutes or until lightly golden on top.
Take out, let cool, slice and mangia!