Saltine Christmas Bark
This Saltine Christmas Bark is the perfect holiday treat made in mere minutes. You get the best of both world's, sweet and salty plus a crunch from the Saltine cracker base! It starts with crushed peppermint candy (my favorite), or pecans, then a layer of creamy chocolate leading into the slightly chewy toffee which all sets up on a crunchy saltine cracker! Oh my goodness, bring it on!
The fun part about making this Saltine Christmas Bark is breaking up this giant slab of goodness into randon size pieces. You kind of feel like an artist deciding how big and even the shape of the final outcome! Plate them up and voilà your masterpiece. These also make great holiday gift's that you can fancy up in decorative celophane candy bags with ribbon.
Let your holiday Saltine Christmas Bark making be extra special with my Bolognese Sauce, a scrumptious recipe I developed thru inspiration from a favorite pasta dish where I went to college in Urbino, Italy. If you're now thinking Italian you should try my chicken Piccata, a savory white wine, capers and mushroom sauce that's delectable. Maybe Lobster Mac N' Cheese is more your style! Or you could be looking for a "Steak-House" Creamed Spinach that pairs up nicely with steak or fish! Since we are so close to the holidays what better time to make the most amazing chocolate pecan pie ever!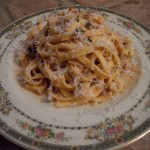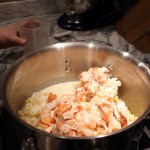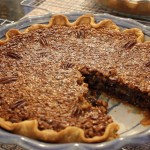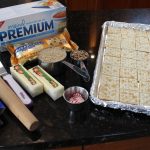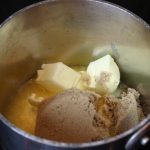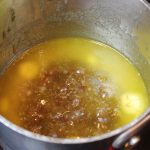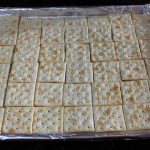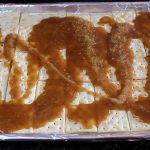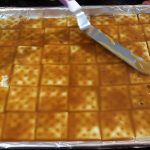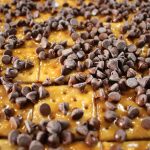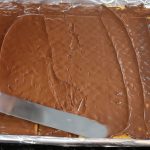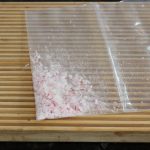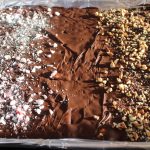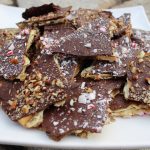 Ingredients:
2 pkgs saltine
1 cup butter – 2 sticks
1 cup light brown sugar
2 cups "mini" semi-sweet chocolate chips (if you can't get "mini" the regular size is fine)
5 pepermint candies – finely crush peppermnt candy in a Ziplock with a rolling pin – My Favorite!
1 cup finely chopped pecans, walnuts, m&m's, or …what ever you want to sprinkle onto the melted chocolate chips
Non-stick aluminum foil – regular foil works too!
12 x 17 Cookie tray
Directions:
Pre-heat oven to 400º
Cover cookie tray with aluminum foil
Arrange 48 crackers on your cookie tray, you may have to break or cut some in 1/2 to get to the edges
Chop up pecans, walnuts or macadamia nuts and set aside
Put candy canes in a ZipLock baggie, cover with a dish towel and give a few hits from your rolling pin to crush the candy to small and powder-like pieces, set aside
Over medium – Med/high heat add 1 cup light brown sugar and 1 cup butter to a deep sauce pan
Stir in the beginning ONLY to combine then leave it alone
Bring to a boil and TURN DOWN to medium and let boil 3 MINUTES
Immediately pour over laid out saltine crackers and spread the toffee with an offset spatula so it covers every saltine
Then pop into oven for 5 minutes
Take out and the toffee will be bubbly, IMMEDIATELY pour "mini" semi-sweet chocolate chips all over the top (if you can't get "mini" the regular works just as well)
Let the chips sit for about 5 minutes to soften up
Using your offset spatula spread the softened chocolate chips covering all the toffee
Immeduiately after spreading chocolate take your crushed candy cane and nuts and begin to sprinkle over the wet chocolate
NOTE: You want to sprinkle toppings BEFORE the chocolate sets so it STICKS to the top
Pop the whole cookie tray into the fridge for 45 minutes – 1 hour to set OR freezer for 20-25 minutes if you are in a rush
Take out of fridge, remove foil and begin to break up the saltine Christmas bark into what ever size you like…mangia mangia!