Gnocchi at Louie's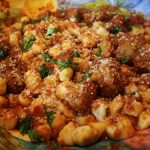 The anticipation of these light and fluffy, melt in your mouth gnocchi is what keeps you focused while you are working away forming these little potato pillows. The recipe for these delicious gnocchi we made at my friend's Louie and Rachel's house last weekend is probably the easiest one out there. Having our other friend's Marco and Sheryl (from the show's "Salmon B.L.T. Slider's at Marco's" and "Lobster Mac & Cheese at David's") working together with us forming and shaping the gnocchi made it a breeze. in fact, it felt as though we were only working on the gnocchi for mere minutes before popping them into the salted water. Louie served his gnocchi with a gravy or sauce made from tomatoes, red wine, herbs, garlic, homemade meatballs and sausages where the aroma's alone made you salivate when first arriving at their front door!
If you have never made homemade gnocchi before you must try this simple recipe. Louie has been making his family's gnocchi for over 20 years so this is a solid recipe thru and thru. You begin making the gnocchi with only 2 large potatoes and believe it or not this is enough potato to make about 200 gnocchi pillows.The other ingredients in the recipe are ricotta, egg, flour and Parmesan which balance out the dough nicely keeping it super light.
So remember to have a few friends over when making these delightful gnocchi to help with the task and before you know it you too will have a plate of homemade gnocchi right in front of you! A wonderful sauce to have with these gnocchi is my bolognese made with veal, pork, bacon, red wine, heavy cream and rosemary..YUM! Or you could go with a traditional red sauce with beef or turkey meatballs. Don't forget some appetizers to go with these melt in your mouth gnocchi at Louie's like my famous Caesar Salad or Crab Cakes! Mangia…Mangia! 🙂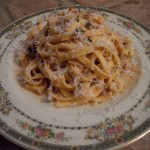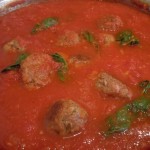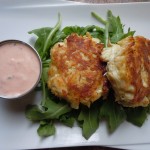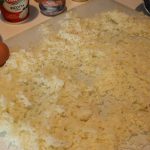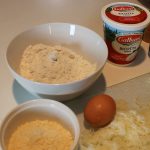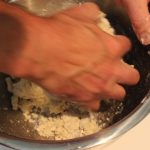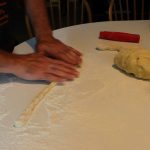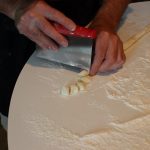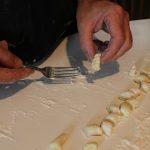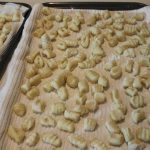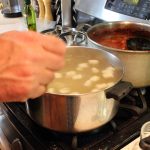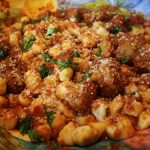 Ingredients:
2 ex-tra lg russet potatoes – 1.5 lbs. total
1 cup whole milk ricotta
1 lg egg
1/3 cup grated Reggiano Parmesan cheese
1 1/2 cup all purpose flour
1/4 tsp pepper
1/2 tsp salt
Directions:
Bring medium pan to a boil, adding 1 tsp salt
Add in the 2 whole russet potatoes – NOT PEELED
Boil the potatoes til tender, can pierce with a fork – APPROX 40 MINUTES
Remove potatoes with tongs to a cutting board and begin to peel off the skin with a fork gently scraping the outer layer
Cut the hot potato into half and load the potato ricer – MUST RICE THE POTATOES WHILE HOT for light and fluffy gnocchi!
Push the potato thru the ricer onto a cutting board and spread out the potato now to cool
Add 1 egg to a large mixing bowl and whisk
Add in the riced potato and mix with a fork just to combine
Add in the ricotta, Parmesan, salt and pepper and mix with the fork to combine
Add in 1 1/4 of the flour and mix with a fork at first and as it comes together begin to mix with you hands, if it's too sticky add a pinch more flour
Turn dough out onto work surface with a small amount of flour
Begin to cut off a little at a time from the lg ball of gnocchi dough and roll out each piece into a long 1/2″ x 18″ (approx) rope
Cut rope into 1/2″ pieces and then roll each piece off a fork to form indents
These indents help to hold the sauce
Lay a dish towel over a cookie tray and sprinkle a little flour on top
As you form these little potato pillows lat them onto the dish towel
Bring a large pan of salted water to boil
Swirl the boiling water with a lg spoon to create a circular whirlpool …help to keep gnocchi from sinking to the bottom completely
Begin to add gnocchi to the boiling, swirling water
They will sink a little at first and then when they start to float when they are cooked – 3 MINUTES
Immediately begin to remove floating, swirling gnocchi with a slotted spoon to a large serving bowl with your gravy or sauce
Continue to do this until you go through all the potato dough
Cook what you want at this point
TO FLASH FREEZE:  Line up the extra gnocchi onto cutting boards that fit into your freezer and begin to flash freeze them until solid, sprinkle a little flour directly onto each board – Do not use a dish towel at this point
Then pop the frozen gnocchi off of the cutting boards and place frozen gnocchi into lg Ziploc baggies and back into freeze until future use
TIP:  When using flash frozen gnocchi in the future go directly from the freezer to the boiling water, give a couple of stirs so as not to clump at the bottom. NEVER thaw first or leave on counter too longer especially marble or granite because they will thaw quickly.