Vodka Sauce with Shrimp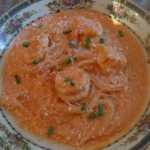 This homemade gourmet vodka sauce with shrimp has always been one of my very favorites since first having it in Urbino, Italy at a restaurant called La Rustica thirty years ago! La Rustica was one of my favorite restaurants in Urbino where I went to college for a summer and fall semester. After cappuccinos in Piazza and before venturing off to Club 83 for some Italian Discoteca dancing we would make that special stop at La Rustica for a scrumptious plate of "penne all vodka con gamberetti"!
Yes and the surprise here is vodka sauce that's gluten free…and tastes amazing! In my gluten-free recipe I use vermicelli rice noodles and switch out the heavy cream for coconut cream. This makes for a heavenly change and actually makes the dish a tad lighter then if you were to go with the heavy cream. The vodka sauce starts off with my homemade gourmet tomato-basil pasta sauce recipe which we add to the coconut cream and coconut milk…then the vodka, the extra dry vermouth (or white wine) and the grated Reggiano Parmesan . All these steps in the end take the Asian flair off the dish and transform it into a Roman Forum.
You just might start to crave those very delicate and flavorful vermicelli rice noodles. I suggest you give them a try and see the difference. If you can't find the "vermicelli" rice noodles at your local market you can definitely find them at the Hong Kong Grocery off the Trumble St. exit (and Whitney Ave.) in New Haven, CT. or in most Asian markets and also in many specialty cheese shops like Fromage in Old Saybrook (you should call first just to make sure).
I have you using my quick and easy tomato-basil pasta sauce which is packed with flavors from the sautéed carrots, sweet onions, garlic and red wine and only takes 30 minutes to make. It's a great idea to make this sauce the day before then putting together the vodka sauce will take you all of 20 minutes. I promise you will love this sauce and not think for a moment that it is gluten free. Make sure to watch the video above to see how easy it is to make this gourmet vodka sauce with shrimp.
INGREDIENTS:
NOTE; IF YOU DO NOT WANT GLUTEN-FREE  AND WANT A BASIC VODKA SAUCE JUST USE REGULAR PENNE PASTA AND HEAVY CREAM INSTEAD OF RICE NOODLES AND COCONUT CREAM/MILK AND FOLLOW THE REST OF THE RECIPE 🙂
1 lb. large shrimp (approx 21-25)
1 pkg. rice vermicelli noodles (approx. 6.34 oz equivalent to 1 lb. reg. pasta)

OR

1lb. PENNE PASTA if you are not going Gluten-Free
1 can coconut cream (14 oz. can from Trader Joes)

 

OR

2 1/2 cup heavy cream FOR BASIC VODKA SAUCE 
1/2 can coconut milk (13.66 oz can from Thai at your local market) –SKIP THIS IF YOU ARE MAKING BASIC VODKA SAUCE
2 1/4-2 1/2 cups pasta sauce from Tomato-Basil Pasta Sauce recipe OR your favorite store bought plain tomato-basil sauce (Be sure to remove basil leaves before adding to cream)
1/4 plus 2 tbsp cup vodka
1/4 cup extra dry vermouth or white wine (optional)
A few dashes of Tabasco or your favorite hot sauce (optional)
1/2 tsp salt (or more to taste)
1/2 -3/4 cup of Reggiano Parmesan
Truffle oil (optional) (Star Fish Market has the best called La Truffiere Tartufo Bianco – a white truffle oil that's amazing)
Red pepper flakes for garnish (optional)
More Reggiano Parmesan for garnish
Fresh chopped chives for garnish (optional)
DIRECTIONS:
Make 1 pkg of RICE vermicelli noodles (the 6.34 oz. of rice noodles ends up to be about equivalent to 1 lb. reg. pasta)
When noodles are finished cooking RINSE with COLD water til completely cooled and not stuck together or gummy …This step is very important especially for the "vermicelli" rice noodles because they are so thin and delicate
Pour the 1 1/2  cans of coconut cream/coconut milk into a sauce pan and turn on to medium heat whisking slightly to help loosen up coconut cream
Add 2 1/4 cups pasta sauce into the cream
Add 1/4 vodka and 1/4 dry vermouth and bring to a simmer
Simmer for about 10 minutes on low to let alcohol burn off and thickens slightly
You can add in a several dashes of Tabasco or your favorite hot sauce here …it's OPTIONAL
Whisk in 1/2 – 3/4 cup of Reggiano Parmesan
Add 1 lb. of RAW shrimp to sauce, bring back up to simmer and cook thru til shrimp is cooked approx. 2 minutes only
Begin to add in the rice noodles pasta into sauce pan 1/2 at a time to make sure you have enough sauce and heat thru
Plate up the noodles and sprinkle with Parmesan, chives, red pepper flakes or blk pepper and mangia!