Thai Quinoa Salad
This Thai quinoa salad with a ginger peanut dressing is out of this world and so good for you! The salad was introduced to me by my good friend Kathy who brought it to one of our other friends house for a graduation party. It was so addictive I found that many people, including myself, were going back for seconds and thirds. Come to find out that Kathy had acquired it from a food blog called ambitiouskitchen.com where you must go for a visit for some yummy, and healthy recipes. As always I have tweaked the recipe slightly but you can find the original at ambitiouskitchens.com under "crunchy cashew Thai quinoa salad with ginger peanut dressing".
This is a perfect salad for summer especially if you need to bring a dish to the beach or to a BBQ because it holds up great and it's not your run of the mill picnic salad, everyone will be asking you for the recipe! The flavors are much like my Thai cole slaw with the peanut butter, ginger, soy, sesame oil combo but here you have the delicious soft yet slightly chewy quinoa. You are just going to love this salad!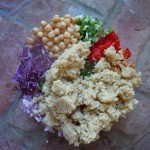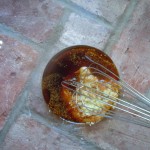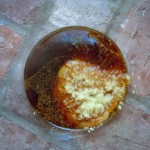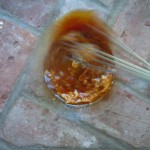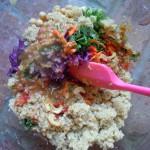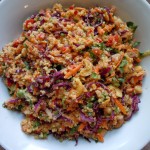 Ingredients for the Salad – Serves 12-15 side dish proportions:
2 1/4 cups cooked quinoa (follow quinoa directions …usually 2 cups water to 1 cup quinoa) but that will make more than 2 1/4 cups)
1 1/2 cups finely shredded red cabbage
3/4 cup diced red pepper
3/4 cup diced purple onion
1 cup shredded carrot
1/4 cup green onions diced (about 3 green onions)
1/2 cup coarsely chopped cilantro
1/2 cup cashew halves or whole …which ever you prefer
1 cup chick peas
Directions for Salad:
Add all of the above ingredients to a large mixing bowl
When the dressing is made add to bowl and combine all of the ingredients gently til mixed and enjoy!
Ingredients for the Ginger Peanut Dressing:
1/4 cup all natural peanut butter (I love Teddies Peanut Butter)
2 Tbsp fresh grated ginger
3 Tbsp reduced sodium soy
1 Tbsp Honey (I use Lavender Honey)
1 Tbsp red wine vinegar
1Tbsp rice wine vinegar (seasoned)
1 tsp sesame oil
juice for 1 lime
1 tbsp olive oil
A few dashes of Tabasco or your favorite hot sauce (OPTIONAL)
Directions for Salad and Dressing:
Add all of the above ingredients to a mixing bowl and whisk til combined
Pour over quinoa salad and mix
This salad would be great with some of my favorites like: