Mediterranean Layered Dip with Christine & Lisa
Mediterranean layered dip is one of those dishes that you will love to have up your sleeve. It's super easy, literally takes all of five minutes to make and tastes amazing! All you have to do is layer these wonderful Mediterranean ingredients in a clear serving dish. The reason it's so quick to make is because you're using prepared products from the market.  It will not only wow your guests with the presentation but with the fresh flavors too!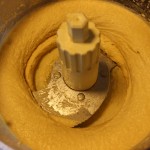 This Mediterranean dip starts off with a layer of hummus, and continue's on with layer's of Tzatziki, crumbled sheep's milk feta, chopped up European cucumber's, and finally a layer of Tabouleh. Scoop up this delicious dip with cucumber slice's, and, or pita chip's. Granted, if you have a little extra time on your hands you could make one or two of the layers that go into the dip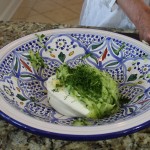 homemade like my best hummus ever, or Tzatziki sauce. Since I'm such a big cheese head I definitely suggest getting decent feta from your local cheese shop, Madison Cheese. The creaminess of a good sheep's milk feta really add's a nice touch to the dip.
The first time I had this Mediterranean layered dip was three months ago at a friends tennis party celebrating our kids going to Nationals in South Carolina. My friend, Lisa, brought this Mediterranean layered dip to the party along with a buffalo chicken dip. Boy, did I make out like a bandit! I featured Lisa's buffalo chicken dip recipe on my show not too long after the party and it has been a big hit, calling it "Best Buffalo Chicken Dip Ever!". What can I say, I love a good dip!
I then phoned Lisa excited about having her come on my show to share the Mediterranean dip with all of you. Lisa was going to do the show but there was one caveat, she wanted her friend Christine to come too. You see this Mediterranean layered dip recipe wasn't her recipe. She borrowed it from Christine. So we went directly to the source and had Christine come over to do the show also! 
What fun we had making the Mediterranean layered dip. You can't go wrong here especially when you have other things to make for your get together. As Lisa say's in the show, she keeps the ingredients to the dip unopened in her refrigerator at all time's, just in case! I hope you enjoy this dip many times over. If you need another easy appetizer you should make my baked sweet potato fries & Green Goddess Dip or just go straight to the desserts and try my chocolate crackle cookies, chocolate avocado moouse, perfectly chocolate chocolate cake or an applesauce-caramel sundae that will knock your socks off!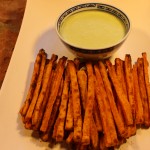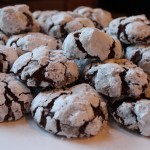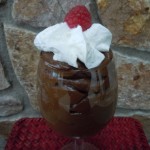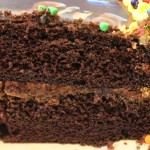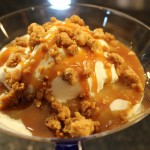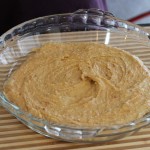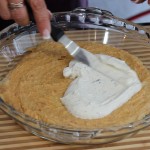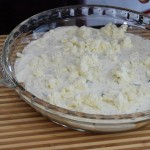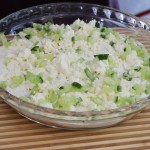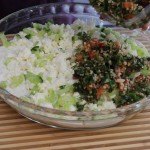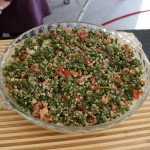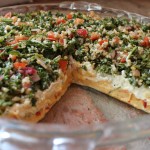 Ingredients:
1 container of prepared hummus OR my homemade best hummus ever – You can get the "spicy" BUT it's very spicy in the prepared hummus so I like it better with the reg. hummus
1 12 oz container of your favorite Tzatziki OR homemade tzatziki
1 12 oz container of your favorite prepared tabouleh
1 cup crumbled sheep milk's feta – you can it buy pre-packaged but good sheep's milk feta from you local cheese shop is amazingly creamy 🙂
1 cup chopped European cucumber- (1/2 of the cucumber sliced for dipping and the other 1/2 chopped for one of the layers)
1 bag pita chips
8-10″ clear serving dish with 2″ sides
Directions:
Begin putting the layers into the clear serving dish
Start with the hummus spreading evenly on the bottom
Next, spread the layer of Tzatziki
Then crumble the sheep's milk feta over the Tzatziki
Then a layer of chopped up cucumber
Lastly, a layer of Tabouleh
Serve with cucumber slices and pita chips
You can keep the Mediterranean layered dip like this in the refrigerator for up to one day ahead … enjoy 🙂