Arancini Reuben Balls
My homemade Arancini Reuben Balls are absolutely gourmet. Arancini balls, also called risotto balls, are an Italian appetizer made with left over risotto, stuffed with mozzarella and prosciutto, then breaded and deep fried! Oh boy, they are out of this world. They are crispy on the outside, and creamy and cheesy on the the inside. You can eat them plain or serve them with a tomato sauce.
My homemade Arancini Reuben Balls are made with risotto, diced corned beef, Swiss cheese, cream cheese and sautéed jalapeño's to incorporate that "popper" flavor! I serve them with my gourmet thousand island dressing which I make with Greek yogurt and a creamy horseradish to compliment the corned beef. The flavors of the risotto balls paired up with the thousand island dressing are outstanding!
Do you remember having poppers? You know, those deep fried jalapeno's stuffed with cream cheese? Wow, I used to love those little morsels and I haven't had them in ages so that's why I thought it would be fun to put a twist on my Risotto Reuben Balls. It was a great idea too because the cream cheese lightens up the risotto balls and the jalapeno's give it that something extra special!
You'll be so happy when you make these homemade gourmet Arancini Reuben Balls with your left over St. Patrick's Day corned beef. They freeze up really well too which will make for a nice little treat at a later date although I highly doubt you'll have any left behind.
My thousand island dressing is fantastic as a dip for my baked sweet potato fries too. You might want some other appetizer's to go along with the Risotto Reuben Balls like my crab cakes, or bloody Mary shrimp. You could even serve them as an appetizer to a homemade pasta dinner served with a Caesar Salad and some chocolate pecan pie for dessert! Hope you enjoy the show 🙂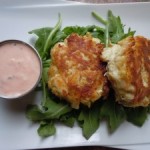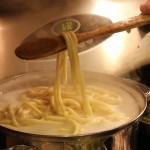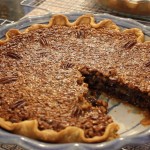 Risotto Ingredients and Directions – Total time to make approx. 30 minutes: I halved my recipe specifically for the Arancini Reuben Balls but I usually make full a full recipe, double the amount below
1 cup Arborio Rice
3/4 cup finely chopped sweet onion
2 tbsp butter and a drizzle of olive oil
1/3 cup white wine
4 cups hot chicken broth – homemade or store bought
1/2 cup grated Reggiano Parmesano
Directions: 
In small pot heat 4 cups chicken stock til simmering
Melt 1 tbsp butter in different medium size pot

 

Add onion to medium size pot and sauté on low til soft and translucent. 
Turn up heat to med. and add in 1 cup Arborio rice and saute til the rice looks chalky while stirring all along
Pour in 1/3 cup white wine, keep stirring and when wine is absorbed begin to add in 4 cups of the simmering chicken stock ONLY 1/2 cup at a time-it will be approx 4 minutes for each addition

 

ONLY add in chicken stock when previously addition is completely absorbed while STIRRING all the time
Stir in 1 tbsp butter and 1/2 cup Reggiano Parmesano after the last of the chicken stock is absorbed, then let cool to make Arancini Reuben Balls.
Ingredients- Makes 20 – 1 1/2″ Arancini Balls:
1 1/4 cup diced into 1/4″ pieces of corned beef
2 cups cooked risotto (see below for recipe my recipe for risotto)
4 oz. softened cream cheese
1/4 cup grated and packed Jarlsberg swiss cheese
1/4 cup grated and packed mozzarella cheese
2 jalapeno's finely diced and sauteed just til barely softened 2 minutes
1/4 tsp salt
1/4 tsp pepper
2 lg eggs
1 cup seasoned bread crumbs
Directions for Arancini Reuben Balls:
Put all of the above ingredients into a large bowl and stir with spatula til mixed
Use cookie scoop and from balls, roll in hands after scooping to get nice and round
Whisk eggs in a med. bowl
Add bread crumbs to another and begin the dip formed risotto balls into egg and them into bread crumbs and place on dish
Put breaded risotto Reuben balls in frig for 20-30 minutes
When the Reuben balls are chilled heat 1/2″ vegetable oil in medium size pan and begin to heat on low for 5 minutes and then turn up to med/high to 350º
Add in Arancini Reuben Balls in 2 batches into hot oil
Fry for about 2 minutes and then turn over for another 2 minutes til golden
Remove to cookie rack covered with paper towels to absorb excess oil
Plate up Arancini Reuben Balls with my homemade gourmet thousand island recipe below 🙂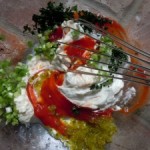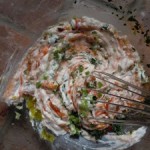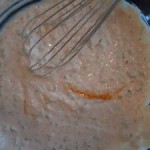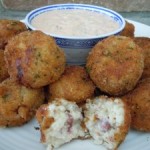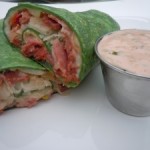 This Thousand Island Dressing is great on Reuben Wraps also
INGREDIENTS FOR THOUSAND ISLAND DRESSING:
1/2 cup Greek yogurt
1/2 cup mayonnaise (I ONLY use Helman's)
1/3 cup ketchup
1 Heaping tbsp finely chopped cornichons
3 Heaping tbsp sweet relish
1 Hesping tbsp grated sweet onion
1 Heaping tbsp finely chopped fresh parsley
3 tbsp creamy horseradish
1 tbsp olive oil
1 tbsp "seasoned" rice wine vinegar
3 dashes of Siracha
DIRECTIONS:
Put all ingredients into a large bowl and whisk til combined