Roasted Garlic Bean Dip
This roasted garlic bean dip has a luscious creamy texture and makes for a scrumptious dip that can be served with crostini's, pita's or tortilla chips on the side. For such complex flavors it's amazing how easy it is to make. Topping the roasted garlic bean dip with a salsa and some sautéed or grilled shrimp, swordfish, chicken, pulled beef , or one of my favorites, rack of lamb, just brings it to a whole other level of taste and presentation! 
This bean dip gets much of it's concentrated flavor from the caramelized roasted garlic. The lovely creaminess comes from the cannellini beans. To complete this circle of flavor here I add in chicken broth and pinot grigio and let it simmer intensifying and infusing all these flavors together.
Substituting your typical starch like potatoes, pasta or rice in your dinner for my high protein roasted garlic bean dip makes for an extremely healthy choice. This purée is not only rocking with flavor but it's also filling so you won't be craving the starch that you just switched out. I came up with this recipe because I love creating sauces and I wanted something with that creamy texture feel yet really nutritional as well.
Drizzling a specialty extra virgin olive oil with hints of pepper and fruit over the final roasted garlic bean purée not only makes for a gourmet presentation but accentuate's the dip perfectly. You may start to get a craving for dessert after eating my roasted garlic bean dip and want venture off to something in the sweet's department like chocolate pecan pie, chocolate crackle cookies, chocolate eclairs, BEST chocolate cake ever or keeping the healthy theme and try the amazing chocolate avocado mousse!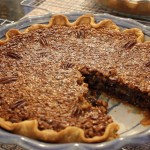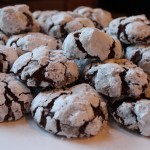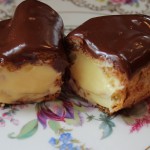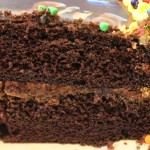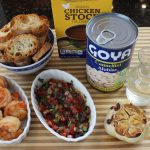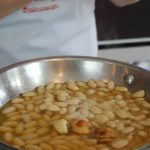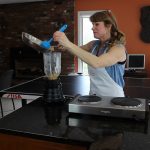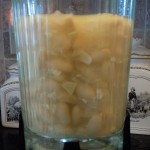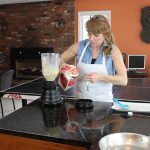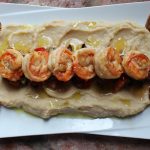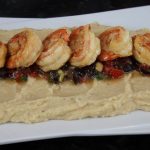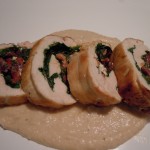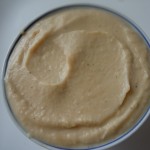 Ingredients:
1 can cannellini beans (butter beans are great too)
4 large 

roasted garlic

cloves or 6 medium size
1/2 cup chicken broth
1/2 cup white wine (pinot grigio…what ever you favorite wine is just not a sweet one)
salt and pepper to taste
a dash of Siracha for a kick
10 lg shrimp sauteed in 1 tbsp olive oil and 1/2 tbsp butter for 2 minutes each side, deglaze with 2 tbsp pinot grigio when shrimp are cooked thru, simmer for 1 minute – for wine to evaporate
Directions:
Rinse cannellini beans and place in a medium sauce pan with 4 roasted garlic cloves, broth and wine on medium/high heat.
Bring to a simmer, turn down heat to low and simmer for 7 minutes more.
Add the beans to a blender and purée.
You may need to stop, stir and purée again because it is a thick mixture in a blender
Add 2 Tbsp of water, milk or half and half
Stir with spatula to loosen up bean purée, then purée for 5 seconds more
It's as simple as that
Pour out bean puree on a platter or bowl and top with salsa, sauteed shrimp, grilled chicken, beef or lamb…YUM 🙂
Salsa Ingredients & Directions:
2 tbsp finely chopped cucumber
2 tbsp finely chopped tomatoes
1 heaping tbsp finely chopped kalamata olives
1 tbsp finely chopped red onion
1 tbsp finely chopped avocado
2 tsp extra virgin olive oil
1 tsp rice wine vinegar (seasoned)
s & p to taste
Combine all ingredients in a small bowl and season with salt & pepper – set aside