Homemade Potato Gnocchi
My homemade, light and fluffy gnocchi recipe is a dish you really have to make just once in order to see how darn easy it is to create your own. These potato gnocchi are something that will exceed your expectations to the point that you will never want to go back to store bought again.  You'll be hooked and you'll never settle for less than these "melt-a-way gnocchi" which is exactly how one of my students described these little bundles of love. I want you to know how easily you can master this so make sure to watch my VIDEO that goes with this recipe where I take you step-by-step on how to make them including a Gorganzola Dolce Cream Sauce.
Yes, it does take some motivation but you only need about an hour after you bake the potatoes to make them. Once you start rolling out the potato ropes, cutting and then rolling them off a fork to make the little impressions …it's a breeze! Not to mention when making the gnocchi you will end up with ample supply so you will be able to flash freeze the rest of what you don't use for future dinners. You will be thrilled that all the hard work has already been done and now you just take them from the freezer to the boiling water, and then to the sauce. Enjoy! Make sure to watch my YouTube cooking show above that goes with this recipe and don't forget to subscribe on my YouTube channel so that you can receive my latest cooking show releases!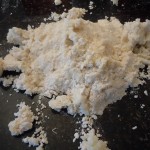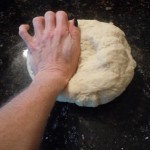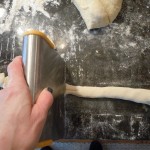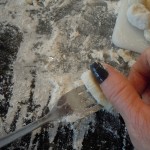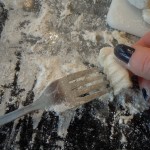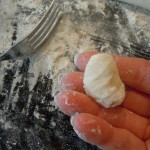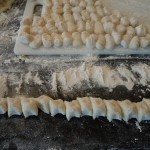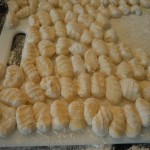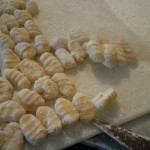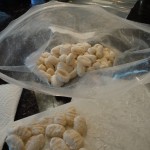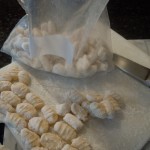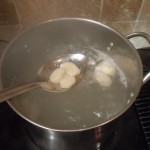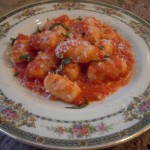 Ingredients:
Directions: Pre-heat oven to 400º
Wash and pierce potatoes
Bake potatoes for 1 hr. til tender
Let cool slightly – just a few minutes – (where you can handle them without getting burned)
Slice potatoes in half and scoop potato flesh into potato ricer- two halves at a time and into Ex- Lg bowl – rice all 5 potatoes into the ex-lg bowl
Make a well in the middle of the potato and sprinkle 1 1/4 cups of flour into that middle
Crack 1 egg and sprinkle salt and nutmeg into the middle on the flour
Whisk egg with a fork to break yolk
With a spatula mix just to incorporate everything, then turn out onto mixing board or area where you can finish kneading for 1 minute til ball forms…DO NOT OVER KNEAD
Cut ball into 8ths and take one section at a time and begin to roll out into a long rope
Begin to slice rope into 1/2″ pieces…you don't want them large because they will expand when you go to cook them
Continue to do this until you go through all the potato dough
Cook what you want at that point and line the extra up onto cutting boards and begin to flash freeze til solid
Then place frozen gnocchi into lg Ziploc baggies and back into freeze until future use
Roll each piece off the fork to make indentations
Boil a lg pot of water that has been salted
Add in gnocchi continuously, a few at a time, into boiling water and using a lg spoon gently give a swirl to help them not to stick to the bottom
NOTE: the boiling water should not be a a full rapid boil but a low one
As soon as they float to the top remove with a slotted spoon (which helps drain the water) and add to your sauce of choice
Mangia mangia!
TIP:  When using flash frozen gnocchi in the future go directly from the freezer to the boiling water, give a couple of stirs so as not to clump at the bottom. NEVER thaw first or leave on counter too longer especially marble or granite because they will thaw quickly.