#1 Meatball at Kevin & Jori's
It was definitely worth the wait to find out how to make Kevin and Jori Smith's oh so sucullent and flavorful meatballs! It took a little patience to sync our schedules thru this busy holiday season but we were finally able to tape these #1 Meatball winners from the recent competition,  "Lisa & Vin's 2016 Meatball Throw Down"! It's a team effort between Kevin and Jori that produces one of the best meatball's I have ever tasted. Watch out Dan Holzman from "The Meatball Shop" in NYC for these amazing meatballs will turn heads!
Come to find out Kevin and Jori won Lisa & Vin's Meatball Competition the year before as well! Once you have your first bite into these melt-in-your-mouth meatballs you will know exactly why.
Not only were we eating Kevin and Jori's amazing meatballs while taping the #1 Meatball show but Vin made is homemade pasta we call "The Trucals" from the show "Homemade Pasta at Vin's". Vin makes his pasta with a special roller called the trucal iron hence the name "The Trucals".  This trucal iron that belonged to his grandfather cuts thick strands of pasta as you roll over it making for a hardy, chewy, yet tender strand of pasta.
If it couldn't get any better then that Kevin added in an incredible garlic-basil bread and Jori her luscious tomato-basil salad with fresh Burrata cheese! Talk about the perfect meal…OMG! I am truly excited that I am able to bring you Kevin and Jori's winning meatball reicpe. I know you will love them as much as I do!
You will need to have some amazing desserts up your sleeve to live up to these meatball standards like my Drunk Blondie Bars with a Caramel Bourbon Sauce, Chocolate Crackle Cookies, OR my Chocolate Chip Cookie recipe! Then there's Death by Chocolate Meringue Pie or a Chocolate Pecan Pie where you'll always need just one more little fork full! LOL.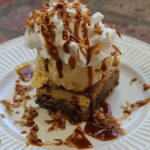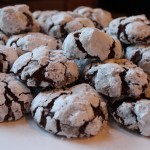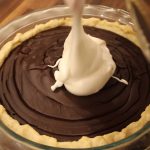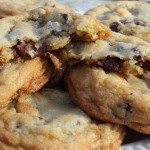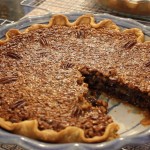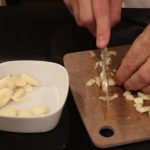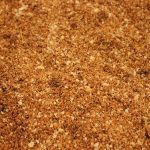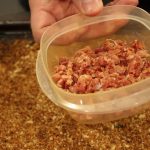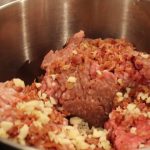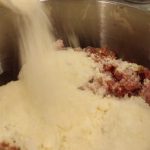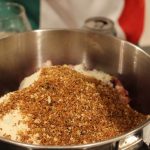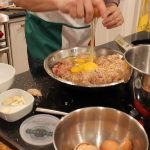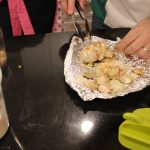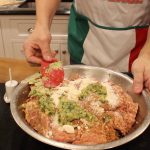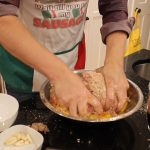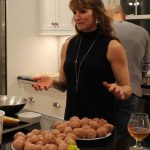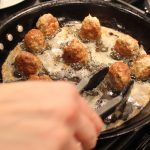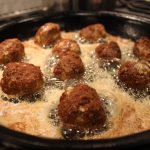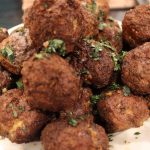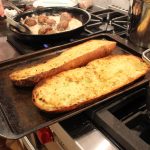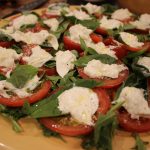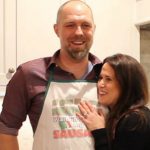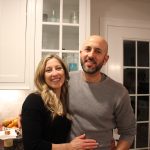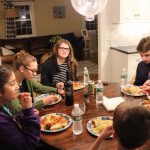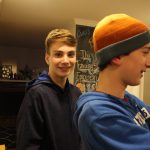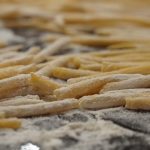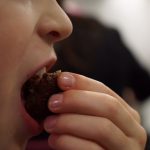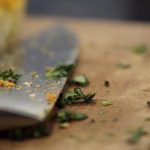 (Bottom photos courtesy of Gianni Esposito)
Ingredients for #1 Meatball Makes Approx 55 Meatballs:                                                                -Note: this is a large recipe… you can 1/2 the reicpe for a lesser amount of course and remember meatballs FREEZE really  well, raw or cooked!
6 lbs meat: 2 lb. ground beef 80/20, 2 lb. ground veal, 2lb. ground pork
1/4 cup finely chopped fresh garlic
2 whole heads roasted garlic (Keep garlic heads in foil the whole time for this meatball recipe)
3 cups grated pecorino romano grated cheese
2 3/4 cups homemade ciabatta bread crumbs – 2 loaves of ciabatta – the bottom 1/2's
1/2 cup finely chopped Prociutto di Parma
4 lg basil leaves
2 tbsp olive oil
1 tsp salt
7 eggs (Kevin likes 1 1/2 egg per lb of meat)
Directions:
Pre-heat the oven to 400º
Drizzle 2 heads of garlic with a tbsp of olive oil wrap in foil, place into oven for 35-40 minutes
Slice loaves of ciabatta in 1/2, save tops for garlic bread – recipe for spread below
Cut up bottom havles in small cubes, place on a cookie tray and bake until golden approx. 12 minutes
Cool bread cubes then pulse to a crumb in a food processor
Add ground beef, veal, and pork to a large mixing bowl
Add in chopped prosciutto, salt, Percorino cheese, and bread crumbs
Mix with hands to start combining
Add in 7 lg eggs to meat and again mix with hands to combine, folding meat over and over
Squeeze roasted garlic bulbs out of their sleeves and put into food processor or little chopper with olive oil and 4 basil leaves and purée
Add this mixture to the meatball mixture and again mix folding over and over to combine
Roll into 2″ size meatballs
Pour 1/2″ high olive oil into large sauté pan and heat on med/high – MUST BE OLIVE OIL!
Add in 8-9 meatballs at a time, don't over crowd pan
Cook on all sides until golden approx 6 minutes
Remove to plate and serve with pasta, you can find Vin's homemade pasta, "The Trucals" which are sooooo worth the effort!
Serve with garlic bread too…mangia mangia 🙂
Garlic Bread Spread:
Ciabatta tops
3/4 stick softened butter
2 tbsp olive oil
1/4 cup pecorino grated cheese
4 basil leaves chopped
4 garlic cloves finely chopped
Mix all ingredients above, smear onto ciabatta halves and bake for 12-15 minutes on 375º YUM!