Best Shrimp Scampi!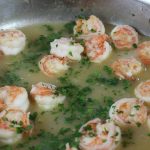 Shrimp scampi is one of those delicious dishes that's sure to bring a smile to everyone's face just on aroma's alone! Shrimp sautéed in olive oil and butter with lots of garlic, shallots, clam broth, and white wine topped with fresh lemon juice, parsley and Parmesan make's for a grand party atop a pile of linguine!
This quickie gourmet sauce I have created for you in this shrimp scampi dish is a light sauce, yet packed with flavor. The way we do this is by concentrating the juice's released from those sautéed shrimp along with a couple of bottles of clam stock simmering for a brief seven minutes. The traditional and time consuming way to create this lovely stock would be to simmer the shrimp shells in white wine for a while like you would for a lobster bisque stock. The objective here was to take a short cut to accommodate our busy every day lives without foregoing taste by using bottled clam stock. Voilà, you have an amazing flavor base for our shrimp scampi with linguine in seven minutes.
One of my favorite way's to serve the shrimp scampi with linguine is by offering up a Parmesan with red pepper flake's mixed right into it. It's nice to offer two small dishes of Parmesan, one with the pepper flakes and one without. By adding the red pepper flakes to the grated cheese guests are less likely to accidentally sprinkle on too much because it's dispersed throughout the cheese.
You might want to try some homemade pasta to go with this wonderful shrimp scampi or even a Caesar Salad.  Some chocolate crackle cookies would be great for dessert or homemade chocolate eclairs with an incredibly easy and luscious vanilla filling. Then again there those drunk blondie bars with the bourbon caramel sauce that are to die for! Enjoy! 🙂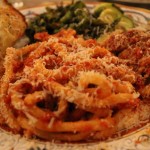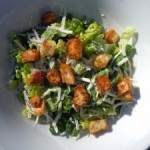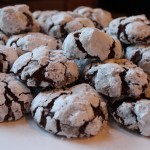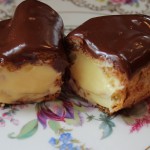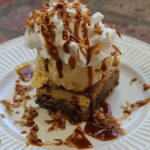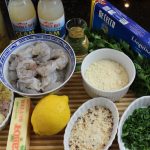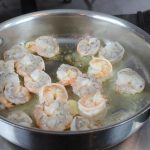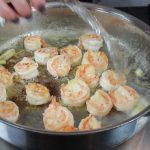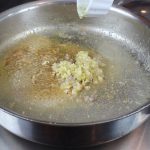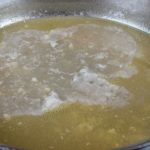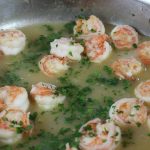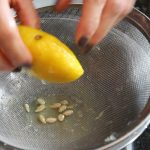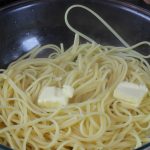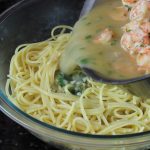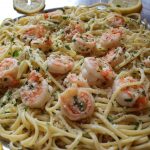 Ingredients for Shrimp Scampi with Linguine – 6-10 People:
1 – 1 1/2 lbs of peeled & deveined large shrimp (ask for a certain number of shrimp …2-5 per person depending on what other side dishes you are serving)
2 bottle of Snows clam broth
1/2 cup white wine – pinot grigio
4 lg garlic clove finely chopped
1 tbsp finely chopped shallot
2 lg garlic clove smashed
1/4  cup finely chopped FRESH FLAT LEAF Italian parsley
5 Tbsp salted butter
3 Tbsp olive oil
1 lb pasta – linguine or linguine fini
2 lemons
Reggiano Parmesano
Red pepper flakes -OPTIONAL
salt and pepper to taste
Directions:
Peel and devein shrimp
Bring large pan of salted water to a boil
Add 2 tbsp olive oil, 1 tbsp butter and 2 lg crushed garlic cloves to large sauté pan over med/high heat
When the pan is hot add in the shrimp
Saute for 2 1/2 minutes per side
Remove shrimp and garlic – set aside
Add in 1 tbsp olive oil, finely chopped garlic and shallots into the same pan and saute til soft (lightly golden) for about 2-3 minutes
Then pour in both cans of clam juice with the garlic and shallots
Bring to a boil over high heat, turn down to a low simmer for 7 minutes
Add pasta to boiling salted water and cook until aldente (don't over cook!)
Let pan with the clam broth/garlic simmer and reduce by 1/3
Add shrimp back into reduced clam broth/garlic
Add in juice from 1 whole lemon and 3 tbsp of chopped parsley to shrimp scampi
Add in salt and pepper here to taste
Simmer on LOW for 2 more minutes
Drain pasta and pour out pasta into a large serving platter or bowl
Add in 4 tbsp of butter to pasta and toss, add in salt and pepper to taste …taste the pasta and make sure the pasta is PROPERLY seasoned at this point
Pour the shrimp scampi mixture over the pasta
Sprinkle with more fresh chopped parsley and grated cheese and serve…YUM!
NOTE: Make sure that each person gets some of that tasty broth in their dish