Homemade Chocolate Pecan Pie at Barbara's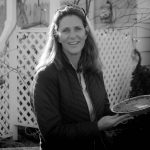 Barbara's homemade chocolate pecan pie is like nothing you've had before. Not only do you get that gooey texture with a hint of nutty caramel because it's a pecan pie but a chocolaty finish slides right on in and makes you say wow! Gooey, nutty, caramel, chocolate …need I say MORE?  In fact, it is plenty chocolaty so if you wanted to nibble on those "special dark" Hershey's chocolate chips while you are making the pie feel free it wouldn't make the pie any less delicious.
When Barbara first delivered her scrumptious homemade pecan pie to my house I was beside myself. I just couldn't believe my eyes and with an invitation to her Christmas Eve party to top it off which she also cooks for. I later found out that she makes seventy pies that get hand delivered with the invite to her party. It all began fifteen years ago at a surprise party her husband Peter threw for her where stories evolved of first meetings with Barbara and her gifts of homemade chocolate pecan pie. From that point on the pie numbers grew and it now totals out at around 72 pies.
This gourmet chocolate pecan pie of Barbara's has become a tradition for many of the families on her pie list that wait in anticipation of her delivery in order to take the pie to their relatives on Christmas Day. This pie freezes extremely well and slicing it before freezing making for easy removal without having to thaw the whole pie is ideal. I must say though eating my slice right out of the freezer before it thaws is my new favorite way…wait til you try it!
Barbara is very busy in the month of December when all the pies get baked and delivered. She does get things going back in September though putting in an order for a twenty-two pound box of pecans from Georgia which arrive around Thanksgiving time. Then the whole process takes off from the chopping of the pecans in the food processor,  measuring exact amounts placed into baggies and stored in the frig , to purchasing large bottles of Karo syrup that are shelved until needed and so on until December is upon her and the baking begins.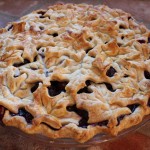 This truly is a labor of love for Barbara and I'm very grateful to have become a part of this amazing tradition and see first hand how inspirational she is. You can see for yourself and hear some of the extremely funny stories that go along with Barbara's pie making in my "Homemade Chocolate Pecan Pie Show" above. I hope you enjoy the show and now you too can make this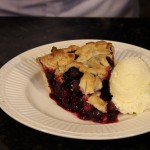 homemade chocolate pecan pie part of your family tradition. If you have the time and are only making a pie or two you can check out my "Perfect Pie Crust In 5 Minutes Recipe" or even my "Best Blueberry Pie!" recipe if you are looking to have a second pie 😉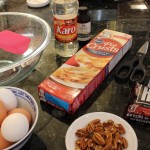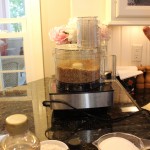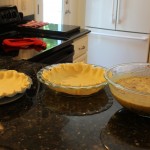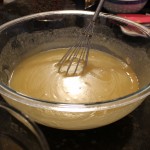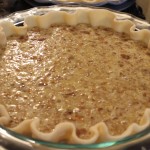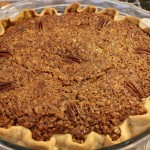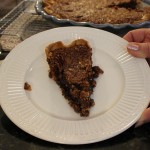 Ingredients – Pre-Heat oven to 375º:
1 cup coarsely chopped pecans (on the finer side but NOT a powder)
handful pecan halves for decoration
6 oz. HERSHEY'S Special Dark chocolate chips (full bag for 2 pies)
1 cup light Karo corn syrup -NOTE: Spraying the inside of measuring cup with Pam vegetable or coconut oil will help the Karo syrup ease out (full bottle of Karo for 2 pies)
2/3 cup sugar
2/3 cup melted butter and cooled to ROOM TEMPERATURE or LUKE WARM
1 1/2 Tsp pure vanilla
4 lg eggs lightly beaten (WITHOUT any frothiness occurring)
1 pkg. Pillsbury Prepared Pie Crusts ROOM TEMPERATURE@ (2 crusts inside)
1 tsp all purpose flour
1 – 9″ deep dish pie plate
Directions:
Sprinkle 1 tsp of flour onto the bottom of the pie plate just to act as a light coating
Lay out room temperature pie dough into pie plate and form edges like a scallop shell as shown in show above
In a large bowl mix luke warm butter and sugar to combine with a whisk
Add in Karo Syrup and vanilla to the butter/sugar mixture and combine with a whisk
Lastly, add in already whisked eggs and gently whisk to combine only – Don't want froth
Mix in chocolate chips and ground pecans and mix with a spatula
Pour into pie shell
Decorate the top of the pie with pecan halves
Add rim covering on top of pie so crust does not burn
Bake for 55-60 minutes
Let cool slightly, slice and serve with bourbon, scotch, wine, coffee or milk…oh and also great with whipped cream or vanilla ice cream 😉
Freezes incredibly well- make sure to cut into slices before you freeze for easy removal. In fact, I love the texture of having the chocolate pecan pie right out of the freezer without thawing! – you should try it this way 🙂