Cold Cucumber Soup
This homemade cold cucumber soup is out of this world! It has texture and flavors that won't stop! Not one of the flavors in this soup over powers another, it's the perfect balance. You actually find yourself trying to distinguish between them only because you are aware of all the fresh vegetables and herbs that went into this amazing cold soup.
Being a born and raised East Coaster I have to say I have never been a big "cold soup" kind of person. With our unbearably cold winters we have here I really appreciate a very hot bowl of soup to warm the bones. So when ever I'm making this cold cucumber soup I'm slightly biased going in, not willing to give merit where it is due, until I take my first spoonful and it all changes!
My cold cucumber soup completely stands on it's own and is very satisfying not to mention the medicinal qualities that cucumbers offer. Cucumber's can reduce puffiness, help to eliminate toxins in your body and we all know that slice's of cucumber over your eyes can help to reduce dark circles! Some of the vitamin's cucumber's offer are A, C and folic acid and minerals of potassium and magnesium.  All and all this homemade cold cucumber soup is a win win situation.
This homemade cold cucumber soup would be great for lunch with a side sandwich or grill up some shrimp like I did in the show. One of my favorite accents to this soup are seared scallops cut in half and placed right in the center on the soup. You can check out in my "Seared Scallop Show" to see exactly how to make the scallops.
King crab meat is also a lovely topping to this cold cucumber soup and was a big hit when I presented this soup this way to the tasting judges at my second MasterChef open casting call in NYC this past March (2016)! All of the MasterChef casting call judges didn't have any critique for my soup during the tasting phase…they just said "they really, really loved it!" When I made my cucumber soup for the MasterChef casting call I added fresh fennel to the recipe to change it up and give it that je ne sais qua…that extra special something!
This cold cucumber soup is an amazing way to start your dinner party or even have for a luncheon. If you are thinking of other course's to add to your soup you should check out my stuffed mushrooms, yogurt chicken kabobs, bolognese sauce with homemade pasta and end with my perfect chocolate cake that will rock your world! Enjoy 🙂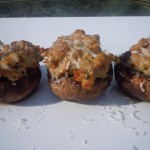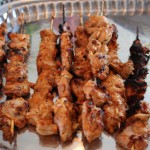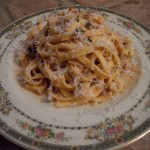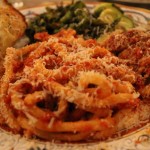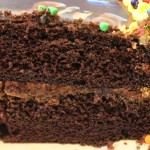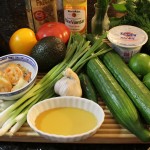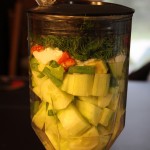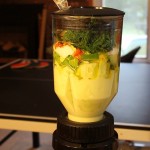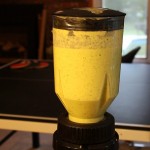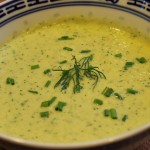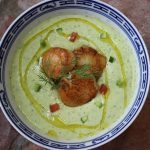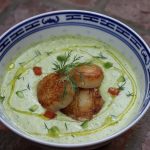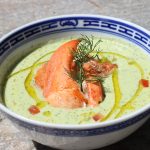 Ingredients:
2 European cucumbers peeled and cubed – 4 1/2 cups – you do not need to remove seeds with the European cucumbers
If you are using regular cucumbers, peel and slice down the middle and remove the seeds scooping them out with a small spoon and cut into chunks
3 ex-lg green onions or 5 small sliced in 1″ pieces from green tips to whitish green stems
1/4 cup of diced cherry tomatoes OR diced heirloom tomatoes
½ an avocado cut in chunks
1 jalapeño chopped (take out seeds)
1 lg garlic clove put through garlic press
1 cup plus 2 tbsp Greek Yogurt – whole milk
1/3 cup fresh dill
1/4 cup fresh mint leaves
1 Tbsp of honey
1/4 cup of seasoned rice vinegar
juice from 1 lime
1/4 cup olive oil
1/2 tsp salt – to taste  – (NOTE: I said 1 tsp in the show but I meant to say 1/2 tsp!)
1/4 tsp finely ground pepper
         -FOR COLD CUCUMBER & FENNEL SOUP …ADD:
1 cup cut up fresh FENNEL  …for a change up try this with the FENNEL – YUM!
chopped fresh chives for garnish
seared scallops , cooked Lobster, Shrimp, or Crab to top the soup in the center
Directions:
Add all the ingredients in the list above to your blender except olive oil
Begin to puree while slowly pouring in olive oil through the opening at the top
Continue to puree for 20-30 seconds
Be patient, all the vegetables in the cucumber soup will begin to slowly puree
Stop and scrape down any herbs or vegetables stuck on the side's and pulse for 10 more seconds
Chill in the refrigerator for 1 hour
Serve with a sprinkle of dill, finely chopped tomato, cucumber and avocado
Top the center of the soup with seared scallops – room temperature cooked lobster, king crab meat, or shrimp AND then a drizzle of extra virgin olive oil