Chocolate Crackle Cookies
These homemade chocolate crackle cookies will make you feel like a baker of fine cookies. The snowy white confectioners sugar and the chocolaty brown cookie dough make a beautiful contrast when the cookies bake in the oven and make all those crackle lines.  Now the inside is some what of a surprise when you first bite into it. By the looks you might think its a crunchy cookie. Then you sink your teeth in and that velvety texture hits your tongue, feeling lighter then you thought and then the chocolaty silkiness just melts away.
I have been baking these incredible chocolate crackle cookies for at least ten years and for the life of me I can't remember where I got this recipe from. All my life I have always written down recipes that looked irresistible whenever I was in a waiting room with an assortment food or cooking magazines. So I unfortunately cannot give credit where credit is due. I did of course change the recipe a pinch with the baking time and chocolate used. It originally said 12-15 minutes but I only bake them for eight minutes with a five minute waiting period before I move them off the cookie sheet to a cooling rack this way they can solidify a bit more. Shortening the cooking time gives them softer, gooier center that melts in your mouth rather then a slightly firmer cookie. I use the confection on my oven because the bottom of my oven runs really hot on "bake" not being conducive for even cooking. The hot air circulates in confection mode in my oven giving a more consistent outcome. As for the chocolate, the recipe had called for Verona chocolate which might be difficult to find last minute so I have been using my Ghiradelli bittersweet or Perugina chocolate bars and those are both scrumptious!
This homemade gourmet chocolate crackle cookie just may become a holiday tradition for you and your family too. Easy to make, oh so chocolaty and melts in your mouth! What more could you ask for in a cookie? Hope you enjoy the show 🙂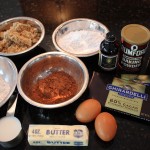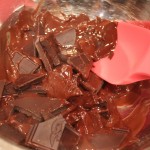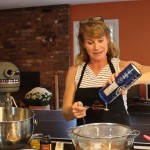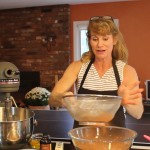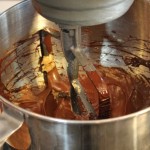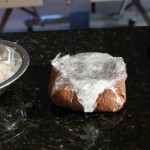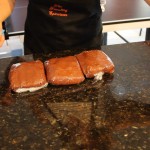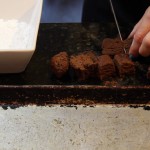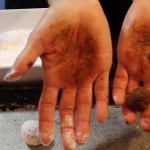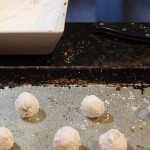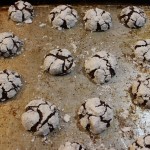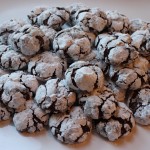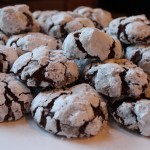 Ingredients:
1 1/4 cup flour
1/2 cup cocoa powder
2 tsp baking powder
1/4 tsp salt
1 1/2 cups confectioners sugar
1 stick of butter softened to room temp
1 1/3 cup light brown sugar
1/3 cup milk
2 lg eggs
1 tsp pure vanilla extract
8 oz. bag of a bittersweet chocolate chips- Ghiradeli
Directions – Pre-heat oven to 350º to bake cookies :
Sift flour, cocoa, baking powder and salt and set aside
Place bitterswewet chips in a pan over double boiler and melt – you can use a microwave – heat 20 seconds and stir and 10 more seconds and stir but be very careful not to burn the chocolate in the microwave
Cream room temperature butter with light brown sugar in your Kitchen Aid mixer
Add in 2 eggs, one at a time and beat well after each addition
Add vanilla and melted chocolate and beat briefly til combined
Alternatively, begin to add dry sifted ingredients and 1/3 cup of milk all awhile mixing
When completely mixed turn out dough onto 3 pieces of saran wrap
Fold up in saran wrap and shape dough into disks, chill at least 2 hrs. – overnight
You can also freeze at this point for a later date
Take dough out and cut into 1″ pieces
Roll each of the pieces into balls
As you shape the dough into balls place them into a bowl full of confectioners sugar and roll around to completely coat
After the balls are coated place them onto cookie sheet 2″ apart
You will need to periodically rinse you hands to remove the dough accumulating on them
NOTE: The dough rolls into balls the easiest when your hands are rinsed and a little damp
Bake for 8 minutes on 350º
Remove and let cool on the cookie tray for 5 minutes before you transfer the cookies to a cooling rack
Let cool completely before to stacking on serving plate