Best Buffalo Chicken Dip Ever!
If ever a party had a guest who showed up taking center stage this delicious buffalo chicken dip would be it! This mouth watering party dip really perks up those taste buds so much you may find yourself not straying too far in fear that it will be gone if you turn your back for too long. The layers start with room temperature cream cheese spread in the bottom of the baking dish, then the chicken that was cooked in Franks Hot Sauce, a drizzling of homemade buffalo sauce, and finally a sprinkle of crumbled blue cheese, sharp cheddar and mozzarella. Then it's off to the oven until bubbly and served with tortilla chips, and of course the traditional carrots and celery. Yum, all I can say is bring it on!
When ever you make buffalo chicken wings you have that extra step of making a blue cheese dressing and with this dip you don't need to because there's that crumbled blue in the top layer of the dip. That's what's so great about this buffalo chicken dip you get all the amazing flavors of that typical "buffalo wings and blue cheese" with out all the work! Heck, you could even use the meat from a store bought rotisserie chicken, toss with some of our homemade buffalo sauce and voilà continue on with all the layers of the dip!  I do happen to have the most incredible homemade blue cheese dressing recipe if you are so inclined.
This buffalo chicken dip recipe came from my friend Lisa who just recently made it for a party we were at and it didn't last very long! I was sure to get the recipe because I thought it was such an ideal party appetizer with minimal prep and cook time! You just can't go wrong not to mention totally awesome for football season. In mid-November I will be shooting at Lisa and Vin's house for a special afternoon of homemade pasta. Lisa's husband Vin is going to share his father's homemade pasta recipe with us. So make sure to watch for that exciting show.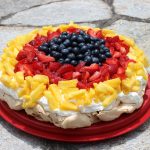 I think this buffalo chicken layered dip is a win win for you and your party. Everyone will be asking you for the recipe. I hope you enjoy this "BEST Buffalo Chicken Dip" recipe and the show too! Don't miss the "Behind the scenes bloopers" included at the end of the show. And if you want to make an amazing desert that will get you lots of oohs and ahhs try the Pavlova or the "Death by Chocolate Meringue Pie"! Don't forget a Homemade Caesar Salad and an entré of Lobster Mac n' Cheese or Eggplant Balls with pasta or Zucchini Spaghetti!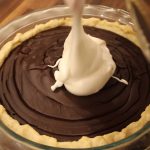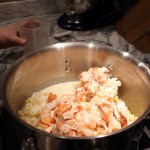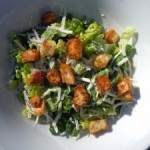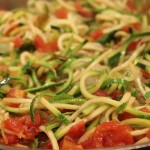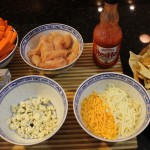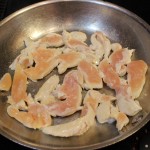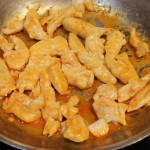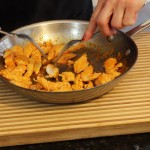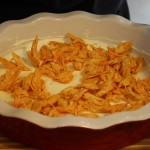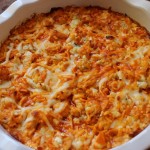 Ingredients:
3/4 lb chicken tenderloins
1 tbsp olive oil
Sprinkle of salt
1 -8 oz pkg Philadelphia Cream Cheese
Frank's Hot Sauce
Buffalo sauce: 1/4 cup (1/2 stick) butter (Kerrygold or favorite) & 1/3 cup Franks Hot Sauce
1/4 cup Blue cheese crumbles
1/4 – 1/3 cup sharp cheddar cheese
1/4 – 1/3 cup mozzarella
(1) 9″ – 12″ baking dish
Directions:
Pre-heat oven to 375º
Melt 1/2 stick of butter, take off the heat and add 1/4-1/2 cup of Frank's Red Hot Sauce, whisk til combined – this is the "homemade buffalo sauce" – set aside
Add 1 tbsp olive oil on medium heat
Add in the chicken tenderloin pieces to a pan on med. high heat, sprinkle with a pinch of salt begin to sauté for 3 minutes
Flip chicken pieces over and sauté another 3 minutes
Once they start to golden slightly add 2 tbsp Franks hot sauce and let reduce on low 1-2 minutes
Remove from heat and shred or cut up
Smear 8 oz. of room temperature cream cheese in bottom of your bake dish
Then add the shredded chicken for the layer next
Drizzle homemade buffalo sauce over the chicken (save some to drizzle after the layer of cheeses)
Sprinkle 1/4 cup crumbled blue cheese
Then Sprinkle 1/4-1/3 cup cheddar and mozzarella each – if using 9″ baking dish go with 1/4 cup, if using 12″ baking dish you could use 1/3 cup if you want a little extra
OPTIONAL – Drizzle more buffalo sauce over the cheeses
Bake for 20-25 minutes til bubbly and serve with tortilla ships, carrots and celery