Fresh Garden Tomato Sauce
When the aroma from your fresh garden tomato sauce smells exactly like a tomato plucked right out of your garden on a sultry summer day you know you have the right recipe! With all the beautiful weather we have had this summer everyone has an abundance of produce coming out of their garden's. What a better way to dive right in and try your hand at making your very own tomato sauce. And when you taste how delicious the puréed tomatoes are as a raw sauce you may just stop right there. After that first taste of the raw tomato sauce there might not be any left over to go to the next simmering step!
I was very excited when some friend's of mine, Becky and Mike, offered up a large bag of their fresh garden plum tomatoes. I knew I wanted to make fresh garden tomato sauce with them right off the bat. This is a bit nastalgic for me because it reminds me of when my mother used to make fresh garden tomato sauce for us when I was young.
It's really an easy process of peeling, seeding and then puréeing the tomatoes with some sautéed onions and garlic. The more tomatoes you have the longer it well take but it's so worth it. The fact that you can freeze the sauce for a later date makes it all worth while! What I love about making this fresh garden tomato sauce, other then the fact that it smells utterly amazing, is it's just as delicious eating it raw as cooked. In fact, when I make this I can't decide which I like better so I continue on to make both cause it's so darn simple to do that once you are in the process.
Once you see how easy to make your own sauce it may become a new family staple for you. You just might get inspired to make it a family affair having everyone join in to make homemade gnocchi or zucchini pasta too. Don't forget the gourmet Caesar salad and then of course there's an amazing ricotta pie or go for the death by chocolate meringue pie!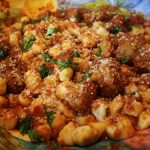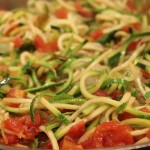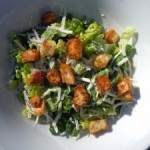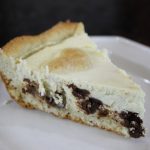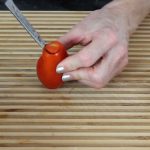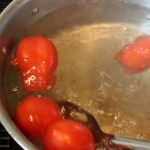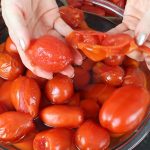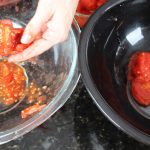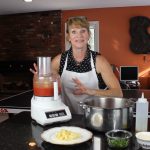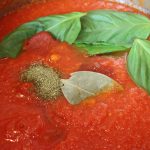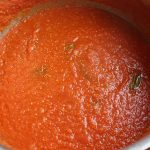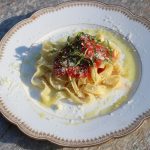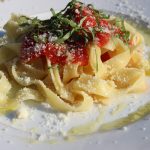 Ingredients:
91 fresh garden tomatoes OR as many as you have
1 tbsp sea salt, LESS if you have a smaller amount of plum tomatoes
1/4 tsp finely ground pepper
5 lg fresh basil leaves
1 lg dried bay leaf
1 tbsp sugar
1/3 cup red wine – for the simmered sauce
1 tsp finely ground Italian seasoning
1 small Vadalia onion finely chopped
4 extra lg OR 6 medium size garlic cloves
1 tbsp tomato paste
1/4 cup white wine to de-glaze the sautéed onions and garlic
Directions:
Bring a large pot of water to a boil adding in 1 tbsp of salt
Core the stem side of all your tomatoes
Get a large bowl of ice water ready to put the tomatoes in after you blanch them
Add plum tomatoes to boiling water, 25-30 at a time and blanch for 30-45 seconds, it's totally fine if it goes past 45 seconds cause it's going to take you a minute or two to scoop the tomatoes out
Remove the tomatoes from the boiling water and submerse into the ice water
Repeat until you have gone thru all your tomatoes
Begin to remove the loosened skins from the tomatoes then placing into another bowl as you go
Cut or tear tomatoes in half with your hands and remove most of the seeds putting pulp in one bowl and tomato flesh in another
Spoon off any excess water that rises to the top of the bowl with all the tomato flesh
Sauté chopped onion and garlic cloves til tranlucent
De-glaze onions and garlic with 1/4 cup white wine
Let the alcohol burn off and reduce slightly
Begin to purée tomatoes and sauteed onions in the food processor in batches
Add the puréed tomatoes/onions back into the large pan that you blanched the tomatoes in as you go along
When done puréeing add salt and pepper to taste and voilà there is your raw sauce
FOR RAW SAUCE: top pasta with raw sauce and sprinkle some fresh julienned basil, Parmesan and a drizzle of extra virgin olive oil
FOR COOKED SAUCE: Put the pot of puréed tomatoes/onion back on the stove and add in the 5 extra lg fresh basil leaves, bay leaf, sugar, Italian spices, red wine and simmer for 1-2 hours…mangia mangia!!