Feta-Basil Pesto
No doubt about it once you try this feta-basil pesto you will be hook! The creamy, French sheep's milk feta pushes this pesto into a whole new arena! Combined with the fresh, floral basil leaves, Italian Reggiano Parmeggiano, extra-virgin olive oil and garlic are a creation that's just born to go together! Done in mere minutes in a food processor there's no excuse not to make this delectable sauce bursting with flavor every chance you get!
Making fresh feta-basil pesto can't be any easier then the convenience of your food processor! There's no need whatsoever lugging out the ole mortar and pestle making a huge project out of something that literally take's 2 minutes to make. No cooking, no baking, no washing, NO FUSS, just load up the food processor and pulse. Voilà, you have a gourmet sauce that turns around any dish you add it to into gourmet.
One of the appetizer's I like to make with feta-basil pesto are Crostini with Fresh Mozzarella and Roasted tomatoes. Let's not forget to try the feta-basil pesto on seared Scallops, Swordfish or even Sweet Potato Fries! And then there's the obvious, top EASY PEASY pasta or Zucchini spaghetti with the feta-basil pesto and you feel like a king. Any way you look at it this feta-basil pesto is a no brainer, a win-win situation! So get on it! lol … xoxo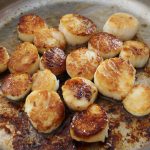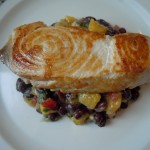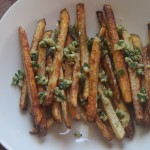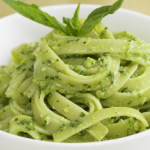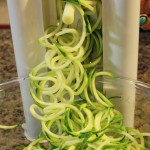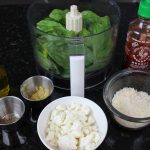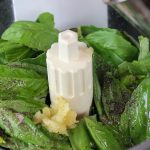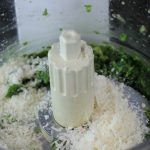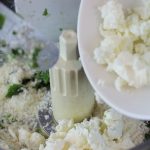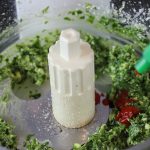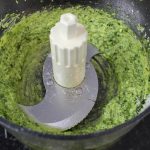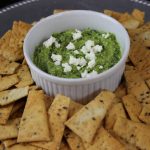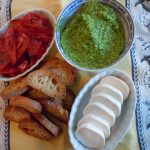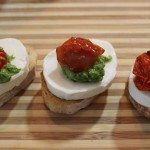 Ingredients:
1/2 sheep's milk feta cheese – from local cheese shop if you can! It's the star of the show!
2 packed cups – fresh basil leaves
1/4 packed Reggiano Parmasan – freshly grated if you can
1 extra lg OR 2 medium garlic cloves put thru garlic press
1/4 cup PLUS 1 tbsp extra-virgin olive oil
salt and pepper to taste
a few dashes of your fav hot sauce
Directions:
Place 2 packed cups of basil, 2 tbsp of olive oil, garlic thru garlic press, a sprinkle of s & p in food processor and pulse 6x
Scrape down sides and add in Reggiano Parmesan and sheep's milk feta and pulse 4x more
Scrape down sides and add in a few dashes of hot sauce
Drizzle in thru top opening of food processor 3 more tbsp of extra-virgin olive oil and pulse 3x more …voila you have feta-basil pesto! It's as easy as that! 🙂
Add this feta-basil to Crostini with Fresh Mozzarella & Roasted Tomatoes for an appetizer that's sure to turn heads!
OR EASY PEASY …Add the feta-basil pesto to some sautéed shrimp and pasta! YUM!