Chewy Chocolate Chip Cookies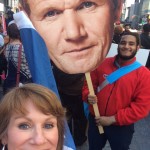 MasterChef open casting calls and chewy chocolate chip cookies are the highlights of my blogging today. With exhausting life events that have taken place over the last three weeks I was some how able to produce my chewy chocolate chip cookie show for you and show up to my second pre-registered casting call for MasterChef.
Three weeks ago we received horrific news that my brother-in-law, George, passed away at the age of 57 from a heart attack. It was both devastating and unexpected. He was taken from us much too young and will be deeply missed by many. George lead an incredible life having the opportunities to accomplish many wonderful things that so many people wouldn't have even had the chance to experience.
While dealing with the loss of Uncle George our King Charles, Brody, was hit by a car on Wednesday. I had just finished shooting my chewy chocolate chip cookie show when we got news of the accident. My kids and I were running between two vets for six hours for the later part of the day.
Brody didn't have any broken bones, but a deep open gash on his upper right leg and bruising across his chest causing a profuse amount of swelling. They don't stitch wounds like this so he got four staples and spent the next few nights at the vets for care and observation. Brody was heavily sedated on Thursday so I began to edit my chewy chocolate chip cookie show and was then able publish it to my YouTube Channel.
A second task now out of the way. My first task, was accomplished earlier in the week on Tuesday making a test run of my "Cold Cucumber-Fennel Soup" for the MasterChef three minute plating part of the casting call. I wanted to make sure the flavors were exactly how I wanted them with the new addition of the fennel to the soup. I was then off to pick up the King Crab legs from Altlantic Seafood in Old Saybrook. This crab will be set up on top of the cucumber-fennel soup in the center with a eatable garnish of fresh dill. The cold soup will also have a drizzle of Sicilian extra virgin olive oil, and fine dice, a brunoise, of avocado, tomato and cucumber scantly decorating the top of the soup around the king crab.
Friday morning was upon us and I was now making the a final batch of my Cold Cucumber-Fennel Soup for the MasterChef open call. Just as I was finishing, Brody's vet called and wanted me to come for a visit with Brody. I put the soup into the refrigerator and headed right out. I felt that the hour I spent there with him helped so much I brought Reilly and Bella back at six o'clock that night right after picking up the rental car for New York City. I decided on driving this time to MasterChef because the five plus hours of train rides the last time was too draining.
The Veterinary hospital was forty-five minutes away so the kids and I were home by 8:45 Friday night after the visit with Brody. I then finished organizing the ice, the cooler, and chopped up the eatable garnish for the soup. Then I worked on finishing the eight page application to the MasterChef open casting call. Finally, I went to sleep at midnight and that 4:30 am alarm came way too fast.
On Saturday morning, the MasterChef crew wanted contestants there at 8:00 for morning filming, so that's what I did. They filmed us in groups in Times Square chanting "MasterChef". They then did individual on-camera pieces with every single contestant stating what we did for a living, where we were from and a finish on a "I'm your next MasterChef", with much enthusiasm! Myself and a few others were then asked sign release forms.
After two hours at Times Square we all went back to the hotel to wait our turn to enter into the "plate-up" room. We met the tasting chefs and the first set of interviewers walking around with clip boards discussing your life and what kind of person you are. Well, I'm ecstatic to say the judges loved my Cold Cucumber-Fennel Soup! My number was announced first once again, as it was in the first open casting call that I attended back in October of 2015. Our group of 9 was on to the next interview part of the casting call and the remaining contestants from our group were dismissed.
At this point it was noon and my energy level was deteriorating fast even after having a coffee at 4:30 am, a mini can of coca cola at 8:00 am and a 1/2 of a coffee at 10:30. But once again, I am there ready to forge on. Worries of Brody are also going through my mind. The anticipation and excitement of picking him up after I leave NYC which also included dropping off Bella to her Tennis match, the rental car, picking up Reilly and then heading to Piper Veterinary to get our boy home!
Oh yes, we are back at the MasterChef interview room facing the last judge with his seductive English accent, a kind of 007 look to him, is now asking me to tell him about myself. What! Really? OK, everything I was hoping to express to him just went out the window and I'm thinking "just try and be your funny self Michel" and all will be okay, but that is not how it worked out. Although I was hopeful that I may still have a chance to get to thru this "personality" phase to my dismay I was not. I know more of me was expected in that last phase then I was capable of giving this time.
Well, I did make a kick ass dish once again and actually enjoyed this round of MasterChef open casting call much more then the first time. You can't always plan your life events! Life happens as they say and you have to roll with the punches and enjoy every minute. Definite kudos go out to that MasterChef casting call team who were there working their tails off for a good twelve hours. There's always another chance at the next casting call later this year when MasterChef comes back to NYC!
Hope you enjoy my chewy chocolate chip cookie show and the SECRET to their chewiness. Remember to grab a few for yourself because there are never any left over! If you are looking for some delicious appetizer's you may want to try my baked sweet potato fries and green Goddess dipping sauce,  my crab cakes, or mediterranean layered dip. For a main course you could venture to my homemade bolognese sauce or even homemade pasta!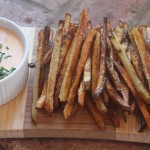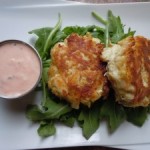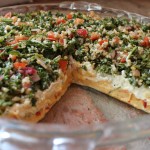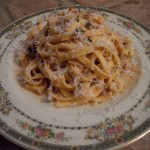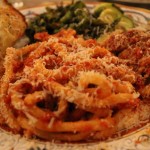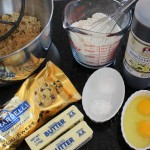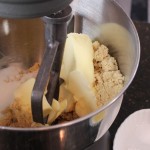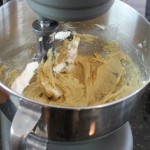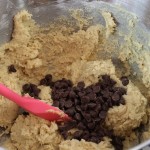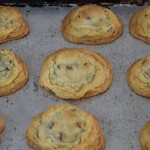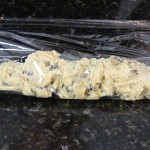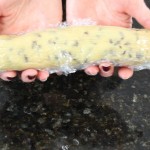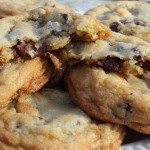 Ingredients:
2 1/4 cups unbleached all purpose flour
1 tsp baking soda
1 tsp salt
2 sticks room temperature butter- salted
1 1/4 cup light brown sugar
3/4 cup granulated sugar
1 tbsp vanilla pure extract
2 lg eggs room temp
2 cups – 1 bag of Ghiradelli Semi-Sweet Chocolate Chips
Directions:
Add room temp butter, light brown sugar and granulated sugar to mixing bowl with mixing paddle
Cream butter, sugar and vanilla until light and fluffy – a couple of minutes
Add in one egg at a time, thoroughly mixing after each egg
Whisk dry ingredients in a bowl and begin to add dry into creamed sugar and egg mixture
Briefly mix until combined – you do not want to build gluten's here
Mix in chocolate chips by hand into cookie dough
With a lg cookie scoop scoop cookie dough onto tray 2″ apart
Bake 7- 12 minutes on 375º – I BAKE MY COOKIES FOR 7 MINUTES IN A CONVECTION OVEN
Bake until they are golden around edges and still blonde-pale in the middle
Take out and let sit on tray for at least 5 minute then move then to a cookie rack to finish cooling…enjoy!!