Sweet Potato Fries & Green Goddess Dip lll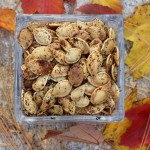 The colors orange and green were stuck in my head for this Halloween episode and that's why I decided to share my sweet potato fries & green goddess dip recipes with you! These baked sweet potato fries are so delicious all on their own but wait until you dip them into the green goddess sauce you'll want to put green goddess dip on EVERYTHING! I make this dipping sauce when I cook up swordfish, shrimp, tuna, chicken and steaks also. Being able to make a homemade gourmet sauce like this in 5 minutes, in a blender is basically a no-brainer for me. I can't wait until you taste this sauce. And here I go again, making my dipping sauce with Greek yogurt to balance out the mayo giving it yet another layer of flavor and tangy richness.  I do this also with my pink remoulade sauce too.
Baking the sweet potato fries is definitely healthier then frying and a lot less work!  Now if you don't have cornstarch in the cabinets don't let it keep you from making these fries because they will still be delicious. Dusting the raw sweet potatoes fries with a couple of tablespoons of cornstarch helps with the moisture content and gives them a little extra crunch.
I hope you enjoy making the sweet potato fries and green goddess dipping sauce and that they will become part of your go to appetizer list. You may want to venture off and some other appetizer's like my Feta-Basil Pesto Dip,  Crab Cakes, Spanakopita Triangle's, or some yummy Homemade Hummus! You can end with my Chewy ChocolateChip Cookies!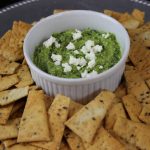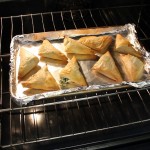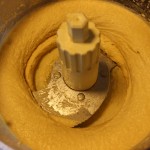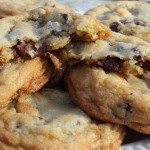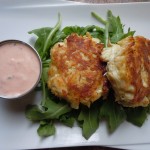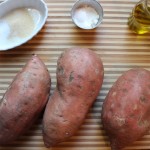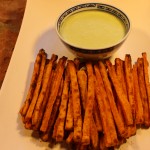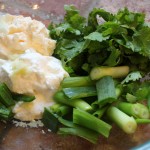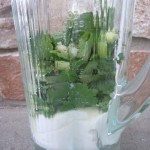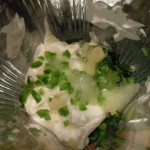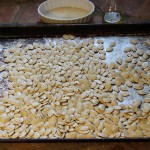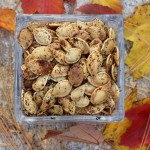 Ingredients and Directions for Sweet Potato Fries:
3 extra lg sweet potatoes ONLY need 2 but I like to have an extra just in case
1/4 cup extra virgin olive oil
1/2 tsp salt
2 tbsp corn starch
1 tsp garlic granules
1 tsp onion granules
Pre-heat the oven to 425º.
Peel and Slice sweet potatoes in 1/4″ sticks -CUT ENDS FLAT so they don't burn
Dab with paper towels to dry excess sweet potato moisture
Drizzle with 1/4 cup olive oil and sprinkle with 1 tsp garlic granules,  1 tsp onion granules  and 1/2 tsp salt
Mixed with hands and then spread out into even layer on cookie sheet
Bake for 15 minutes then flip and back into the oven for 8-10 more minutes
BE SURE TO keep an eye on them at this point so they don't BURN 🙂
Ingredients and Directions for Green Goddess Dip lll:
3/4 cup Greek yogurt
1/3 cup mayo (I use Hellmans)
1 cup fresh cilantro
1 garlic clove put thru press
1/2 jalapeño diced
4 green onion stalks
1 tsp. grated vadalia onion ( or yellow onion)
1 tbsp ( 1/2) fresh lime juice
1 tbsp "seasoned" rice wine vinegar ( "oops" – I accidentally said red wine vinegar in the show but it's rice wine vinegar)
s & p
Optional: dash of Siracha (Siracha is a hot chili sauce sold next to Tabasco at the store)
Place all of the ingredients into a blender an purée and you will probably need to stop and stir everything a couple of times to get it going but do not add any more liquid (you will see that once it gets going it will be just right).
You can make this ahead of time and keep sauce in a plastic container and refrigerate.  It  gets thicker as it sits in the fridge chilling and stays nice for a few days…  Yum!
Ingredients and Directions for Roasted Pumpkin Seeds:
Pumpkin Seeds for 2 pumkins
1 tsp garlic granules
1 tsp onion granules
1/2 sea salt (plus a sprinkle at the end for a pinch more seasoning)
2 tbsp olive oil
Pre-heat oven at 425º.
Wash pumpkins seeds to remove pulp.
Dry between paper towels and leave on cookie tray to dry further over night (can roast right away if you don't have time – just by sure to completely dry seeds)
Drizzle olive oil over seeds and sprinkle all of seasonings and toss to evenly mix
NOTE: you can add in cumin, cayenne, chili powder … add your favorite seasonings
Roast for 10 minutes, take out and stir seeds, put back in oven for approx. 4 more minutes – Keep an eye on them at this point so they don't burn