Super Nutty Seed Bread at April's
This energy boosting, super nutty seed bread topped with chic pea guacamole has both healthy fats and deliciousness…what more could you ask for!
It's amazing how a hearty, healthy, homemade bread made from ground seeds can be this easy to make! The combination that April offers in her recipe by topping this moist bread with a creamy chic pea guacamole is a win win for me. The textures of the the two really compliment each other.
You really need to check out April's beautiful website sweetsimpledelicious.com where she offers delicious, healthy recipes along with her wellness programs enrollment availabilty! It was so much fun taping this show with April. With our similar tastes and aspirations I know we'll be working together to bring you more shows featuring healthy, scrumptious dishes!
For other healthy and delicious dishes you should check out my Zucchini Torta, Zucchini Spaghetti, Salsa 101, or Cold Cucumber Soup with Seared Sea Scallops!…ENJOY 🙂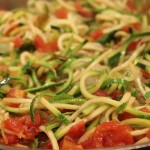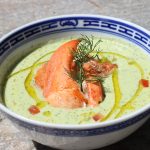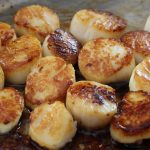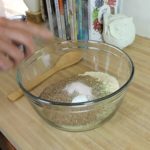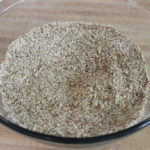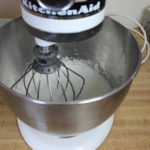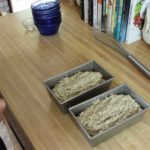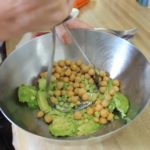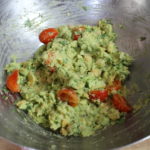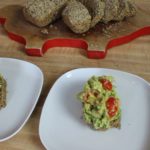 Ingredients for Super Nutty Seed Bread:
1 cup ground oats
1 cup ground walnuts
3/4 cup ground pumpkin seed
3/4 cup ground flax seed
1 cup almond flour
1 tsp sea salt
1/2 tsp baking powder
4 egg whites
3/4 cup filtered water
Directions for Nutty Seed Bread – Pre-Heat oven to 350º
Add egg whites to your cold mixer bowl and whisk until fluffy
Add the first 7 ingredients to a different medium size bowl and whisk together
Add water to the fluffy egg whites and whisk to combine 5 seconds
Stir in the wet ingredients into the dry with a spatula just to combine
Add batter to 2 small loaf pans greased with olive oil
Bake for 35 minutes
Let bread cool in pans for 10 minutes, then turn out to onto cooling rack to finish cooling
Slice and serve with a healthy serving of Chic Pea Guacamole! Recipe below…
Ingredients for Chic Pea Guacamole:
2 ripe avocados
1 cup chic peas
1/2 cup grape or cherry tomatoes sliced in 1/2
Juice from 1 whole lime
1 tbsp finely chopped red onion
1 garlic clove thru press or finely chopped
1/4 tsp salt
Pepper to taste
1/4 cup fresh chopped cilantro
Directions for Chic Pea Guacamole:
Add avacado and chic peas to a medium size bowl and mash with potato masher to desired texture
Stir in fresh squeezed lime juice, red onion, garlic, cilantro, s & p
At the end stir in sliced cherry tomatoes and serve on a slice of Super Nutty Seed Bread!…mmm!