Sticky Buns at Dana's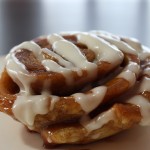 Wait until you taste these decadent sticky buns first hand! Such an easy recipe to follow making these homemade gourmet sticky buns that melt in you mouth! PERFECT for VALENTINE'S DAY morning or any occasion for that matter. The dough is light and chewy. The pecan glaze is soft and caramel like and the cream cheese icing is the best I have ever had. The cream cheese icing has a tablespoon of lemon juice giving it the perfect balance. If you don't have lemons you can always substitute the citrus with pineapple juice. It's nice to have the different options with these two toppings to offer to your family and guests.
The dough recipe for these homemade gourmet sticky buns couldn't get any easier. You can literally make it in 8 minutes including the five minutes of kneading with the dough hook. Although, you do have to wait for eggs and buttermilk to come to room temperature. There isn't any worrying about activating the yeast in a 105º-110º liquid either. It is important to buy a fresh packet of yeast though. It's better to make sure it's a fresh packet then dealing with one that's been sitting in your cabinet for a while if you are not a big baker. It was very fun to play with the different sticky bun and glaze recipes that Dana and I had from Cooks, bon appétit and our own mish-mosh of things. That's what makes the whole experience worth while, eliminating what doesn't work and substituting what does. So we got all that out of the way for you here.
If you have a little time, planning for the homemade sticky bun dough, glaze and cream cheese frosting to be made a day or two ahead would be ideal! Once you make these for your family and friends you will become the honorary sticky bun chef!
You may want to whip up some other breakfast items if you can get that homemade sticky bun dough made ahead of time and try my kale or spinach-mushroom frittata, or my energy smoothies. Then again you could always do more of a brunch theme with salmon BLT sliders, or homemade gourmet salmon gravlax! Hope you enjoy the show 🙂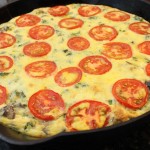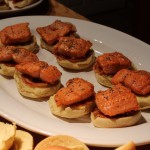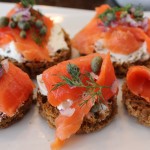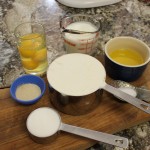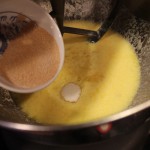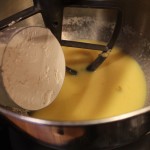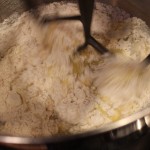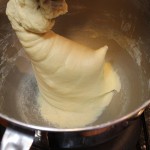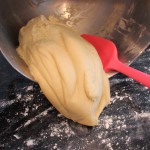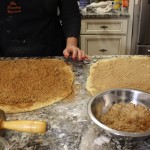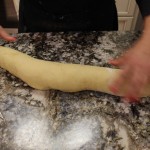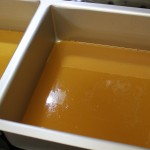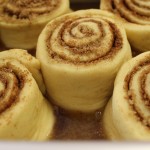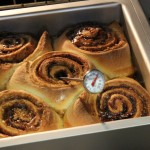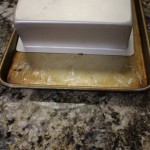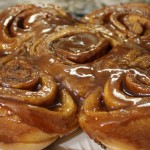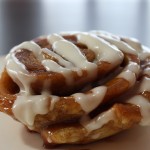 Ingredients for the Dough:
3 lg eggs room temp
3/4 cup butter milk room temp
1 pkt of INSTANT – RAPID RISE yeast or 2 1/2 tsp if measuring
1/4 cup granulated sugar
1 1/4 tsp salt
6 tbsp unsalted butter melted and cooled until WARM – not hot and not cold
4 1/4 cup all purpose flour
Directions for the Dough:
Crack eggs into a bowl and whisk gently with a fork
With paddle attachment add the eggs to a Kitchen Aid mixer and begin to mix
Add in the buttermilk and mix to combine
Then add in the yeast and sugar
Mix in 2 cups of flour, butter and salt to combine
Switch the paddle attachment to kneading hook
Add in last 2 cups of flour and knead for 5 minutes
Turn out the dough onto a lightly floured counter
Briefly knead to form a dough ball – 1 minute
Spray a large glass bowl with Pam or similar
Place the ball of dough into the greased bowl, spray the top of the dough and cover with plastic wrap
Put in a warm place if available until it doubles – 2 1/2 hours
While the dough is rising make your glaze
Turn out risen dough onto a lightly floured counter
Begin to roll out dough into a lg rectangle with a rolling pin – approx 20″ x 15″ size
Sprinkle 1 3/4 cup of dk. brown sugar all over the rolled out dough leaving 1″ border around the edges
Spread sugar with your fingers for an even coating
Sprinkle the cinnamon over that – it may seem like a lot but it won't be once you roll up the dough and bake it
Begin to roll up the long edge of the dough keep a tight roll all the way
Lay rolled up dough with seem side down and begin to slice into rolls
Slice the dough roll with a serrated knife right down the middle, then slice each of the sides into 2 more equal patrs, then those into 2 to make a total of 8 equal – 2″ rounds
Place the rounds onto the pan or pans with 1/8″ glaze on the bottom and let proof for 45 minutes (no need to cover with saran)
Place into a 350º oven and bake for 20-25 minutes until a golden brown around the edges
Take out the buns and let rest in the pan(s) for 10 minutes
Run knife around the perimeters of the sticky buns
Lay a cookie tray or serving platter over baking pan and invert to flip out sticky buns
You may need to wiggle the buns with a spatula a little if they get stuck
Using a spatula place onto serving platter
Sprinkle some with toasted pecans – add more glaze if you want,  smear the cream cheese frosting over others or warm up cream cheese a little and drizzle over buns for a fancier presentation…enjoy 🙂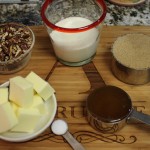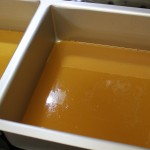 Ingredients for Glaze:
1 3/4

cups

chopped toasted pecans – Toast pecan halves on a cookie tray in a 375º oven for 8 minutes until fragrant and lightly toasted

6 tbsp

 unsalted butter

3/4

cup

light

 brown sugar

3/4

cup

heavy cream

1/3

cup

honey

1/4

teaspoon

kosher salt
Directions for Glaze:
Add all the ingredients into a medium sauce pan whisking to break up sugar on medium heat
Bring to a boil and immediately turn down and simmer for 4 minutes (the sauce should NOT be in a rapid boil … should have a tiny bubbling simmer)
Take off heat and pour 1/2 – 2/3's of the glaze into the bottoms of your baking pans with 1/8″ coating
Place your rolled and cut up sticky bun rolls on top of the glaze and let proof 45 minutes
Ingredients for Filling in Rolls:
1/4 cup 

unsalted melted butter 

1 1/2

cup

(packed) dark brown sugar

1/4 cup

 

ground cinnamon

1/4

 

tsp

 ground 

cloves

1/4

 

teaspoon

kosher salt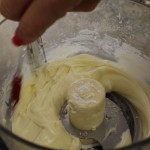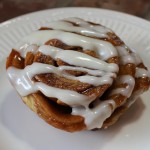 Ingredients for the Delicious Cream Cheese ICING:
2 oz. cream cheese – softened
4 tbsp unsalted butter – softened
1 1/2 cups confectioners sugar
1 tbsp fresh lemon juice OR pineapple juice
1 tbsp light Karo Syrup
1/2 teaspoon vanilla extract
Directions for this Delicious Cream Cheese Icing:
Put butter and cream cheese into the foo processor and pulse to combine
Add in the rest of the ingredients and puree until smooth
You can then warm this a little to drizzle over the sticky cinnamon buns or smear with an offset spatula or knife