Secret Meatball Recipe at Glenn's New Haven Apizza
One of the most delicious meatballs you'll ever have and the mammoth size will knock you for a loop! Glenn Proto, at New Haven Apizza & Bakery, right here in our very own Madison, CT, shared his mother, Annette's, secret meatball recipe with me this week. The ingredients he use's in his meatballs couldn't get any fresher because he even grind's his own meats for these meatballs. Freshly ground brisket, short ribs, 80/20 beef and Longhini sweet sausage are the main ingredients in his meatballs. Oh, but let's not forget what he calls his "secret" to the meatballs, his addition of finely chopped pepperoni! Glenn says this is what give's these authentic Italian meatball's that extra special something!
Once we get past all the freshly ground meat that goes into Glenn's meatballs the love doesn't stop there, he then caramelizes red onions, adds in Ricotta fina (a special and costly ricotta from the very best Liuzzi Cheese in North Haven,CT, eggs, grated Romano cheese, Italian cubed up bread soaked in heavy cream, and fresh garlic and herbs! Wow, he doesn't hold back on quality that's for sure. What an incredible ingredient list for these most flavorful and succulent morsels. Maybe I shouldn't use the word "morsels" either because the size of these meatball's are cray cray! It was a blast rolling the meat mixture into bigger then baseball size meatballs with Glenn and his son Dylan. Isn't it wonderful how the tradition carries on as Dylan and his siblings grew up making these incredible meatballs just as Glenn did. And now, we can add some of this lovely tradition into our kitchen's since Glenn was so kind as to share his family's recipe with all of us. He believe's traditions and recipe's are meant to be shared so everyone can enjoy them!
Hope you enjoy this secret meatball recipe show and remember he serve's up 3 of these colossal meatballs in one "spaghetti and meatball" order from his restaurant! You might want to start with a few appetizer's like my crab cakes, buffalo chicken dip, Mediterranean layered dip, spanakopita or my hummus!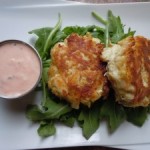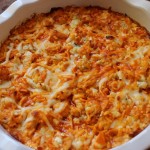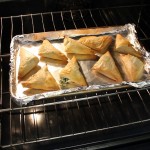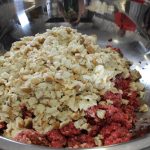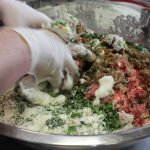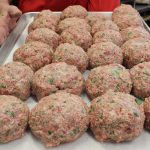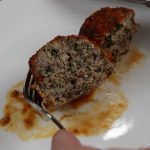 Glenn's Mammoth Size Meatballs – makes approx 10-12 Colossal Size…Can make them smaller to yield more meatballs!
2 1/2 lbs. of ground beef (.75 lbs ea. of ground brisket, short ribs and 80/20 ground beef)
1 1/4 lbs. Longhini sweet sausage
1/2 cup finely chopped pepperoni
2 cups Italian bread after soaked in heavy cream and squeezed slightly  (1 lb. about 1  loaf of Italian bread, cubed and soaked in heavy cream)
2-3 cups heavy cream – to soak cubed up Italian bread
3 lg eggs
1 cup grated Romano cheese
3/4 cup ricotta (ricotta fina if you can get it)
3/4 cup fresh chopped parsley
1/2 cup fresh chopped basil
1/3 heaping cup finely chopped fresh garlic
1/2 cup caramelized red onions (finely chop 2 med. size red onions and sauté on medium/high with 1 tbsp olive oil and 1 tbsp butter for 5 minutes and then twenty minutes on low with adding 1 tbsp sugar and 1/4 tsp salt)
1 tbsp plus 1 tsp sea salt
1 tbsp plus 1 tsp finely ground pepper
1 tbsp plus 1 tsp dried oregano
Directions:
Pre-heat oven to 400º
Cube up the Italian loaf of bread to 3/4″ pieces
Add cubed up bread to 2 – 3 cups heavy cream – should be enough to have all the pieces get saturated and soak for approx 15 minutes
Add beef and sausage to a large bowl and combine with your hands
Add in the pepperoni and the rest of the ingredients in the list and combine with your hands – Don't over mixed meat …just until combined
Begin to roll meat mixture into desired size meatballs dipping your hands in the left over the heavy cream to help smooth the edges of the meat while shaping them
Place the meatballs onto a cookie tray..they can be right next to each other
Note: the larger they are the longer you will bake them
Bake for 45-60 until the tops are crispy and brown …mangia, mangia!