Seared Scallops
Seared scallops are so gosh darn delicious you really don't need anything else to accompany them. They have a succulent and creamy texture that's so tender they melt in your mouth when cooked correctly. All that is needed to sear sea scallop's is a hot non-stick pan, a couple tablespoons of olive oil, butter for basting at the end, a squeeze of fresh lemon and violà, you have an amazing seafood dish in 4 minutes.
Butter is just one of additions to seafood that always seems to give one last flavor boost. That's why I have you baste the scallops in the last few seconds in the show. Butter makes everything better, right? You can't get any easier then making scallops in mere minutes. It is best to use a non-stick pan to sear these though because it will make for a smooth ride home and super easy to flip them over to get that golden sear on the other side of the scallop.
You really need to try my cold cucumber and fennel soup to go with your seared scallops. The flavors you will get from all the vegetables and herbs in the soup to the creamy scallops will put you over the top. The green goddess sauce II goes without saying when paired up with the seared scallops. If I'm serving the scallops for an appetizer I set a small bowl of green goddess sauce right in the middle of a platter for dunking and scallops placed all around…YUM!
You may want to add something hardy to compliment the fish so if you haven't tried my family recipe for the best pasta fagioli you will ever have you should get on the ball. You could go the zucchini spaghetti route or even my amazing melt-a-away homemade gnocchi with a bolognese sauce, and who doesn't love sticky buns with their coffee for dessert!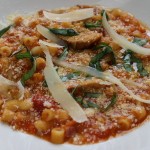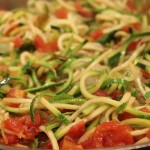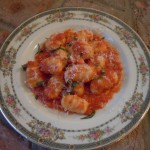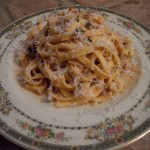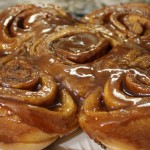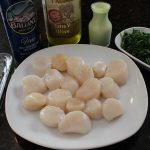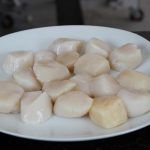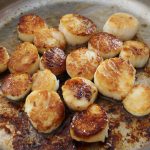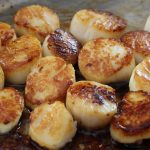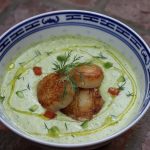 Ingredients:
Directions:
Heat non-stick pan to high heat
Sprinkle salt and pepper to taste on both side of the scallops
Add 2 tbsp of olive oil and begin to add scallops
If you have a medium size pan you will have to do this in 2 batches
Sear scallops about 2 minutes on each side until golden
Optional: add 1 tbsp butter and baste scallops in the last 20 seconds
Take off the heat and squeeze 1/2 lemon over scallops
Remove scallops immediately from hot pan to a serving dish
Plate each dish with a sautéed spinach in the center, top with scallops and drizzle with green goddess sauce around outer edge of the plate…enjoy!
OR top cold cucumber & fennel soup with seared scallops!