Roasted Garlic

Roasting garlic couldn't get any easier and what a soft, creamy and sweet texture you get from roasting…really takes the garlic to another level.  I make garlic bread with the roasted garlic cloves and my kids eat it up!  The roasted garlic cloves really bring out the sweet flavor in my roasted garlic and cannellini bean purée, and that purée makes a great addition to the stuffed roulades of chicken.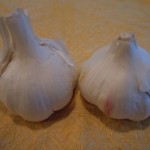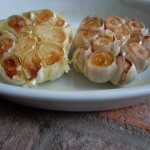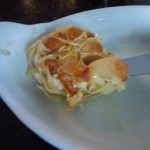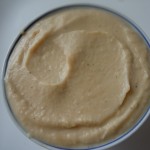 Ingredients:
2 large heads of garlic
2 Tsp olive oil
Directions:  
Pre-heat oven to 400º.
Cut the tops off of the garlic bulbs, about 1/2″ off and drizzle 1 tsp. of olive oil on each of the cut off tops.
Cover with foil for the first 20 minutes and then remove the foil for the next 20 minutes.
Bake for a total of 40 minutes or until golden on top…not too dark because it gets bitter.
Cover the garlic back up with foil when you take them out of the oven to cool a little before handling the hot cloves and this keeps them nice and moist.