---
Pulled Beef Taco's & Mango Salsa
Just wait until you taste the flavors in this pulled beef taco dish that ONLY uses three ingredients! Yes, that's right we only use three ingredients… red wine, Trader Joe's Autentica Salsa and a chuck roast that braises in the oven for two and a half hours with the cover off. I almost feel like we are cheating here by only using these three items because it seems as though something this amazing in taste, similar to Boeuf Bourguignon, should involve way more effort and ingredients. I think it's important here to use the oven instead of a crock pot because the dry heat helps to caramelize the beef really building on all those layers of flavors.
This is the perfect dish for having groups of friends over because it's a total make ahead dish. You can even make my mango salsa the day before. If you are really in a pinch for time you could always buy fresh made salsa at the store. I personally like to make this homemade pulled beef the morning of the party so that the house fills with all the aromas of the braising chuck roast, red wine and tomatoes. Really gets the juices flowing!
You can use your favorite hard taco shells to serve up the homemade pulled beef, corn and flour tortilla's or even serve it on a bed of lettuce with shredded cheddar cheese and my mango salsa! I would also offer sour cream and Siracha in the side fixin's and just let people go to town making their own creations. How fun is that?
You may just want to make my decadent Hershey's Perfectly Chocolate Chocolate Cake for dessert! You won't believe how EASY it is to make! You could also try my Chocolate Crackle Cookies that melt in your mouth. Then there always Fresh Berry Granita or Berries in a Dreamy Cream for dessert too. You'll be able to actually relax and have lots of fun with your family and friends.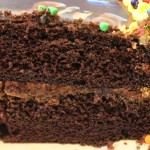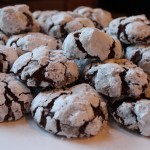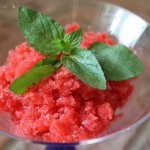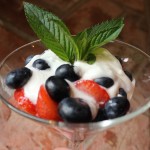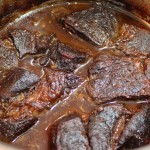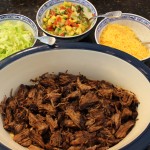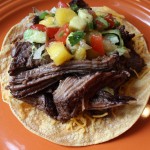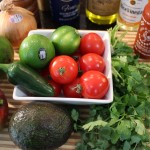 Ingredients for the Pulled Beef Taco's:
3 1/2 lb. beef chuck roast (look for some good marbling)
1 bottle of red wine – Cabernet Sauvignon
1 bottle Trader Joe's Salsa – Autentica
3 tbsn olive oil
Directions:
Pre-heat the oven to 350º
Slice  the chuck roast into 6 pieces
Salt and pepper the pieces
Add 3 tbsn of olive oil to a large pan on med/high heat and begin to add the beef pieces
Turn up the heat to high and quickly sear all sides til browned – this takes 10 minutes
Add in 3/4 of the bottle of red wine (be careful of steam here) and the whole jar of salsa
Bring to a simmer and pop into the oven for 2 1/2 hrs.
Every hour turn the beef pieces over so the other sides can caramelize
At 2 1/2 hours take the braising meat out of the oven and begin to remove the beef to a dish wear you can start to pull apart the beef pieces
Tilt the braising pan to the side so that you can skim off the fat that rendered out of the meat
Pour the left over juice onto the pulled beef and serve with taco shells and my mango salsa…enjoy!
Ingredients for the Mango Salsa:
2 lg mangoes chopped 1/4″ cubed – (about 1 1/2 cups)
1 avocado chopped 1/4″ cubed (1 cup)
2 med/lg size tomato's or 5 small tomato's chopped 1/4″ cubed (1 cup)
1/2 Vidalia onion (or yellow) FINELY chopped (1/2 cup)
1 FINELY chopped jalapeno (2-3 tbsn)
juice from 1 lime
2 Tbsp olive oil
1 Tbsp rice wine vinegar
1/2 cup coarsely chopped cilantro
a dash of Siracha (optional)
S & P
Directions:
Add all of the ingredients to a large bowl and mix thoroughly.
We really love to eats this salsa with blue chips too
I have also served this salsa up on the tips of endive leaves, and or with a cooked shrimp on top of that ….yum!
I must warn you this salsa is highly addictive……consume at your own risk! LOL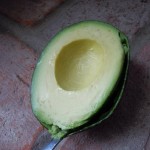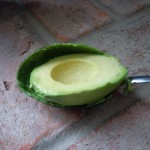 TIP:  There is an easy way to get the pit out of a avocado which I have displayed in the pictures above.  After running the knife around the flesh of the avocado against the edges of the inside pit… put the knife down and twist the avocado halves and pull apart. Then stick the knife into the pit and do the same thing holding on to the knife with one hand and carefully twist the avocado pit and it will pop right out.  Then knock the pit off onto the board away from your hands.  This can be a little tricky the first time so I would advise that this would be for an adult to try.   Finally, Insert a large spoon and scoop the avocado along the edge of the avocado skin to remove avocado flesh.