Perfect Pie Crust in 5 Minutes!
Who would ever think you could make this buttery, flaky, homemade pie crust in 5 minutes? After eating many of my Granda's pies when I was little I was inspired to come up with a recipe that tasted just like hers. Unfortunately, I never got her recipe but have been making pie crust's for over twenty years and I'm happy to say I came up with a pie crust recipe that is spot on to what my Grandma used to make . Granted, there are some pretty decent pie crusts available at the market and if you are making many pies it totally makes sense to go that route. If you are only making a couple of pies you really need to get busy and make this homemade pie crust!
Homemade pie crust in 5 minutes is just that but there two tricks to this amazing pie crust. First, all the ingredients must be very cold. Refrigerated butter cubes are already firm enough but to firm up the soft Crisco pieces it's wise to put that into the freezer before adding it to the food processor. Second, you MUST NOT OVER WORK the dough! Over working the dough will build gluten's like you are make a bread dough and we don't want that for making this perfect pie crust in 5 minutes. We want our pie crust to be flaky in texture not tough and hard.
In my opinion, a couple of the best bakers in the world are the French and the Southerner's. One loves butter and the other loves Crisco. So why not take the best of both worlds using both butter and Crisco to achieve these wonderful results. Not to mention, as I always do, I have tested many pie crusts recipes to come to this theory.
You need to try out this perfect pie crust in 5 minutes recipe just once to be convinced to start making your own. In fact, you will wonder why you haven't been making your own homemade pie crust your whole life when it's that easy to make and tastes like this! Enjoy the show and don't forget to make this ahead of time popping it into your freezer until you are ready to roll it out for a pie or a quiche. I would transfer the dough from your freezer to your refrigerator couple of days before you are ready to use it in order for the dough to come to the proper workable temperature. Once you make your dough you really ought to try making an amazing Chocolate Pecan Pie  or Death by Chocolate Meringue Pie for your holiday. Don't forget to watch Thanksgiving week when we roll out this dough and bake a pie together! For the Best Blueberry Pie ever recipe this is one that shouldn't be missed. Enjoy 🙂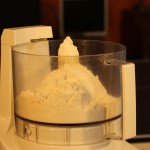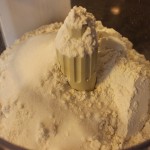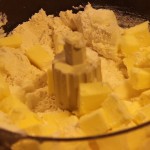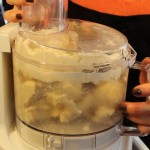 Ingredients:
10 tbsp cold butter cut up each tablespoon into 4 pieces and into fridge until you are ready to add to flour
1/2 cup cold Crisco cut into small pieces OR 1/2 cup REAL LARD from FIREFLY Farms OR 1/4 cup Crisco & 1/4 cup lard
1/2 cup,  plus 2 tbsp cold water,  (keep in fridge until you are ready to add to flour)
3 cup all-purpose flour
1 tbsp sugar
1 tsp sea salt
NOTE: I even keep food processor container with medal blade in it in the fridge until you are ready to pulse ingredients
Directions:
Be sure all items above are completely chilled
It's easiest to freeze first, especially for crisco or real lard, then take out of freezer and cut up or grate before adding to processor
Add dry ingredients to the food processor and pulse twice to combine
Drop the freezer cold, firm Crisco or lard pieces onto the flour
Then add the butter pieces helping the pieces to separate with a butter knife as you drop them onto the flour
Pulse 5-7 time until the Crisco and butter are pea size
Now turn processor to "on" and slowly add water through opening – Note: this will take about 12-15 seconds for the dough to come together
The moment you see the dough begin to come together, STOP, and PULSE 2-3 times to finish into a ball
Take dough out onto floured counter surface – you will see little specs of butter and Crisco in the dough which will make for a buttery, flaky crust!
Cut dough into two pieces, cover with Saran Wrap and into fridge for at least 30 minutes or freezer until you are ready ( If you freeze it allow 2 days back in fridge to come to proper workable temperature)