My MasterChef Sauces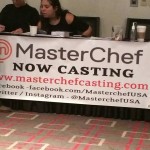 The creation of these MasterChef sauces. a spicy, sweet and sour mango and a ginger-peanut sesame sauce, all began while surfing the net a few weeks ago, I accidentally ran into the MasterChef homepage advertising "Casting calls are coming soon to a city near you".  My kids, Reilly and Bella were there at the time and enthusiastically shouted, "you should do it"! I think what sealed the deal was reading the "Come and meet the MasterChef casting team for your chance to be on the show!" The excitement started to seep in and I began to seriously consider going to the New York City MasterChef open call. If anything, I knew it would be a step in the right direction and a great learning experience let alone the adrenaline of it all!
After sending in their required online pre-registration form and printing out the nine page hard copy form to be submitted at the casting call I thought it would be a good idea to look over the FAQ page. The FAQ's certainly had a list of what to do and what not to do. The "to do's" started off like this:  First, bring one prepared dish to serve to their food judges. Second,  we would be given 3 minutes to plate our dish at their casting call location and for some reason I had initially thought I had 5 minutes to plate so that was a bit of an eye opener! Third, there wouldn't be a kitchen to cook or warm our dish up so we were to come prepared! Fourth, we are to supply our own dishes, utensils, etc.
The "do not do's went like this:  no air mattresses, no alcoholic beverages, no animals (unless health related), no candles, no cans or bottles (except water bottles), no chairs that do not fold (i.e. lawn chairs, chaise lounges, molded plastic chairs), no digital or still cameras, no fireworks, no hair dryers, no illegal drugs, no tents, no video, cameras or camcorders of any kind, no weapons of any kind, no children under the age of 13 years are allowed at the audition venues. There you have it!
Well OK,  I had a little organizing to do and a plate to figure out for my MasterChef casting call debut! I really wanted to wow them! The part about the "NO kitchen" and "come prepared" got me to thinking that a cold dish of some sort might be a wise way to go! An appetizer is probably the most logical then, right? Yes that's it, it came to me.  I would make my "Fresh Shrimp and Chive Rolls" with the new MasterChef sauces that I have created which I can decorate the plate with. A julienne of daikon radish, carrots and a sprinkle of toasted sesame seeds with micro herbs for some pizzaz would add in the finishing touches. I also thought I needed to add in some height so I came up with baked egg roll shells that I form in a cup cake pan. I got this idea from my "Bloody Mary shrimp and Mango-Curry Shrimp in Wonton cups at Nancy's Show" except I decided to use egg rolls shells instead of won-ton because they are a little bit lighter.
Now that I knew what I was going to make I thought I would practice my plate decorating with my MasterChef Sauces by shooting it in this weeks show so I could share this fun experience with all of you! It was definitely a lot of work to do this and go to the casting call but I did it! It was an awesome experience being there and the "MasterChef team" was pretty dynamite. They had everything down to a science and moved around with ease offering up a very warm welcome to all the competitors. I am super glad that I took Reilly and Bella's advice on going for this.
I kicked you know what with my dish and the plating. I went there and did exactly what I set out to do with my presentation with 8 or so seconds left before they yelled "TIMES UP"! That part I have to say was such a RUSH because it reminded me of chopped!!! I was then the first to be called back in with 8 others for that first plate presentation part from our first group of 30 plating competitors.  I might be over thinking all of this a little, but I was so tired from preparing the food and shooting the show I feel as though I forgot to prep myself on what exactly to say about "me" when they pulled us 8 into interview. Although, I had them laughing a bit. I got the feeling what was more important to them was the person who said the right things in that second interviewing, more character not food ability. Gods only knows I do have lots of that so if it doesn't work out this time I NOW know what they want next time around! I still have to wait until the end of October to see if I hear from them (they are still traveling to other states). I had an incredible time and will keep you all posted. Thank you all for your support, it means a lot! Hope you enjoy "My MasterChef Sauces" Show!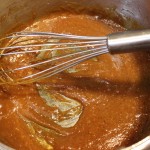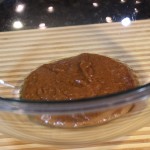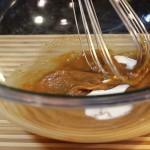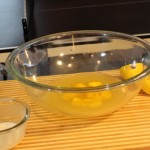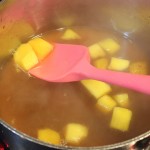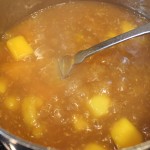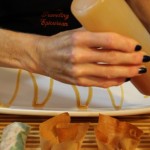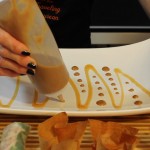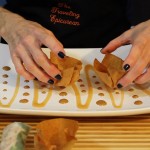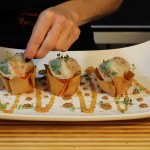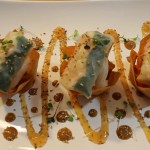 Ingredients for Ginger-Peanut Sesame Sauce:
3 tbsp smooth peanut butter (Teddy's All Natural)
1/4 cup soy sauce
2 tbsp toasted sesame oil
1 1/2 tbsp vegetable oil
1 tbsp rice wine vinegar
1 tbsp red wine vinegar
1/2 tsp wasabi powder
2 tbsp sugar
1/2-1 tsp Siracha (can find this next to Tabasco products)
1 whole lime
1 tbsp corn starch dissolved in 3 tbsp pineapple juice – Use 1 1/2 tsp of this 
1 tbsp fresh grated ginger
2 tbsp half and half
Directions for Ginger-Peanut Sesame Sauce:
Add all of the ingredients to a large bowl (EXCEPT corn starch mixture) and whisk
Squeeze only 1/2 of the lime in at this point
Add to medium pan over medium/high bring to a low simmer – whisking constantly this will be about 2-3 minutes
When this begins to thicken turn down to med/low and add in 1 1/2 tsp of corn starch mixture and keep whisking- this will be about 3-4 minutes
Remove from stove and cool
When cooled add in 2 tbsp half and half and a squeeze of the other half of the lime and whisk briefly til smooth
Add to ramekins for a dipping sauce or put into squeeze bottle to decorate plate with
Ingredients for Spicy, Sweet and Sour Mango Sauce:
1 cup pineapple juice
1/2 cup mango
1/4 cup red wine vinegar
1/4 cup sugar
1 tsp ketchup
1 tsp fresh grated ginger
1 tsp Siracha
1/8 tsp salt
2 tbsp corn starch dissolved in 3 tbsp water
1 lemon
Directions for Spicy, Sweet and Sour Mango Sauce:
Add all of the ingredients to a large bowl except the corn starch mixture
Whisk til combined – use juice from 1/2 lemon here
Add to a medium size pan over med/high heat and bring to a low simmer to melt sugar – 3 minutes
Add in corn starch and keep whisking at a low simmer til the mixture is transparent again and thickened – 5 more minutes
Mash Mango pieces into sauce with a fork
Remove from heat and press thru a sieve into a bowl and let cool completely (can add a little squeeze of the other half of the lemon if too thick)
Pour into ramekins for dipping or put in a squeeze bottle to draw on plates …have fun decorating!