Mixed Berries with Dreamy Cream
Mixed berries with dreamy cream is a really easy yet super delicious way to end any meal! This homemade white fluffy fruit dip is made from melting and whisking Marshmallow Fluff with Philadelphia cream cheese. Believe it or not this mixture is a perfect combination. You might think at first that it may be wicked sweet but the tang from the cream cheese mellows that right out and brings it all together in a very nice balance.
You can add a half of teaspoon of vanilla extract to this recipe but I feel like it just gets lost anyways and I like to keep this fluffy dip a bright white making for a wonderful color contrast with the berries. This dreamy cream fruit dip is pretty rich so all you really need is a small dollop in between fruit layers.
Now you may think this Marshmallow Fluff and Philadelphia cream cheese is the perfect compliment to the berries but wait until you invite fresh mint to the party! The flavor of the mint with the mixed berries and dreamy cream is an absolute MUST. I happen to have "peppermint" mint growing around my yard and I use it for so many things like my roasted beets and feta salad. Once you start to grow mint it just takes off and the is no need to ever fuss over it again. 
With all the effort we put into entertaining I'm so happy to be able show you a recipe that can be made in a matter of minutes and get the oohs and aah's that it does! Hope you enjoy the show and the mixed berries and dreamy cream recipe as much as we do.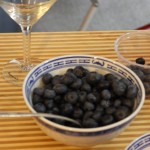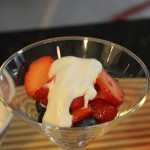 Ingredients:
12 martini glasses, parfait or plastic drink cups
1 16 oz. container of Marshmallow Fluff
1 8 oz. pkg. Philadelphia cream cheese
1 pint of blue berries
2 lbs fresh strawberries sliced
1 pkg black berries
1 pkg raspberries
fresh mint leaves
Directions:
Place room temperature Philadelphia cream cheese and Marshmallow Fluff in a medium size pan on medium heat
Begin to melt this combination all awhile whisking the whole time
This process will only take 1 minute
Let this mixture fully come to room temperature before layering with the fruit
Begin to layer berries into glass with a small dollop of dreamy cream in between each layer
Top with fresh mint leaves