Lobster Mac & Cheese at David & Eileen's
With this homemade gourmet lobster mac & cheese at David & Eileen's you get the best of both worlds! Two of my very favorite things to eat all in the same dish! What more could you ask for? What, did someone say "smoked Gouda, please"? The Lobster goes with out saying and for those of you who appreciate that slightly salty, yet sweet and rich in every meaty bite know what I'm talking about. Then to add this succulent lobster to pasta that's covered in a delicate, smokey, cheesy sauce put's it right over the top!
When my dear friends David and Eileen suggested making lobster mac & cheese for my cooking show it was like bells went off. I thought it was a great idea. David had discussed the idea with our other foodie friend, Marco, who offered up his recipe to David. Marco and his wife, Sheryl, own an Inn near by called Lathrop Manor where Marco cooks up a five course gourmet breakfast if you're a guest there.  Marco was also the chef in my "Salmon BLT Sliders at Marco's Show" from this past summer. Needless to say, our group here loves to cook, eat and have fun. Even frequenting the Farm and Vine Dinner's at The Ocean House together. 
Sharing family recipes, like Dave and Laurie did with their yummy "Caruso Salad" and the amazing lobster mac & cheese recipe between Marco and David is what brings friends together. Cooking, eating, laughing and enjoying each other's company is the foundation of life in all cultures around the world . I am grateful to have such wonderful family and friends to do this with.
I hope you enjoy this homemade "Lobster Mac & Cheese at David & Eileen's" show as much as we did making it! Have fun with this recipe. You may also want to check out my Caesar Salad for a side dish or some Arancini Reuben Balls, stuffed mushrooms ,or baked asparagus wrapped in Prosciutto for an appetizer. Although , we don't have David's incredible chocolate meringue pie recipe yet, you could check out a chocolate pecan pie recipe that's to die for.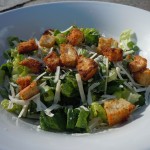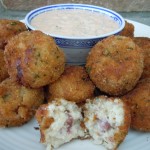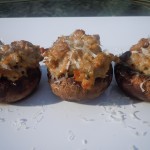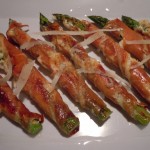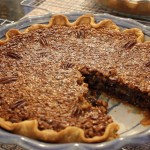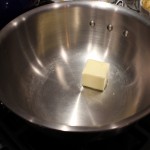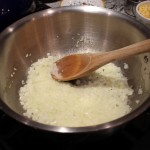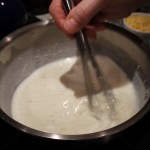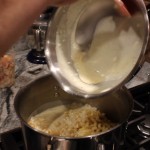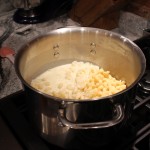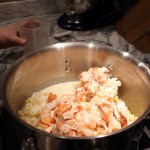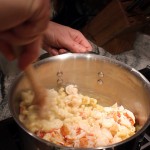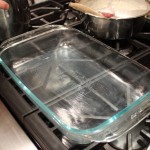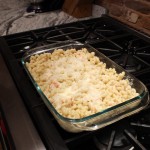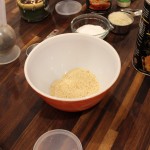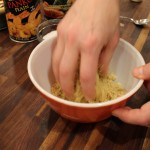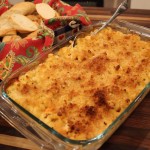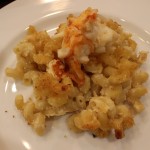 Ingredients for Lobster Mac & Cheese at David and Eileen's:
2 Lobsters – meat from 2 – 1 1/2 lb. steamed lobsters
2 tbsp butter
2 1/2 tbsp flour
2 small onion finely chopped (1/2 cup)
3 1/2 cups whole milk
2 cups heavy cream
2 tsp lobster base – OPTIONAL it gives a wonderful flavor to the dish… we did forget to add it in the show and the lobster mac & cheese was still delicioso!
2 bay leaves
1 1/2 cups smoked Gouda
1 1/2 cups Cabot cheddar or similar
1 lb. cellentani pasta or elbow
1/4 cup grated Parmesan
1/4 tsp garlic granules
1/4 tsp onion granules
2 tbsp olive oil
s&p
2 tbsp rm temp butter for coating the baking dish
Topping Ingredients:
1/4 cup plain breadcrumbs
1/4 cup panko breadcrumbs
1/2 cup grated Parmesan
Directions for Lobster Mac & Cheese at David and Eileen's:
Per-Heat oven to 400º
Coat the baking dish with 2 tbsp rm temp butter and set aside
Cook Pasta til firm in salted water- al dente (2 minutes less than directions call for)
Drain and rinse to cool pasta and set aside
Melt butter in sauté pan
Sauté the chopped onion til soft and translucent
Add a s&p
Warm milk in a pan on low heat
Add flour to onions to make a roux
Continue on stove stirring mixture for 1 minute to cook out raw flour flavor
Gradually add warmed milk to roux while continuing to whisk so as not to get lumps
Add in bay leaves
Cook over medium heat while stirring until sauce thickens
Taste here to see if you need more salt and pepper
Add in lobster base
Simmer for a few minutes
Turn heat to low and add in smoked Gouda and cheddar while whisking
Sauce should have consistency of heavy cream
Mix pasta, sauce and lobster meat
Transfer to an oven safe baking dish
Add in heavy cream and 1/4 cup Parmesan and mix gently
Make the breadcrumbs by combining breadcrumbs, Parmesan, onion and garlic granules, s&p and 2 tbsp olive oil
Mix with you hands or a spoon and sprinkle evenly over the lobster mac & cheese
Bake in a 400º oven for 20-25 minutes until bubbly
NOTE: The pasta will absorb a lot of liquid in the beginning when you first mix it, AND then when you bake it, AND as it sits, AND then as it cools, so it's a good thing to have a little extra sauce in the beginning …it will keep absorbing -you don't want a dry lobster mac and cheese sauce 🙂