Homemade Italian Meatballs
Got to love homemade authentic Italian meatballs! No matter how you look at it spaghetti and homemade meatballs is an all time American favorite. Not that I wouldn't have eventually gotten to one of my meatball recipes but I am dedicating this recipe today to my good friend Laura who has requested a recipe for homemade meatballs…hope you like these Laura!
I have many different ways to mix up the meat percentages using varying cuts like beef, veal, pork or beef and pork, or just turkey when I am trying to cut back on beef. This recipe is your basic 100 percent beef meatball, inspired by the way my mother use to make them with a 2 day old loaf of good Italian bread instead of using processed bread crumbs.
I used to stand by the stove frying the meatballs in olive oil but these days who really has the time? So I have come to the conclusion that they taste exactly same baked in the oven at a high temperature…saving lots of labor and time. I suggest you try my pasta sauce 101 while making these homemade meatballs because granted the meatballs are wonderful right out of the oven fresh baked without any sauce but it goes to a new level when you simmer them in the sauce for a good hour or 2. And don't forget to have that crusty loaf of sourdough bread for dunking or my pesto garlic bread, and if you are really serious you might attempt my mothers Maria's manicotti's the next day. Some sides or appetizers to go with the spaghetti and meatballs might be a zucchini torta, bacon wrapped scallops, or baked coconut shrimp…enjoy!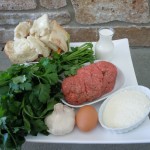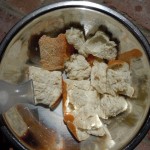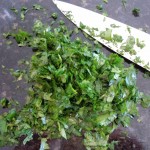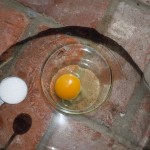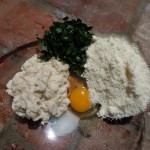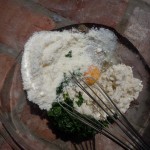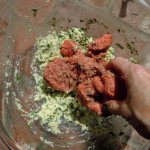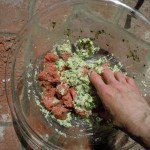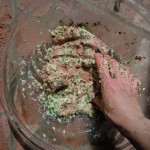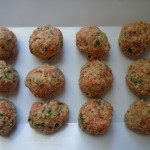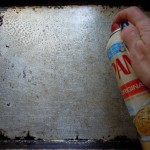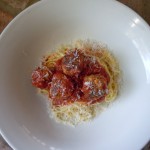 Ingredients – Makes 21 Small Meatballs:
1 lb. Angus beef
1 large egg (rule of thumb …1 egg per lb. of meat)
1/2-3/4 cup after soaked in milk – (1/2 loaf of 2 day old Italian bread soaked in 1 cup milk)
1/2 cup grated Reggiano Parmesan cheese
1 lg. garlic clove put thru garlic press
1/4 cup finely chopped fresh parsley
1 Tsp salt
1/4 Tsp ground black pepper
1 cup milk
Directions:
Pre-heat oven to 425º
Break up a 1/2 loaf of 2 day old Italian bread and place into a large bowl as shown in photo
Pour 1 cup milk over bread and let it absorb for 10 minutes
Wash, spin, dry and finely chop parsley, set aside
Discard outer crusts from soaking Italian bread
Begin to break soaking bread pieces apart with your fingers…if you feel any gooey pieces throw those away (if it sat out for a couple of days it won't get gooey)…the bread should just fall apart easily
Take 1/2-3/4 cup of this soaking bread and add to a large mixing bowl
To this bowl add in Parmesan, chopped parsley, garlic clove thru garlic press, salt and pepper and 1 egg
Whisk til just combined
Add in 1 lb. of Angus beef and begin to mix gently with your hands…DON'T over work the meatballs you don't want it to look fully combined like a meatloaf
Using a cookie scooper begin to shape and roll mixture with your hands – they will be small about 1 1/2″…have a small bowl of water to the side to keep hands damp not wet (this makes it easier to rolls meatballs)
Spray cookie tray with Pam canola oil
Place 21 shaped meatballs onto the cookie tray and spray the tops of the meatballs
Place them into the oven for 17 minutes…mangia mangia : )