Homemade Berry Granita
Homemade berry granita is similar to a sorbet or an Italian ice and gives you the same happy feeling as eating ice cream but can be made with out all that hard work. Granita is made in three simple steps – purée, freeze and scrape. How simple is that? Most recipes for granita have you making a simple syrup by boiling the water and melting the sugar but I find that unnecessary. Instead, I substitute the sugar with Agave Nectar this way you add it right to the berries in the blender! Yeah!
Granita actually originated in Sicily and is a frozen treat made all over the world. In Quebec they call it a slushy or a slurry. This frozen treat can also be made into a after dinner dessert for adults by adding in a jigger or two of rum to give it a little kick. Another great idea is serving granita between meals as a palate cleanser to clear the taste buds for next course as an elegant presentation to your dinner party.
In my homemade granita recipe I have also simplified the freezing steps. Instead of scraping with a fork every 45 minutes just wait the three hours or so until the entire dish is frozen and then scrape with a fork at the end like we do in the show. This way it's less time consuming and a smoother, easier surface to work with all awhile still coming out fluffy and delicious! I think you and your family and friends will really enjoy the simplicity of this delicious frozen treat.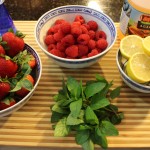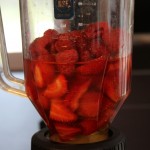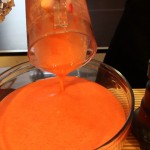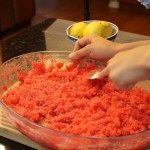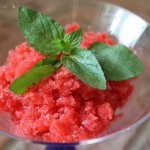 Ingredients:
2 cups fresh strawberries
1 cup fresh raspberries
1 cup cold water
1/3 cup agave nectar
1/4 cup fresh squeezed lemon juice
Juice from 1 lime
1 bunch fresh peppermint leaves
Directions:
Wash and dry fruit
Squeeze juice from lemons and lime
Hull strawberries and slice in half
Place all berries into blender
Add citrus, H20 and agave
Blender for 20 seconds til pureed
Pour into a Pyrex dish
OPTIONAL: Add in 1-2 jiggers of rum, stir and freeze
OPTIONAL: You can give a stir before its frozen around the 45 minute mark BUT this is not a necessary step (as you see in the show we did not get around to this)
Freeze for approx. 3 hours
Pull out from freezer and begin to scrape with a fork until fluffy
 Spoon into martini glasses and top with fresh mint