Happy Roasted Chic Peas!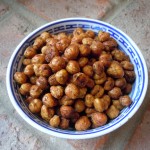 These roasted chick peas are a tasty and healthy treat that will definitely put a smile on your face. My daughter, Bella, thought it only logical that the name should be "happy" roasted chic peas if they make you smile like that and "because they are just happy"… lol
It's amazing how this creamy bean can turn into this delicious crunchy snack. You are going to love them as much as I do. After being pleasantly surprised by the full flavored crunch you get with this roasted bean you'll be back for seconds! A golfing friend of mine, Lisa, turned me on to these roasted chick peas a few years back. I've been happily making them ever since.
These roasted chic peas are wicked easy to make and a great on the go healthy snack. What's so fun about making these happy roasted chic peas is you can totally change up the spices making them as spicy and flavorful as you want. Add in a 1/4 tsp of smoked paprika, chipotle pepper, or go for some Indian spices like a coriander/cumin combo, or one of my all time favorite spice's garam masala. Garam masala differs depending on what region it's from but basically it's a combination of black pepper, mace, cinnamon, cloves, cardamons and nutmeg so you'll get a big burst of flavor from that one alone!
After you happily roast these chic peas you may find yourself wanting to make my baked asparagus wrapped in prosciutto, zucchini torta or even some baked coconut shrimp.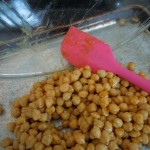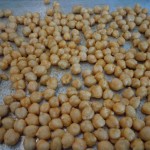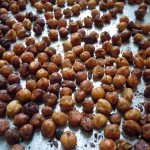 Ingredients:
2 cans chick peas
3 Tbsp olive oil
1/2 tsp garlic granules
1/2 tsp onion granules
1/4 tsp cayenne pepper OR 1/4 tsp finely ground blk pepper for flavorful but not spicy
1/4 tsp cumin
OPTIONAL: a few dashes of Siracha for a little extra spice
1/2 tsp fine sea salt -1/4 before baking and 1/4 after they are roasted
Directions:
Pre-heat oven to 450º.
Drain and rinse 2 cans of chick peas.
Gently rub and pat dry with paper towels.
This action will loosen the skins off of the chick peas (you don't have to get off every single chick peas skin..this just naturally happens as you are patting them dry).
Put the chick peas into a medium bowl and add olive oil and spices.
Mix and turn out onto a cookie sheet.
Put them into the oven and bake for approx. 35 minutes.
Shake the pan rolling around the chick peas every 10 minutes…at 25 minutes, 15 minutes and DEFINITELY at 5 minutes
They will burn quickly at the end so you need to keep an eye on them especially during the last 5 minutes.
Remove the chic peas from the oven and sprinkle with the other 1/4 tsp salt and let cool on tray