Grilled-Marinated Steak on Skewers
These grilled marinated steak strips on skewers are bursting with flavor. You can marinate them for 15 minutes and still get an amazing taste or all day for a deeper, richer taste. These little "steaks on a stick"…what my kids call them, get caramelized on the edges from the brown sugar addition in the marinade. They happen to be one of my kids favorite things to have for dinner!
I first saw this recipe on a grilling special with Paula Deen and Bobby Flay. I did add scallions and a bit more brown sugar and garlic to the recipe as always I need to tweak it to my own perfection. This recipe is unbelievably easy and so delicious once you try it you will have it as a go to marinade especially now that summer BBQ's are here! You won't even want to dip with these grilled-marinated steak on skewers into a sauce of sorts because you'll love them just as they are.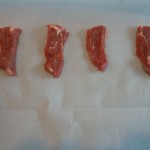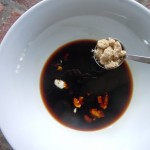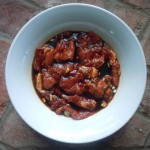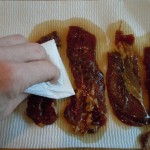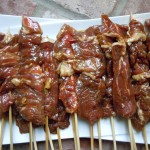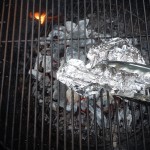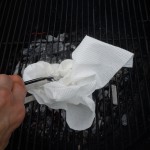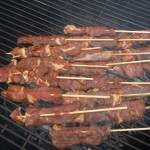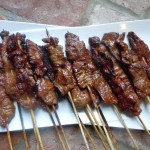 Ingredients:
1 1/2 lbs. of Sirloin Tips or ribeye
1/4 cup Tamari Sauce (it's a darker, slightly more concentrated and thicker then soy) OR 1/2 cup of Kikkoman reduced sodium soy sauce
1/2 cup water
1/4 cup brown sugar
2 crushed garlic cloves
2 green onion scallions – 1/4″ slices
pkg of wooden skewers
1/2 tsp salt
1 Tbsn olive oil
OPTIONAL: 1 recipe Green goddess sauce 
Directions:
Put wooden skewers in a dish of water to soak (so they are less likely to burn on the grill)
Slice Sirloin tips or ribeye into strips length wise so they are about 1 1/2″ wide, 1/4-1/2 thick and 3.0″ long pieces
Cut a 15″ x 16″ piece of parchment OR you can use a large Ziploc baggie
Place 4 steak strips in between the layers at a time
Pound out steak strips to 1/8″ thickness…they will almost dbl in size to .125″(1/8″) x 2.25″ x 5.0″
In a medium/large bowl add tamari sauce, brown sugar, water, garlic, and scallions and steak strips
Cover and marinate from 15 minutes to all day
Take the marinated steak pieces out and dry them off on Bounty paper towels (you don't want t paper towels to fall about and stick to the steak strips…so use Bounty)
Take the skewers and pat those dry
Begin to thread each piece of meat with the skewer right down the middle
You will get about 20 skewered steak strips
Sprinkle 1/4 tsp salt on each side
Add 1 Tbsp olive oil to lightly coat
Add the skewered steak to a hot grill lining up the skewers so that the wooden ends overlap over another piece of meat…see photo above for line up
Sear for 3 minutes on each side til caramelized on the edges
Mangia!
You can add some yummy veggies to this meal like: