Green Goddess Sauce
I love to make sauces especially this green goddess sauce.  Sauces are one of my favorite avenues of cooking and I'm always mixing things up to find the perfect one.  The inspiration for this sauce came from a food truck episode on Diners, Drive-Ins & Dives a couple of years ago.  I have tried since then to find the recipe but cannot so this is one of my versions of a green goddess sauce.  I remember her sauce having a mayo base and maybe other herbs.  I really like the tang you get from using Greek yogurt in this one.  You can use this sauce with so many dishes….fish, chicken, beef, lamb, pork, re-fried beans and the list goes on!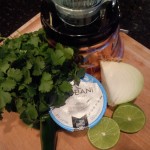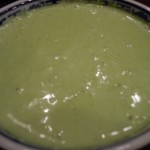 Ingredients:
3/4 cup Greek yogurt
1/3 cup mayo (I use Hellmans)
1 cup fresh cilantro
1 garlic clove put thru press
1/2 jalapeño diced
1 tsp. grated vadalia onion ( or yellow onion)
1 tbsp ( 1/2) fresh lime juice
1 tbsp "seasoned" rice wine vinegar
s & p
dash of Siracha or Tabasco (Siracha is a hot chili sauce sold next to Tabasco at the store)
Directions:
Place all of the ingredients into a blender an purée and you will probably need to stop and stir everything a couple of times to get it going but do not add any more liquid (you will see that once it gets going it will be just right).
You can make this ahead of time and keep sauce in a plastic container and refrigerate.  It stays nicely for days in frig.  Yum!
This green sauce is absolutely delicious on so many things …… be creative.
Try it with

Sautéed Chicken Breasts and Spinach

or on

Crock Pot Pulled Pork sandwiches

, BBQ Pork Wraps, Sautéed Chilean Sea Bass or as a dip for Baked Coconut Shrimp!