Fresh Shrimp & Chive Spring Rolls Recipe/VIDEO

Fresh Shrimp & Chive Spring Rolls Recipe/VIDEO
This fresh shrimp & chive spring roll recipe came about because I was craving Chinese dumplings from a restaurant called Dol Ho that I used to frequent in San Francisco, CA. I know fresh shrimp & chive spring rolls are more of a Vietnamese cuisine then Chinese but in texture and flavor they are very much alike. The creaminess of the sauteed vegetables and the flavors of the shrimp, cilantro, and chives are identical to that of the Chinese dumpling.
Dumplings are part of tradition and culture for the Chinese. They symbolize the new year, happiness & celebration, and family & wealth for the Chinese. Chinese dumplings were traditionally made on the eve of the festival where the whole family would come together and take part in making them. The family used to put a coin in one of them and the one to find it would likely have good fortune.
I'm happy to have found such a wonderful local restaurant where I could enjoy such culture and tradition. And now I'm sharing my fresh shrimp and chive spring roll recipe with you so you too can experience these lovely flavors. Dol Ho actually served up those shrimp and chive dumplings with a spicy black bean and soy sauce if you knew enough to ask for it. They did not come right out and offer this tasty accoutrement if you didn't know about it…it was top secret! With my spring rolls I have a ginger-soy dipping sauce that is so easy to make you could do it blind folded. The flavors of the fresh ginger, slightly salty soy, a bit of sweet with the seasoned rice wine vinegar and a hint of nutty with the toasted sesame oil is a go to Asian dressing/dipping sauce you will want to keep in your cooking repertoire. Make sure to watch my YouTube cooking show that goes with this recipe and don't forget to subscribe on my YouTube channel so that you can receive my latest cooking show releases!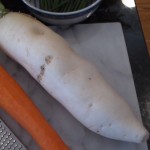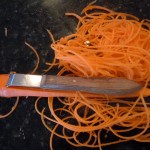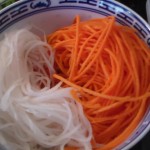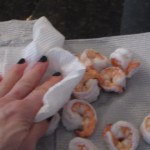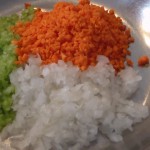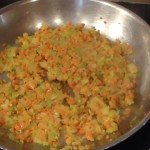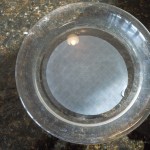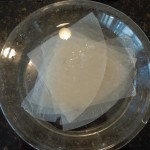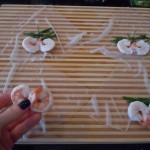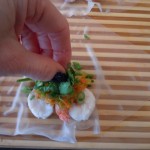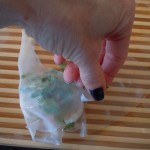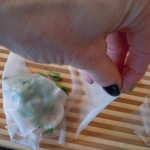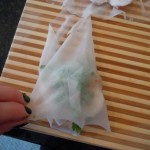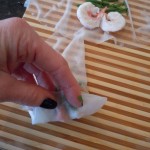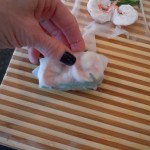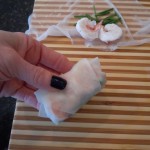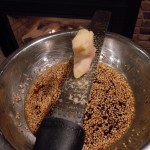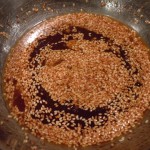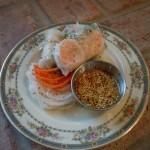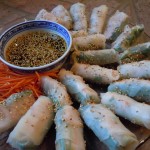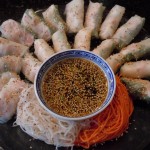 INGREDIENTS – For The Ginger-Soy Dressing- Put all the following in a mixing bowl and whisk:
1/4 cup soy
1/4 cup seasoned rice wine vinegar
1/4 cup olive oil
1/4 cup toasted sesame
1/4 cup green onion finely sliced
1 tbsp fresh grated ginger
Squeeze from 1/2 fresh lime
2 tsp toasted sesame seeds
INGREDIENTS – For The Shrimp & Chive Spring Rolls:
20 lg Shrimp
20 round or fan shaped rice papers
1/2 each carrots, celery, onion finely chopped
1 whole daikon radish -(Japanese radish) and 1 whole peeled carrot -BOTH ZESTED and set aside
1 bunch of fresh chive cut into 3/4″ pieces
3/4 cup thinly slices green onion
1 cup coarsely chopped cilantro
1 tsp salt
1/4 tsp pepper
2 tbsp white wine (Chardonnay or Sauvignon Blanc)
DIRECTIONS – For The Shrimp & Chive Spring Rolls:
Clean and devein shrimp
Fill small pot 1/2 way with water and add 1/2 tsp salt, bring to a boil
Add all of the shrimp and bring back to a simmer NO LONGER than 2 minutes til opaque and REMOVE SHRIMP from heat IMMEDIATELY
Drain shrimp and put into ice bath or freezing cold water
Take shrimp out and pat dry with paper towels
Slice shrimp in half, set aside in sm bowl
Sauté finely chopped carrots, onions and celery til soft on medium heat for first 5 minutes, then turn down to med/low and add 1/2 tsp salt for the next 5 minutes, then add 2 tbsp white wine or water and cover for the last 3 minutes
Cool sauteed vegetables and set aside
Put 1 1/2″ of luke warm water into a pie plate
Immerse 2 rice paper wrappers at a time into water filled pie plate to soften…this will take any where for 2 minutes to 8 minutes depending on how thin the papers are – TEST ONE to see time frame
Once rice paper is softened take out and place onto cutting board and pat semi-dry just the tops
Arrange all of you stuffing items around board: chives, shrimp, green onion and cilantro and begin to lay down on paper in the center 1″ from the bottom making sure the pretty orange side of the shrimp goes face down so you can see it thru the wrapper …see photo and video
Fold in sides of wrap and then roll up from the bottom to form enclosed roll…see photo and video
Continue til you use up all the ingredients to form the fresh shrimp and chive spring rolls
Arrange on a platter as you go and lay down zested carrots and or daikon radish on the side
Sprinkle toasted sesame seeds on top of rolls and place sm bowl of ginger-soy dipping sauce in the middle
Enjoy!