Fresh Mozzarella, Pesto, and Roasted Tomato on Crostinis

This crostini with fresh mozzarella, pesto and roasted tomato appetizer is absolutely delicious and is totally a make ahead dish! The Crostinis you can make a week before, they'll taste no different if you made them that day and the pesto you can make a day or two before.  As for the fresh mozzarella you can either buy the fresh balls if you have a nice cheese shop near by or you can even get the mozzarella logs that are packaged in water to keep fresh and soft and are even pre-sliced!  I like to buy my roasted tomato's from Foxglove & Madison Cheese Shop. It's not difficult to roast your own tomatoes but it is time consuming and the roasted tomato's available at the cheese shop are packed with intense flavor, a gorgeous deep red color and all the work is done for you. They also have fresh and creamy mozzarella balls there as well.  If it's not possible to find or roast your own tomatoes improvise and put a 1/8″ slice of a sweet cherry or grape tomato on top of the pesto.  The pesto has so much flavor the freshness of the sliced cherry  or grape tomato will balance out nicely with it.  It's all good ….just enjoy!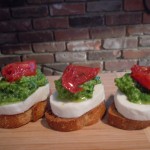 Ingredients:
20 crostinis (see

Crostini

recipe)
1 pesto recipe (see

Pesto

recipe)
2 logs of mozzarella sliced 1/4″ sliced
1 container roasted tomatoes (can use a 1/8″ slice of a fresh cherry or grape tomato to improvise if with out the roasted)
Directions:
Cut the roasted tomato pieces in half.
It's packed with a lot of rich flavor and 1/2 of a piece is perfect on top of the pesto.
Place a slice of mozzarella onto the crostini then add a dallop of fresh pesto on top of that and place a piece of the roasted tomato on the pesto, plate and serve……Mangia!
TIP:  You can make the pesto texture thicker so it stands up nice and plump on the crositni by adding a little more parmesean