Eggplant Rollatini
Eggplant rollatini's are one of my favorite things to make or should I say any fried eggplant dish is for that matter! I watched my mother fry eggplant when I was little and have been frying up eggplant now for over 30 years…since I was a teenager. Eggplant rollatini is one of those delicious Italian comfort foods and it's always better the next day when re-heated. It is a little bit of a process but if you just organize yourself like I've shown you in the photo's you'll get it down to a science.
You should fry up at least 2 large eggplants…I usually try for 3. I like to fry up 3 eggplants because I freeze them when they are completely cooled in between layers of thick durable Bounty paper towels in a freezer Ziploc baggie. This way all your base work is done for you and you are able to pull them out of the freezer and whip up eggplant rollatini, eggplant Parmesan, or even eggplant lasagna. When you take them out of the freezer they pop apart easily too. My mother taught me the old Italian way of removing the bitter purple juice from the eggplants by slicing, salting the layers, placing a weight on top and letting the eggplant sit in the frig for 2 hours up to overnight.
I recommend making my slow cooked pasta sauce to go with the eggplant which can totally be make days, even weeks ahead and put into the freezer and ready to thaw when you need it for a dish like this. The homemade ricotta you can also make the day before or just treat yourself and buy Liuzzi Cheese ricotta or your favorite store brand. Planning, planning, planning is sometimes the name of the game for taking the labor out of scrumptious food like this where if you get it done in steps it make everything go smoothly.
If you love eggplant as much as I do you really need to check out Eggplant Balls, Paleo Eggplant Lasagna, and Pickled Eggplant. Then you might be moving on to your satisfy a sweet tooth with "Death by Chocolate Meringue Pie" and another that should go unnoticed is Chocolate Pecan Pie! Enjoy! 🙂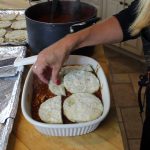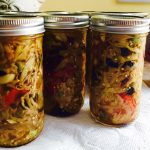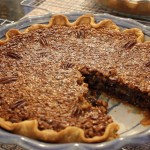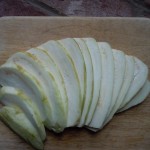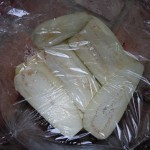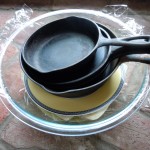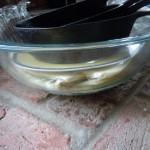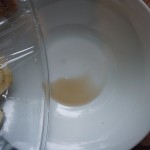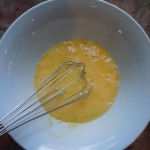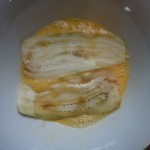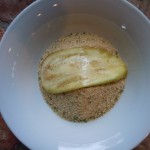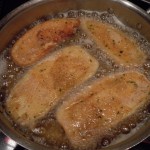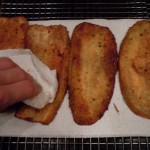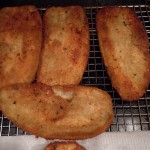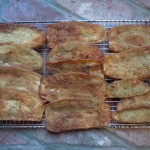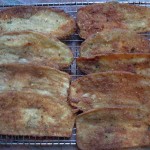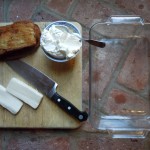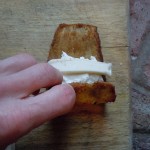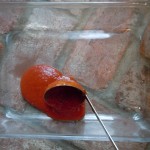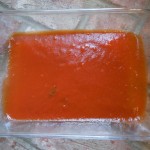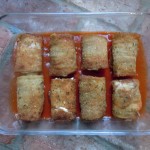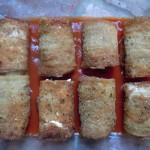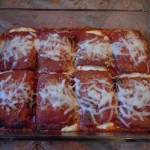 Ingredients:
Homemade ricotta recipe

 or store bought ricotta (Liuzzi Cheeses, North Haven,CT if you are in the neighborhood)

2-3 large eggplants
6 extra large eggs whisked
3 cups seasoned Italian bread crumbs
salt
Mozzarella block cut into 1/4″ slices
3 1/2 cups canola oil for frying
Cookie racks
1 whole roll of Bounty Paper Towels (it's important to get quality paper towel so they will absorb the oil properly and won't fall apart)
Directions:
Slice the ends off the eggplants
Using a potato peeler peel off all the skin of the eggplants
Slice up eggplants length wise into 1/4″ slices
Layer the eggplant slices in a large glass bowl
In between each layer sprinkle 1/4 Tsp of salt, and keep layering eggplant, salt, eggplant, salt…
Cover with Saran wrap and place a small plate on top and then some heavy fry pans or large tomato can to weight down the eggplant and into the frig for 2 hours up to 1 day
Drain the purple juice from the bowl
Take the eggplant and pat them dry in layers between Bounty paper towels
Whisk eggs
Get your line-up of bowls in order: eggplant slices – whisked eggs – bread crumbs
Add 3 1/2 cups canola oil to a large sauce pan and begin to heat up on medium/high heat
The oil needs to get to about 300º -The temperature will go down a little when you start filling the pan with breaded eggplant slices
Lay out 2-3 cookie racks covered with layers of paper towels to absorb oil for frying
Add slices of eggplant to the egg bowl in batches
Then dip into the bread crumbs and into the heated oil
Put 4 slices of breaded eggplant into the oil at a time…
They will fry for about 2-3 minutes per side til golden then flip the slice over
While the 1st batch is frying get the 2nd batch ready to fry dipping into the egg and then into the bread crumbs and let them sit there on the bread crumbs til they are ready to go into the oil
Once the eggplant are golden place onto cookie racks with paper towels and dab them with fresh paper towels, flip and do the same to the other side to remove all excess oil
Throw away oily paper towels and re-place with a new set of paper towels for the next batch and replace with each batch there after
Then place the eggplant onto the wire cookie racks with out paper towels to cool
Finish frying the rest of the eggplant going thru the same procedures
Get out your favorite baking dish and cover the bottom with sauce
Scoop a dollop of fresh ricotta onto the fried eggplant slice as shown above
Place a 1/4″ slice of mozzarella onto ricotta and roll up
Place the rollatini into baking dish and repeat with the remaining eggplant slices
You should allow for about 3″ room for each rollatini (they expand when they are baked)
When you baking dish is full top with more past sauce, sprinkle with Parmesan cheese and cover with foil
At this point you can either put into the frig until you are ready to bake them or put them into a pre-heated oven at 350º for 55 minutes and then remove foil and 5 minutes more in the oven
Remove the foil add a sprinkle of grated mozzarella and pop the baking dish back into the oven for an additional 8 minutes
Take out let sit for 5 minutes and serve!