Eggplant Balls at Adele's
These luscious eggplant balls look just like meatball's but are a "no meat" kind of meatball made with eggplant, fresh garlic, parsley, eggs, Reggiano Parmesan and bread crumbs. They are formed into balls and broiled with a drizzle of olive oil until golden! They are vevelty on the inside with a little golden caramelization on the outside. They are so delicous all on their own and when you simmer them in a tomato-basil sauce they get even better, if that is at all possible! 
A few weeks ago, I got a message from a friend of mine that I needed to meet this family of amazing Italian cooks who were so much fun to be around and how it would make for a great show! Boy, was she right! Adele and her daughter Sonia are just lovely people. Adele is not only passionate about her recipe's and cooking but about life in general. Sharing her memories from Italy made me feel like I was there with her. Adele's vivaciousness is an inspiration to how life ought to be lived.
Now, I thought I was the eggplant queen, loving everything about eggplant and all that there is to create with eggplant, from eggplant parmesan, rollatini, to stuffed eggplants (haven't had a chance to put the stuffed eggplant show together yet…but it's on the list!) until I met Adele and had a bite of her unbelieveable eggplant balls! Wow, what can I say. The day she invited me over to taste these incredible morsels I knew I had to let the secret out and share this recipe with all of you so you too could experience this creation!
It looks like you now have an amazing reicpe to take care of all those eggplants you have in your garden. If you don't have a garden, don't fret there's an abundance of eggplants at your local market, year round really. Can't wait for you to make these eggplant balls of Adele's and add this recipe to your "go to" Italian dishes to impress dinner guests! You might want to add a couple of apps to this like my baked asparagus wrapped in proscuitto, or crab cakes and don't forget to throw in some incredible desserts like baklava, chocolate pecan pie or drunk blondies with a caramel bourbon sauce!…YUM!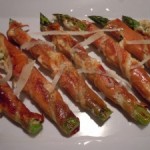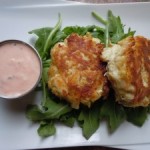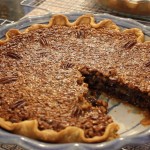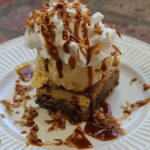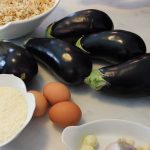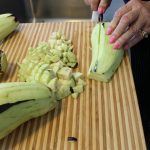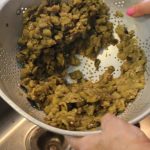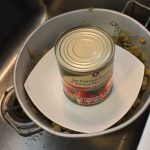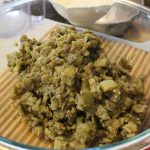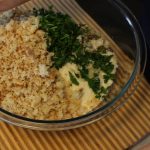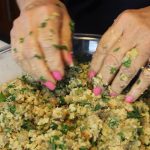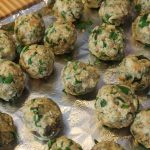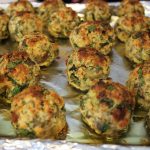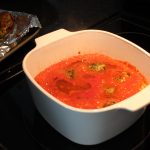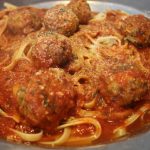 Ingredients For Eggplant Balls:                                                                                                                 NOTE: Colleen, a new friend & Travel Epicurean Follower told me she makes these in 2 STEPS -DAY 1 – boil the cut-up eggplant, then put into the fridge over night set in a colander to drain…DAY 2 – continue on with the rest of the recipe!
12 cups cubed up eggplant – 6 small eggplants
3 eggs
4 cups – 1 full loaf of 1-2 day old Italian bread, wheat bread if you can get it, coarsely ground up in the food processor (Adele's says you can even use a "Thanksgiving" bag of bread crumbs!)
1 1/2 cup grated Reggiano Parmesan
1 1/2 cups coarsely chopped flat leaf parsley
1/2 tsp salt
1/4 tsp pepper
Directions:
Simmer tomato-basil sauce 

ready to add in eggplant balls

Cut the ends off 6 small eggplants and peel them with a potato peeler
Cut the eggplants into 1/2″ stips lengthwise and then crosswise 1/2″ inch – cutting into cubed size piecces – it will measure approx 12 cups
Bring a large pot of water to a boil with 1 tbsp salt – filling the water only 1/2 way up the pot
Add in the 12 cups of cubed up eggplant to the boiling water all awhile pushing pieces down, they will try to float up and cover
Turn heat down to a simmer and cook 5 minutes
Remove cover and stir eggplant pieces with a spoon to help evenly distribute the cooking
Cover and cook another 5 minutes, total 10 minutes
Drain into a colander, then make a well in the center of the eggplant pieces
Cover eggplant well with a small plate and a large full can on top of that – to weight down eggplant helping drainage
DO NOT RINSE with cold water
Leaving draining for 1 1/2 – 2 hours
During this time, at 30 minute intervals, stir the eggplant pieces then replace the plate and the can and continue to drain and cool – approx 4x
When the eggplant is drained add it to a large mixing bowl
Add in the rest of the ingredients in the list
Mix by hand until combined and then shape into 2″ balls
Cover cookie tray with foil and spray with Pam
Place the eggplant balls on the tray
Drizzle olive oil over the tops of all the eggplant balls and broil for 13 minutes
Take eggplant balls out and carefully turn over without ripping the bottom of the ball
Place back under broiler for another 13 minutes until golden
Turn oven off and leave tray in the oven for another 5 minutes
Take out and add to tomato-basil sauce and simmer 20-30 minutes
OR freeze any eggplant balls you don't need without the sauce for another time in ZIpLoc baggies
Serve eggplant balls in the tomato-basil sauce with your favorite pasta!  Mangia…Mangia! 🙂
Adele's Sangria:
1 bottle favorite Pinot Noir
3-4 peaches sliced
Add sliced peaches to a pitcher with as much red wine as you like, even better when you can let ferment over night in the frig!