Easy Gourmet Pesto
This easy gourmet pesto will definitely put a smile on your face when you see how quickly you can make it! You may never go out and buy the jar stuff again when you taste your own homemade either. There's just no comparison when you make your own pesto. Now that I show you in my new show how to make it simply in a food processor you have no excuse but to get going and create some incredibly delicious dishes with my homemade pesto recipe.
There's making pesto by means of mortar and pestle and I admit I have spent many a day making it this way, but there's another way which I will show you here that saves you time and energy which we all seem to run low on by the end of the day.  If it's the weekend and you have some time on your hands then be my guest and knock yourself out with the mortar and pestle.  It is truly is a lovely way to make this paste, and useful in so many other ways like grinding spices for instance not to mention being therapeutic.
Back to reality, being able to use my food processor to make my homemade gourmet pesto is a wonderful thing!  The pesto tastes the same and you still put all the love into it using good ingredients.  You can play with this recipe also when it comes to amounts like adding a little more Parmesan if it's too thin or drizzling in a tad more olive oil if it's too thick.  Making pesto is a very forgiving process…. just trust yourself and be sure to taste as you go along to see if you need to add a sprinkle more of salt and or pepper.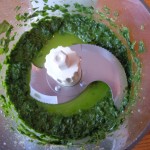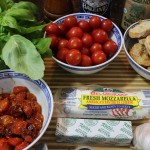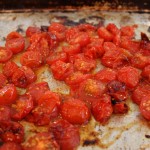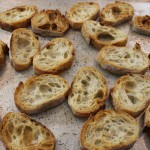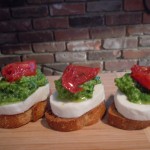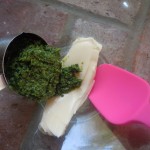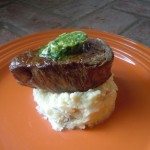 Ingredients for Pesto:
1 pkg. 2-3 cups of fresh basil leaves
1/2-3/4 cup grated Reggiano Parmesan
1 lg. garlic clove put thru garlic press
1/4 cup extra virgin olive oil
salt & pepper
dash of Siracha
Directions for Pesto: 
Take the basil leaves off of the stems and place them into the food processor with the pressed garlic.
Begin to pulse while drizzling in all of the olive oil thru the top opening of the food processor.
Once you finish adding the oil you may need to stop and scrape the sides with a spatula if you see large pieces of basil leaves.
Pulse once more, then add the parmesan.
Pulse a couple more times to blend, taste and add salt and pepper and tabasco if you want a little kick to it.
Pulse once more to combine.
The pesto is ready to use.
If you want to save the pesto put it into a plastic container and drizzle about 1 Tbsp of olive oil right on top, lay a piece of Saran wrap right on top of the new layer of olive oil so there isn't any air touching (This will keep the basil from oxidizing and turning brown).
At this point you can either keep in the refrigerator for up to 2 days or put it into the freezer.
When you are ready to use the frozen pesto take it out the night before and let it thaw in the refrigerator.
Now that you have this delicous pesto you can easily make the

Crostinis

with

Fresh Mozzarella, Pesto and Roasted Tomato appetizer

.
Ingredients for Roasted Tomatoes:
1 lb. grape or cherry tomatoes
2-3 tbsp olive oil
s&p to taste
Directions for Roasted Tomatoes:
Slice tomatoes in half, drizzle on olive oil and S&P and roast in a 400º oven for 15-20 minutes