Drunk Blondies & Bourbon Caramel Sauce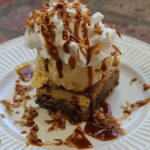 Drunk blondies are a dessert that will have you and your guest's reminiscing for days! These drunk blondies are a buttery, chewy cookie bar made with bourbon, butter, toasted coconut, pecans and semi-sweet chocolate chips…could it get any better then that! They get even more decadent when you serve them with vanilla ice cream, homemade bourbon caramel sauce, whipped cream and extra toasted coconut to top it off. In fact, I wouldn't serve them any other way. You will feel like you are in dessert ecstasy!
The recipe for these mouth watering cookie bars actually originates from the Back in the Day Bakery CookBook by Cheryl and Griffith Day. I Found this recipe on a fellow food blogger, Adam Robert's website, called Amateur Gourmet. I haven't had a chance myself to buy this cookbook but it's high on my list! Adam serves up these drunk blondies with a bourbon caramel sauce from Food and Wine but I have my own which I love that I share below.
The Drunk Blondie bars couldn't get any easier to make. You don't even need a kitchen aid or electric mixer to make these just a large bowl and spatula or wooden spoon! It literally take's all of a few minutes to combine the brown sugar, eggs, vanilla, bourbon, toasted coconut, pecans, chocolate chips and flour mixture. Then off into a baking dish lined with parchment for easy removal.
This is a great dessert if you entertain a lot because is it's a total make ahead project. You can make the drunk blondies up to 3 days ahead and the bourbon caramel sauce up to a week ahead. The toasted coconut you want to make the same day or night before. You may burn the toasted coconut on your first try because that cooks faster then you think and you only have 6 minutes of toasting time. Don't worry, just toss out the first round and throw in a second batch. You will be that much more knowledgeable and ready for the toasty quickness in the next round! Be sure to toast up extra coconut too, because it makes for an incredible addition at the end to sprinkle on top of your drunk blondie sundae's!
As for my bourbon caramel sauce I have you heat up the heavy cream. This is a necessary step that some recipes don't even mention.  It's important to do this because adding cold cream into a boiling sugar mixture will most likely seize up and get temporarily lumpy.  There's no worries here though. If this does happen just put the pan back on the stove, keep whisking and it will become a smooth caramel sauce in a matter of seconds!
Hope you enjoy the amazing drunk blondie sundae's with ice cream, bourbon caramel sauce and toasted coconut. If you are putting together a whole meal you could start with an appetizer like crab cakes, spanakopita triangles, my famous Caesar salad, salmon BLT sliders, or move right to a main course like my bolognese sauce right from Urbino, Italy made with homemade spaghetti!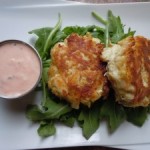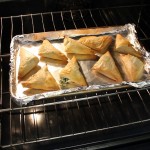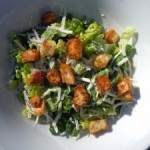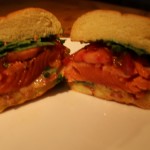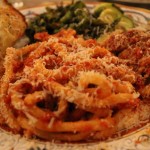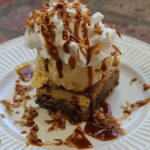 Ingredients for Drunk Blondies – Makes 12 – 24 bars 
2 cups all purpose flour
1 teaspoon baking powder
1/4 teaspoon fine sea salt
2 sticks unsalted butter – melted
2 cups packed light brown sugar
2 large eggs room temp
2 teaspoons pure vanilla extract
3 tablespoons Bourbon
1/4 cup chopped pecans
1 cup (1/2 cup is for sprinkling over the dessert at the end) sweetened flaked coconut, toasted in a 350º oven on a cookie sheet until fragrant and golden brown – about 5 minutes…NOTE: you need to stir every 2 minutes with a spatula and then shake the tray to distribute evenly ….watch it carefully- it burns easily
1/4 cup mini semisweet chocolate chips
 Directions – Pre-Heat Oven to 350º:
Position a rack in the middle of the oven and preheat the oven to 350 degrees F
Grease a 9-by-13-by-2-inch baking pan and line with parchment, allowing the ends of the paper to hang over two opposite edges of the pan
In a medium bowl, whisk together the flour, baking powder, and salt; set aside
Put the butter and brown sugar in a large mixing bowl and stir with a spoon until smooth
Add the eggs, vanilla, and bourbon, and mix until thoroughly combined
Stir in the flour mixture, followed by the pecans, coconut, and chocolate chips
Pour the batter into the prepared pan and smooth the top with an offset spatula. Bake for 20-25 minutes, until the top is golden brown
Remove the pan from the oven and let cool completely on a wire rack
Cut the blondies into bars
The blondies will keep in an airtight container at room temperature for up to 3 days.
Tip: The easiest way to toast coconut is in the oven. Position a rack in the lower third of the oven and preheat the oven to 350º. Spread the coconut on a baking tray and bake for 6 minutes, tossing every couple of minutes. Keep a close eye on the coconut, because it can burn easily.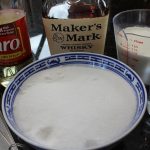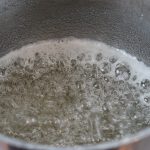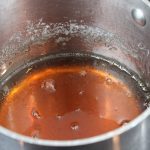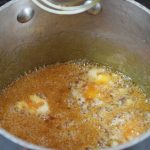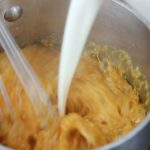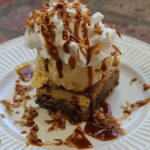 Ingredients for Bourbon Caramel Sauce:
1 3/4 cups sugar
1/2 cup water
1 tablespoon light corn syrup
2 tbsp butter
1/3 cup bourbon
1 1/2 cups heavy cream HEATED – If you don't warm up the cream the temperature change will temporarily seize up the boiling water-sugar mixture…BUT don't fret because all you need to do if this happens is put the pan back on the stove while whisking CONTINUOUSLY and it will all come back to a nice smooth sauce!
Directions for Bourbon Caramel Sauce:
In a medium saucepan, bring the sugar, water and corn syrup to a boil over high heat

You can stir the sugar-water mixture at first just to combine then DO NOT STIR after

Cook until the sugar is dissolved washing down the sides of the pan with a wet pastry brush…just once

Continue cooking without stirring until an amber caramel forms – from 5-8 minutes

When it turns the pretty light amber color add in the butter and keep whisking

BE CAREFUL NOT TO GET BURNED HERE because the mixture will rise up a little here at the butter/cream stages

Remove from the heat and carefully stir in 1/2 the cream while STILL WHISKING – it will foam up here quite a bit so whisk it down slightly, then add in the rest of the cream and butter

if it seizes up NO WORRIES all you need to do if this happens is put the pan back on the stove while whisking CONTINUOUSLY and it will all come back to a nice smooth sauce!

Let cool for 1 minute and then stir in the bourbon

Put the pan back on the stove and TURN DOWN the heat to medium and simmer any where from 3-15 minutes…how ever thick you like the sauce (it won't get any darker at this point either just thicker)

Let the caramel sauce cool slightly and serve warm or at room temperature

NOTE: as the sauce cools it will thicken anyways

The caramel sauce can be refrigerated for up to 1 week.