---
Death by Chocolate Meringue Pie
"Death by Chocolate Meringue Pie" is the perfect title for this recent cooking show taped at my foodie friend's, David and Eileen's house. When you taste this most chocolatey mousse-like filling topped with fluffy peaks of meringue you will think you have died and gone to heaven! This wonderful chocolate meringue pie recipe came from David's mother, Alice, and has always been a family favorite for the holidays! With four boys in his family growing up, David said his mother was always welcome to the idea of having more cooks in the kitchen. You could only imagine that with four boys you're going to need more then just one pie. David and his brothers happily learned at an early age how to pitch in and get this task done.
David uses the "chocolate fudge" flavor of Jello brand, the cook and serve, not the instant. Come to find out, this "chocolate fudge" flavor can be a difficult category to find. But using Jello brand's "chocolate" flavor is the next best thing, so don't fret. Make sure to keep an eye out for the "chocolate fudge" flavor next time you are at the store and shoot me an email if you strike "fudge"!
What takes this Jello cook and serve chocolate fudge pudding to a completely different universe, into a rich, chocolate mousse-like texture is the addtion of egg yolks, sugar, butter and pure vanilla extract. You will find yourself eating each bite of chocolate meringue pie very slowly just to savour every luscious bite. Part of this decadence comes from the rich, flaky crust made with a special lard David gets from Firefly Farmers in Stonington, CT. You can purchase their products at the Stonington, Waterford and Bozrah Farmers Markets. It definitely makes a difference in your pie crust to use both butter and lard like in my Perfect Pie Crust in 5 Minutes but using this lard that David use's really puts the crust over the top!
Last but not least is the meringue that tops this incredible chocolatey filling and brings the whole pie together. Whipping the egg whites to soft peaks is important to achieve the elegant curly cues you can create when dipping a spatula gently into the surface of the meringue. Then off to the oven briefly until those beautiful peaks turn golden.
This wonderful chocolate meringue pie recipe could have easily remained a family secret but David and his mother were gracious enough to share it with us. The only option I see here is for you to get busy and make this luscious dessert for your next holiday! Don't forget to share the YouTube link to the show 🙂 ENJOY xxoo
You should check out David and Eileen's Lobster Mac & Cheese show if you are looking for an amazing entré, Pulled Beef Taco's or Salmon B.L.T. Sliders at Marco's would make for very tasty dishes also. Try my Guacamole or Homemade Salsa 101 to start everything off!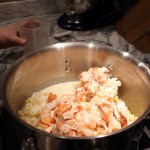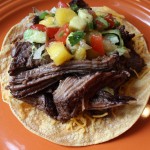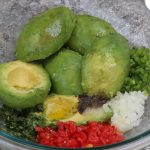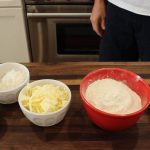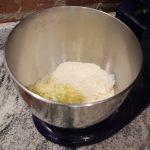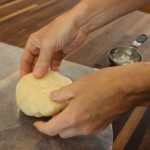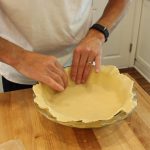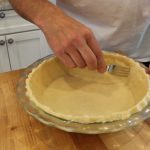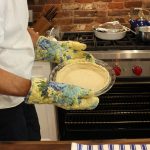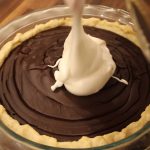 Ingredients for David's Pie Crust – 1 Crust for lg Deep Dish Pie Plate (measurements below are 3/4 of full recipe):
1 1/2 cups flour
1/4 cup lard frozen, grated
1/4 cup butter refigerated, grated
3/4 tsp salt
approx. 2-3 tbsp ice cold water
FULL PIE CRUST RECIPE – 2 Crusts:
2 cups flour
1/3 cup lard or crisco
1/3 cup butter
1 tsp salt
3-4 tbsp ice cold water
Directions for Pie Crust – Pre-Heat Oven to 400º :
Measure lard or crisco and put into freezer
Grate lard or crisco and butter and place in separate bowls back in the frig til you are ready
Add flour, salt, lard or crisco, and butter to food processor or mixer and begin to mix with paddle attachment slowly
Then slowly add in 1 tbsp at a time while mixing, you may need to add another tbsp of water to have dough come together
When dough comes together in 1-2 minutes turn dough onto wax paper forming into a disc shape and place into the freezer for 15 minutes
Begin to roll out dough between wax paper until its large enough to fit pie plate
Gently peel over top layer of wax paper flipping over into pie dish
Gently push edges in all around and remove the other piece of wax paper
Scallop the edges of pie crust
Prick inside walls and bottom of crust with a fork
Place into a 400º oven and bake 10-15 minutes until slightly golden around the edges
Let pie crust cool and begin to make the chocolate filling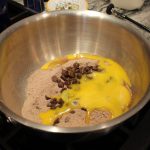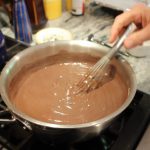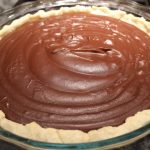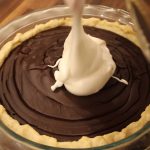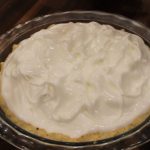 Ingredients for Chocolate Filling:
2 boxes COOK and SERVE Jello brand "chocoate fudge" or "chocolate" pudding – NOT INSTANT
NOTE: I can only find "chocolate" so I mix "bittersweet chocolate chips & semi sweet chocolate chips heaping 1/4 cup of each and this tastes exactly like "chocolate fudge" brand of Jello 🙂
4 egg yolks
3 1/2 cups WHOLE milk
1/2 heaping cup semi-sweet chocolate chips
2 tbsp sugar
2 tbsp butter
1 tsp pure extract vanilla
1 pre-baked pie crust cooled
Directions for Chocolate Filling:
Separate 4 egg yolks from whites and place into separate bowls (yolks for filling and whites for meringue)
Add 2 boxes of chocolate fudge pudding mix to medium size sauce pan
Add in chocolate chips, 4 egg yolks, sugar, 3 1/2 cups of milk over medium heat
Continue to whisk while bringing ingredients to a boil, it will thicken quickly
When it thickens take off of heat
Whisk in 3 tbsp of butter and 1 tsp vanilla
Pour into the cooled pre-baked pie crust and let cool just a bit to a warm TEMP but NOT COLD– DO NOT put into the fridge because you DON'T want to put whipped meringue on a COLD pie, it will cause meringue to weep 🙂
Ingredients for Meringue:
4 egg whites
8 tbsp sugar – 2 tbsp per egg white
1/8 tsp cream of tartar
Directions for Meringue – Pre-Heat Oven to 375º :
Whisk egg whites until soft peak begin to form then start to add sugar 1 tbsp at a time
Keep whisking unitl you get soft – stiff peaks – in between peaks – NOT STIFF
Pour onto WARM chocolate pie filling
Begin to smooth meringue over to touch edges of the pie crust making sure meringue seals all along the edge of the pie crust
Once the meringue completely covers the chocolate filling begin to dip spatula in and out of meringue creating curly cue peaks
Place chocolate meringue pie into 375º oven until peaks are golden approx 10-15 minutes – if the meringue is undercooked the it will weep
Take out and let meringue cool, slice and mangia mangia!
MERINGUE TIP: Do not put whipped meringue on a COLD pie, a warm filling is better than COLD. Be sure to cook meringue through because undercooked meringue will weep 🙂